Interior Metal Ceilings
Sixty years ago, Hunter Douglas pioneered suspended metal ceilings. We've been hard at work ever since, ensuring that architects have the right ceiling solutions available to meet the requirements of their individual projects.


A range of metal ceilings in aluminium, steel and stretch metal are available in linear, wide panel, open cell, curved and tile configurations. This huge range of ceiling options is only limited by your imagination.
Use our product selector to choose the ceiling that fits with your project. Click on the button below
WHY USE A METAL CEILING
Metal ceilings offer excellent performance levels all round. Our design and manufacturing expertise provides architects and designers with the flexibility to create almost any finish to the ceiling void. We understand the properties of the metals we use, and how best to work them to achieve your visual goals.
INTERIOR METAL CEILING VARIATIONS
Our high performance interior metal ceilings are available in a wide range of variations. These include linear, tiled, open and closed cell systems all of which can be specified in a range of shapes and curves depending on the carrier system used. Be sure to browse the full range to fully appreciate the choice of ceiling systems we have to offer.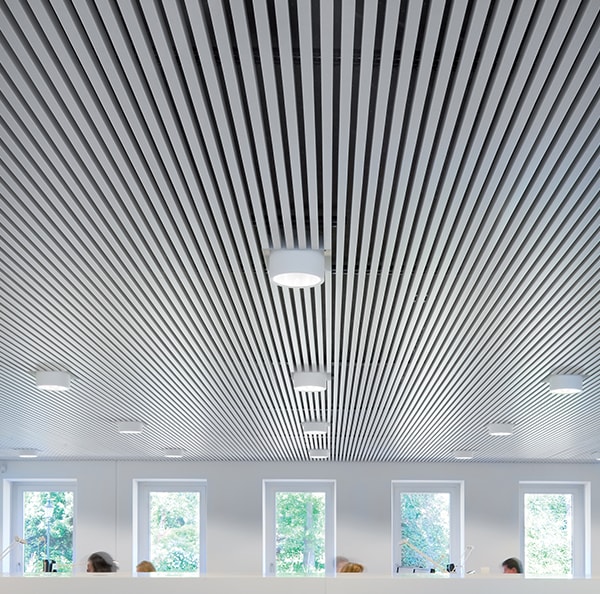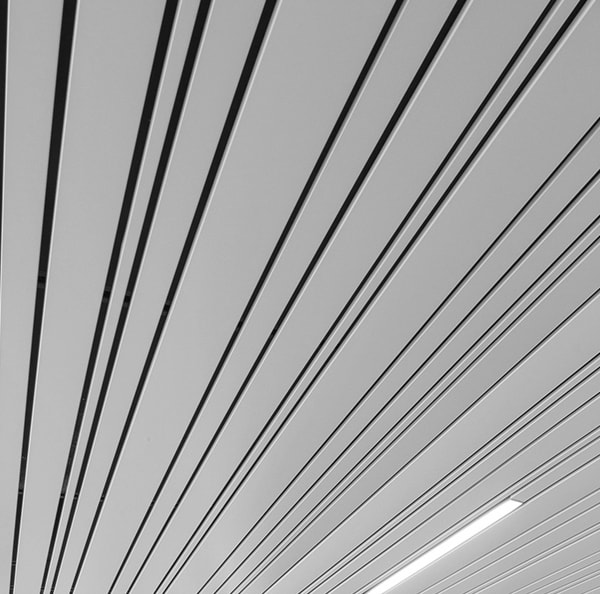 ACOUSTICS IN METAL CEILINGS
The Hunter Douglas range of interior metal ceilings include a variety of different performance levels. Perforated panels offer enhanced acoustics which can be substantially improved with the addition of special acoustic pads. Acoustic performance is especially important in large areas so please consult a member of our team about the acoustic environment you require.
WHY IS ACOUSTIC SO IMPORTANT?
The acoustic comfort in an office space, school or public building contributes to our well being as poor acoustic performance can affect health, communication, safety, productivity and learning. Hunter Douglas Architectural high performance acoustic ceiling products are the best solution to deliver outstanding acoustic performance, comfort and an aesthetically pleasing environment.
METAL CEILING COLOURS
Our Metal ceilings are available in a range of standard colours and can be coated in any RAL color. In addition to these uni colours, there are several special metallic colours and chrome finish possible. The complete program of panels, grids, bandraster profiles and edge profiles can be finished in one color for a uniform looking ceiling.
METAL CEILING QUALITY
Our focus on quality (ISO9001 certified) ensures the highest standard of production processes, material, machinery and finished product. The superior durability of Hunter Douglas products translates into lower costs during the life cycle of the product.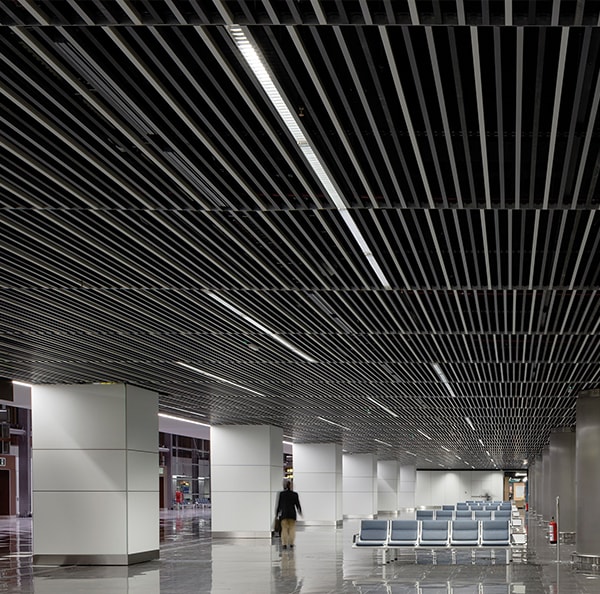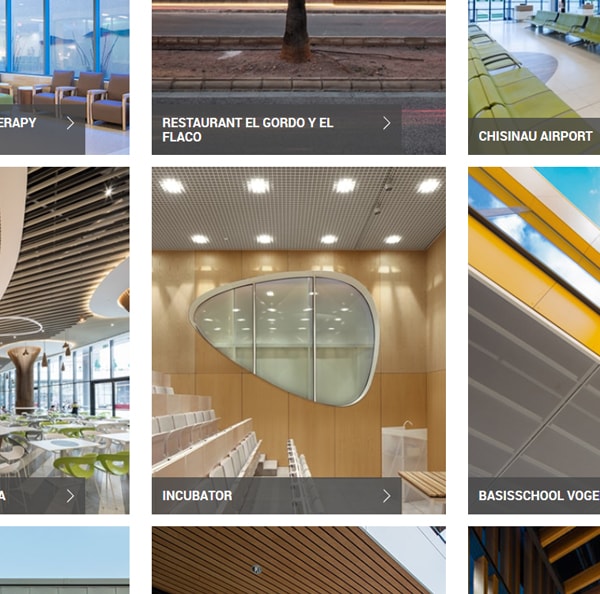 FIRE PROTECTION
In official fire tests at Efectis, Bleiswijk and CSI, Bollate, Milan (both independent fire research institutes), all of our metal ceiling systems earnt a high reaction to fire classification according to EN 13501-1.
METAL CEILING INSPIRATION
Be inspired by our project gallery with interior metal ceilings. Click on the photo for more information.
Project Gallery
FILTER SELECTION OF Interior Metal
Use the filters below to browse our full selection of Interior Metal Products.