Perforated Folding Shutters
Division Name: Hunter Douglas Middle East
Address: P.O. Box 17283 Jebel Ali, Dubai United Arab Emirates
Phone Number: +971 4 813 1800
Fax: +971 4 886 3301
Contact Us: Contact Us
Thank you for your information. We will be in touch with you shortly.
There was an issue saving your request, please try again.
Please accept the Privacy Agreement.
Name, email, company, phone, location and at least one product selection are required.
PERFORATED FOLDING SHUTTERS
For many years Hunter Douglas have successfully built manual and motorised folding shutter systems for projects requiring a sun control solution. Folding shutters give a strong dynamic effect to a building by radically changing the facade from a closed, monolithic volume to an open, transparent envelope. The panels fold away from the façade, literally creating an extra dimension that makes this transformation even more dramatic.
General Information
Why Perforated Folding Shutters?

Folding Shutters offer a perfect solution to regulate light and heat and at the same time bring a dramatic architectural element to the facade. The application of perforated aluminium sheet provides the required shading and allows a view to the outside even when the shutters are closed. By choosing a specific perforation or even designing a custom pattern for the building the architectural possibilities are endless.
Characteristics


Folding shutters change the facade appearance instantly from closed to open
Manually operated or motorised; both closing completely flat
Available as single pair (V) or double pair (W, manual only)
Perforated aluminium sheet filters direct sunlight, allows outward view and reduces up to 90% of solar radiation
Totally weather resistant and low in maintenance
Custom perforation designs or alternative materials possible
Application

Perforated Folding Shutters are the ideal sun control solution for buildings that call for a combination of functionality and architectural effect. They offer shading and privacy and are resistant to all weather conditions and wind loads.
Design & Inspiration
Perforated folding shutters dramatically change the appearance of a facade every time they open or close. By choosing a specific perforation or even designing a project specific pattern the architect can achieve functionality as well as a unique signature to the building. By integrating the folding shutter in the surrounding facade the visual effect can be even more striking; when closed they draw no attention, but when the shutter is open the façade appears to opened itself.
The aluminium sheets and profiles used in the Folding Shutter system are typically powder coated with a durable polyester powder coating and is available in any RAL colour. As an alternative they can be anodised in a range of colours and shades including natural silver. Anodisation is an electrolytic process that turns the top layer of the aluminium into a strong protective surface resistant to all conditions.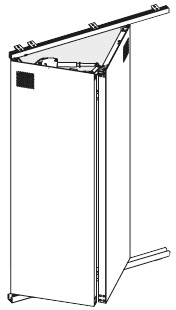 The HunterDouglas® Perforated Folding Shutter is built as a strong and rigid aluminium frame with an aluminium sheet fixed to it. This perforated sheet is offered as standard with a choice of two perforations with a 5% or 10% openness to give the best functionality for visual and thermal interior comfort. For even greater design flexibility custom perforations or patterns may be applied.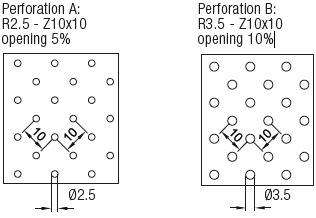 When motorised, the HunterDouglas Folding Shutter works with a 24V actuator along the top of the panels, in combination with a specially engineered hinge mechanism that can close the panels to a completely flat surface. This mechanism is not visible from the outside and mostly concealed from the inside.






More product details

More detailed information can be found at the downloads section below.


Hunter Douglas Folding Shutters have been designed to withstand high wind loads at full floor heights. However the maximum dimension for a perforated Shutter depends on the expected wind load that may occur on the building. Wind loads are typically dependent of the geographical location and building height. The graph shown below will give you a good indication of the maximum shutter dimensions that can be achieved under certain wind loads. Please note that the folding shutter will always remain at a small angle in open position to withstand wind loads. Allowing a somewhat larger angle will increase the maximum dimensions. Our sales offices can assist you in determining the most suitable solution for your project.



Health and wellbeing
The Hunter Douglas Architectural range of ceiling products contribute to sustainable buildings through aesthetic solutions that enhance comfort and save energy. Promoting the health and well being of their occupants is arguably the most important function of building. Our shading solutions promote the use of healthy daylight without the hindrances of glare and thermal discomfort. Our acoustic ceilings are a key element in the provision of acoustic comfort.
Sound materials
Environmentally sound materials are the key to a sustainable building. Our strategy is to pick materials that have good environmental properties to start with. Many of our products are made of aluminum produced in our own smelters. We have optimised our processes to use up to 99% of recycled content to produce the right alloy for our products. Our wood is FSC certified and we embrace the Cradle to Cradle principle in our product development.
Energy savings
Reducing the energy use of the total building stock is key to the prevention of global warming. Most modern office buildings use more energy for cooling than heating. Effective management of the solar energy that passes through the transparent part of the façade is a key strategy in the prevention of overheating in both old and new buildings. Our high performance shading solutions bring substantial energy savings, while at the same time promoting health and wellbeing.
Corporate Social Responsibility
Keen on Green is an important company-wide initiative to reduce energy consumption, water usage and our overall carbon-footprint. We embrace the ISO 14001 framework to actively manage our Keen on Green objectives. Hunter Douglas and its employees actively support the communities in which we live and work, as well as those on a more global scale. Business is people. We pride ourselves on our worldwide network of experienced, intelligent, passionate and creative people who have consciously chosen Hunter Douglas as their employer.