Luxalon® XLnt ceiling panels
Division Name: Hunter Douglas Architectural United Kingdom
Address: Suite 2 - Newton House - Northampton Science Park Kings Park Road - Moulton Park Industrial Estate Northampton NN3 6LG United Kingdom
Phone Number: +44 (0)1604 648229
Fax: +44 1604 212863
Contact Us: Contact Us
Division Name: Guthrie Douglas Window Covering
Address: Heathcote Industrial Estate 12 Heathcote Way Warwick United Kingdom
Phone Number: +44(0)1926 310850
Fax:
Contact Us: Contact Us
Division Name: NBK United Kingdom
Web: nbkterracotta.com/
Address: Cattermole Buildings Codnor Derbyshire DE5 9QA United Kingdom
Phone Number: +44 (0) 1773 512 363
Fax:
Contact Us: Contact Us
Thank you for your information. We will be in touch with you shortly.
There was an issue saving your request, please try again.
Please accept the Privacy Agreement.
Name, email, company, phone, location and at least one product selection are required.
XLnt
All Hunter Douglas Architectural XLnt ceiling panels are based on composite technology that originates from the aircraft industry. This state of the art technology results in extremely flat ceiling panels. Pre-coated aluminium skins are roll-formed and integrated with honeycomb reinforcement and aluminium fixing extrusions.
General Information
Why XLnt?

The Hunter Douglas Luxalon® XLnt Ceiling system combines the latest technology with efficient manufacturing techniques, high quality, extremely flat and extra large sized ceiling panels. The smooth and uniform effect achieved with a Luxalon® XLnt ceiling system provides the designer with a finish that can meet even the most challenging criteria.
Characteristics


Extremely flat panels that are light weight
Hook-on system with swing-down access
The panels have an integrated fixed joint of 12.5 mm on all four sides of the panel
The panels can be supplied in width's ranging from 600 to 1250 mm
The length of the panel is variable between 1000 and 2500 mm
The flatness, the size of the panels and the small joint results in a clean, smooth ceiling design.
Application

Luxalon® XLnt is suitable for those building sectors where a flat, monolithic appearance is required. These include corporate, transport (airports, metro, bus & train stations) retail, leisure, public space, hospitality, healthcare, education & residential environments.

Please contact us to discuss your requirements.
Design & Inspiration
Luxalon® XLnt Ceiling systems are ideal for high quality ceiling designs where a smooth and uniform finish is a prerequisite of the design criteria. Luxalon® XLnt Ceilings have been used by leading architects in prestigious projects all over the world.

The Hunter Douglas XLnt range of flat metal panels, are available in a range of standard colours that are suitable for most applications. For further information on ceiling types and the special finishes and colour ranges that are available for specific projects please contact our sales office.
Material characteristics

Luxalon® XLnt ceilings are used in applications where the architect is looking for a flat monolithic look. The large panels in sizes up to 1250 x 2500mm provide a smooth uninterrupted plane. The ceiling has a narrow 12.5mm wide joint around each panel. The panels are installed as a hook-on system with swing-up/ swing-down mounting. Each individual panel can be opened/demounted for easy access to the services and installations within the plenum.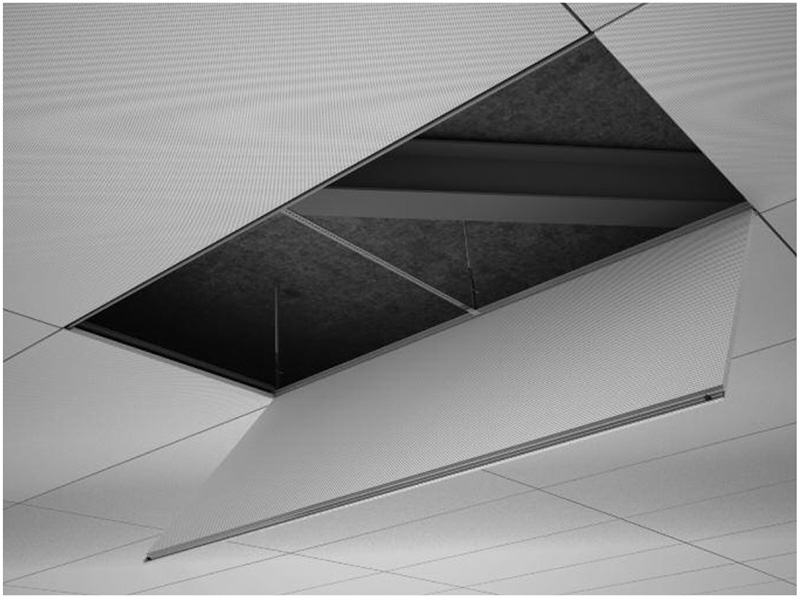 More product details
Further detailed information can be found in the
downloads
section below.
Acoustic information



The acoustic comfort in an office space, school or public building contributes to our well being as poor acoustic performance can affect health, communication, safety, productivity and learning. Hunter Douglas high performance acoustic ceiling products are the best solution to deliver outstanding acoustic performance, comfort and an aesthetically pleasing environment. With the Luxalon® XLnt system an absorption value (αw) 0.75 can be obtained, depending on the ceiling and panel configuration..





More information about acoustics
Further acoustic information can be found in the
downloads
section below.
Health and wellbeing
The Hunter Douglas Architectural range of ceiling products contribute to sustainable buildings through aesthetic solutions that enhance comfort and save energy. Promoting the health and well being of their occupants is arguably the most important function of building. Our shading solutions promote the use of healthy daylight without the hindrances of glare and thermal discomfort. Our acoustic ceilings are a key element in the provision of acoustic comfort.
Sound materials
Environmentally sound materials are the key to a sustainable building. Our strategy is to pick materials that have good environmental properties to start with. Many of our products are made of aluminum produced in our own smelters. We have optimised our processes to use up to 99% of recycled content to produce the right alloy for our products. Our wood is FSC certified and we embrace the Cradle to Cradle principle in our product development.
Energy savings
Reducing the energy use of the total building stock is key to the prevention of global warming. Most modern office buildings use more energy for cooling than heating. Effective management of the solar energy that passes through the transparent part of the façade is a key strategy in the prevention of overheating in both old and new buildings. Our high performance shading solutions bring substantial energy savings, while at the same time promoting health and wellbeing.
Corporate Social Responsibility
Keen on Green is an important company-wide initiative to reduce energy consumption, water usage and our overall carbon-footprint. We embrace the ISO 14001 framework to actively manage our Keen on Green objectives. Hunter Douglas and its employees actively support the communities in which we live and work, as well as those on a more global scale. Business is people. We pride ourselves on our worldwide network of experienced, intelligent, passionate and creative people who have consciously chosen Hunter Douglas as their employer.