Veneered Wood Tiles & Panels
Division Name: Hunter Douglas Architectural United Kingdom
Address: Suite 2 - Newton House - Northampton Science Park Kings Park Road - Moulton Park Industrial Estate Northampton NN3 6LG United Kingdom
Phone Number: +44 (0)1604 648229
Fax: +44 1604 212863
Contact Us: Contact Us
Division Name: Guthrie Douglas Window Covering
Address: Heathcote Industrial Estate 12 Heathcote Way Warwick United Kingdom
Phone Number: +44(0)1926 310850
Contact Us: Contact Us
Division Name: NBK United Kingdom
Web: nbkterracotta.com/
Address: Cattermole Buildings Codnor Derbyshire DE5 9QA United Kingdom
Phone Number: +44 (0) 1773 512 363
Contact Us: Contact Us
Thank you for your information. We will be in touch with you shortly.
There was an issue saving your request, please try again.
Please accept the Privacy Agreement.
Name, email, company, phone, location and at least one product selection are required.
VENEERED WOOD TILES & PANELS
The Veneered Wood Tiles & Panels range consists of acoustic ceiling and wall elements, made of an MDF core, covered with a wooden veneer. Choose from the standard panels, or design custom panel shapes for a unique appearance. The wide range of veneers, finishes and perforations can always match the design intent.
General Information
Why Veneered Tiles & Panels?

Veneered Wood Tiles & Panels are an environmental friendly building product with endless possibilities. The wood is used efficiently in the production of veneer, as modern production methods ensure that around 800-1000 m2 of veneer can be produced from 1 m3 of wood. The four demountable ceiling types - Classic, Modern, Prestige and System - all have their own look, joint and advantages. Together with the rigid suspension system, the panels are easy to install and demount if necessary. The acoustic Topline® panels are characterized by a tongue and groove connection, for a seamless surface.
Characteristics


Standard sizes 600x600, 1200x600, 1800x600
Custom panel sizes for a made to measure solution
Very high acoustics up to alpha w 0.95
Create a hidden, high acoustic solution with the mini micro perforation
Topline® panels use a tongue and groove connection, creating uninterrupted surface
Various solutions for plenum access and demounting
Available as a ceiling and wall solution
Application


The Veneered Wood Tiles and Panels are suitable for all building sectors: Corporate, Transport (airports, metro-, bus -, train stations), Retail, Leisure, Public spaces, Hospitality, Healthcare, Education or Residential.


Natural Flexibility
Veneered Wood Tiles give you the freedom to make a natural looking wall or ceiling design. The look of the wood panels is created by a careful selection of the species type, colour and structure. The natural growth patterns of each tree can be clearly seen in the veneer, including natural characteristics such as knots and outgrowth. Once the veneer is chosen, the panels will be produced according to the lay out plan to ensure a perfect fit.
American Cherry
American Walnut
American White Oak
American Maple
Anigre
Ash
Bamboo
Beech
Birch
Cedar
European Oak
Hemlock
Koto
Pine
Red Oak
Spruce
Sycamore
Teak



Choose from more than 40 veneers to create the ideal ambiance and feel. From light to dark tones, there is a veneer for each design. Standard, the panels are provided with a transparent lacquer, but if a special look is required, special varnishes, staining or paint finishes are also possible.







Veneer matching


The veneer sheets, with a width of 10-25 cm, are mis-matched and glued to form panels. Upon request it is also possible to slip-match or book-match sheets. Depending on how the veneers are matched, a significant design is created



| | | |
| --- | --- | --- |
| | | |
| Book Matched | Slip Matched | Mis Matched (standard) |


The veneered wood ceiling tiles can be produced in the following standard sizes: 600 x 600, 1200 x 600 and 1800 x 600 mm. Special sizes are available upon request. Depending on the required joint width an acces requirements, there are four panel types available. The ceiling tiles can me installed in a metal T-24 grid.


Classic - Exposed grid

The Classic panel is a typical lay in panel, which can be laid on a T24mm grid.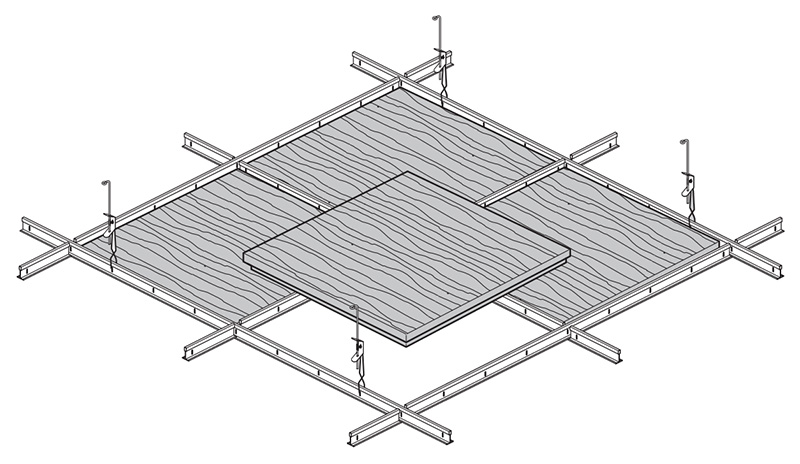 Modern - Semi - exposed grid

The Modern panel, due to the special edge detail, only shows 4mm of the T24mm grid after assembly. Each panel can be easily removed downwards and allow full access to the plenum with a simple push.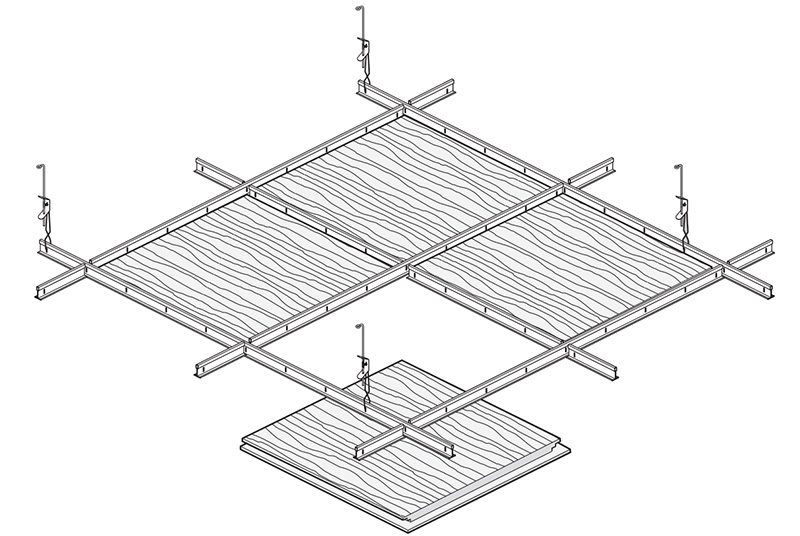 Prestige - Concealed grid

The Prestige system has a special edge finish that ensures that the substructure is completely concealed. Every panel can still be removed, simply by lifting and tilting.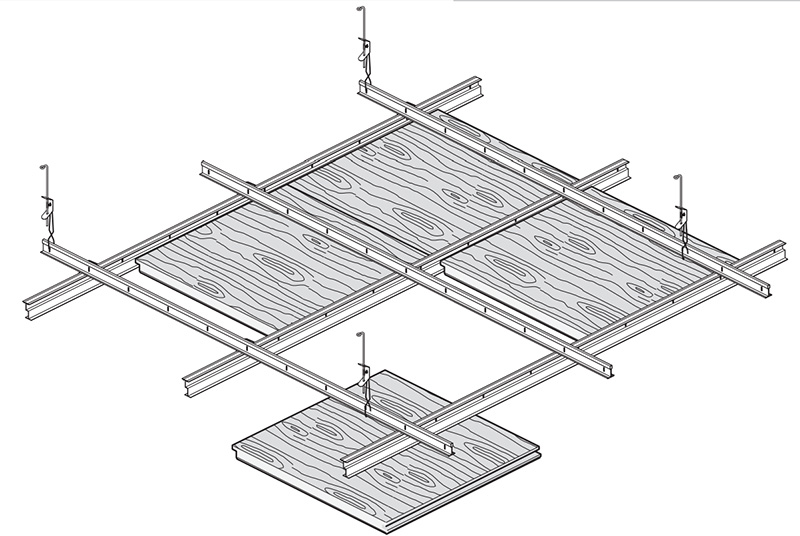 Veneered Wood Wall Tiles


The Veneered Wood Wall Tiles can be produced up to 2700x1200mm. Special sizes are available upon request. Depending on the required joint width and access requirements, there are two panel types available.

Standard - Open joints
Trend - Closed joints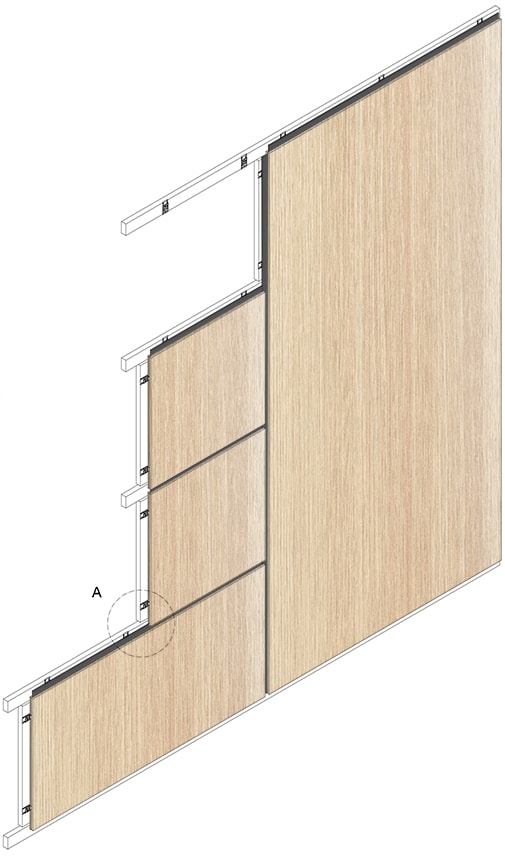 Topline Ceiling & Wall Panels


Topline panels are available in a standard size of 128 mm x 2780 mm, available for ceiling as for wall applications. The fixing is done directly on a substructure with use of metal clips. The Topline panels are high performance sound absorbing panels, which is achieved through a unique milling and groove pattern, combined with an acoustic membrane. The design and acoustics for each project can be fully attuned by selecting the right model that will ensure sound energy is almost completely absorbed, or reflected. Due to the tongue and groove connection, the joints between the panels are invisible.



Acoustic performance


Acoustical comfort in an office space, school or public building contributes to our well-being as good acoustic comfort can positively affect health, communication, safety, productivity and learning.

One of the most important benefits of the Hunter Douglas Veneered Wood range is the wide scope of perforation patterns, which can be applied to all veneered panels. Depending on the type of perforation, a specific acoustical performance is achieved. Please find below a selection of the standard perforation patterns, other patterns available upon request.








Nano-perforation: Invisible Acoustics


The veneered ceiling panels can be provided with nano-perforations. This process involves making countless microscopic perforations (Ø 0.5 mm) in the veneer, thus concealing the more extensive perforation of the core material. This allows for excellent acoustic qualities without compromising on appearance. The panels feature acoustic fleece on the reverse. In testing, the nano-perforated panels were shown to have a sound absorption of αw: 0.95 and NRC: 0.90.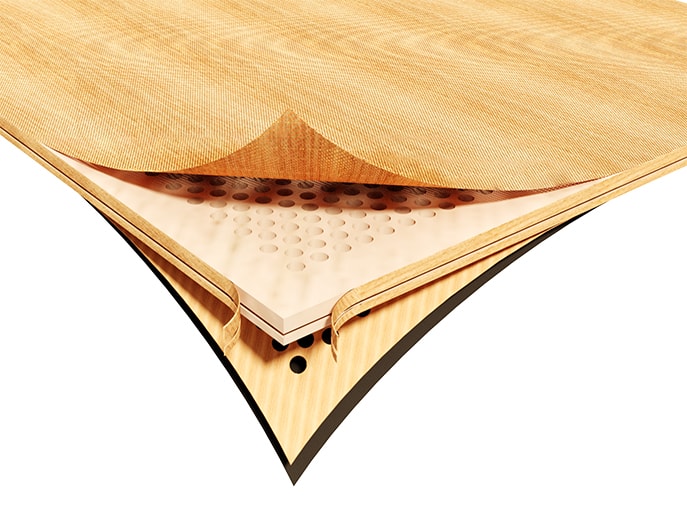 Reaction to fire


By impregnating wood, a reaction to fire classification (EN13501-1) of B-s1,d0 can be achieved.




| Description | ID | Downloads |
| --- | --- | --- |
| Veneered Wood Ceiling Tiles Classic Plus | C-i-VW-TI-CL-T24- 2D_Application | dwg pdf |
| Veneered Wood Ceiling Tiles Classic | Classic-C-i-VW-TI-CL-T24-2D | dwg pdf |
| Veneered Wood Ceiling Tiles Modern | Modern-C-i-VW-TI-MO-T24-2D | dwg pdf |
| Veneered Wood Ceiling Tiles Prestige Cross-Lock | Prestige-CL-C-i-VW-TI-PR-T24-2D | dwg pdf |
| Veneered Wood Ceiling Tiles Prestige Quick-Lock | Prestige-QL-C-i-VW-TI-PR-T24-2D | dwg pdf |
| Veneered Wood Ceiling Tiles System | System-C-i-VW-TI-MO-T24-2D | dwg pdf |
Health and wellbeing
Hunter Douglas contributes to sustainable buildings through aesthetic solutions that enhance comfort and save energy. Promoting health and wellbeing of their occupants is arguably the most important function of buildings. Buildings are not constructed just to be energy efficient. Our shading solutions promote the use of healthy daylight without the hindrances of glare and thermal discomfort. Our acoustic ceilings are a key element in the provision of acoustic comfort.
Sound materials
Environmentally sound materials are key to sustainable buildings. Our strategy is to pick materials that have good environmental properties to start with. Many of our products are made of aluminum produced in our own smelters. We've optimized our processes to use up to 99% of recycled content to produce the right alloy for our products. Our wood is FSC certified and we embrace the Cradle to Cradle principle in our product development.
Energy savings
Reducing the energy use of the total building stock is key to the prevention of global warming. Most modern office buildings use more energy for cooling than heating. Effectively managing the solar energy that passes through the transparent part of the façade is a key strategy in the prevention of overheating in both old and new buildings. Our high performance shading solutions bring substantial energy savings, while at the same time promoting health and wellbeing.
Corporate Social Responsibility
Keen on Green is an important company-wide initiative to reduce energy consumption, water usage and our overall carbon-footprint. We embrace the ISO 14001 framework to actively manage our Keen on Green objectives. Hunter Douglas and its employees actively support the communities in which we live and work, as well as those on a more global scale. Business is people. We pride ourselves on our worldwide network of experienced, intelligent, passionate and creative people that have consciously chosen Hunter Douglas as their employer.
| Name | Download |
| --- | --- |
| Technical Leaflet Nano Perforation | PDF |
| Technical leaflet veneered wood ceiling Panels Classic | PDF |
| Technical leaflet veneered wood ceiling Panels Classic plus | PDF |
| Technical leaflet veneered wood ceiling Panels Modern | PDF |
| Technical leaflet veneered wood ceiling Panels Prestige | PDF |
| Technical leaflet veneered wood ceiling Panels System | PDF |
| Technical Specifications Tiles Classic | DOC |
| Technical Specifications Tiles Classic Plus | DOC |
| Technical Specifications Tiles Modern | DOC |
| Technical Specifications Tiles Prestige | DOC |
| Technical Specifications Tiles System | DOC |
| Technical Specifications Topline | DOC |
| Technical Specifications Wall Panels | DOC |
| Name | Download |
| --- | --- |
| Installation Instructions Hunter Douglas® Wood Tiles Classic | PDF |
| Installation Instructions Hunter Douglas® Wood Tiles Modern | PDF |
| Installation Instructions Hunter Douglas® Wood Tiles Prestige | PDF |
| Installation Instructions Hunter Douglas® Wood Tiles System | PDF |
| Installation Instructions Topline Horizontal wall application | PDF |
| Installation Instructions Wood Panel Topline ceiling application | PDF |
| Installation Instructions Wood Panel Topline Vertical wall application | PDF |
| Installation Instructions Wood Panel Trend / Standard ceiling application on profiles | PDF |
| Installation Instructions Wood Panel Trend / Standard ceiling application on woodgrid | PDF |
| Installation Instructions Wood Panel Trend / Standard wall application (non demountable) | PDF |