QC300 QuadroClad® Honeycomb
Division Name: Hunter Douglas Ceilings & Sun Control
Address: 8 Charter Gate Clayfield Close, Moulton Park Northampton NN3 6QF United Kingdom
Phone Number: +44 (0)1604 648 229
Fax: +44 1604 212863
Contact Us: Contact Us
Division Name: Hunter Douglas Facades
Address: Cattermole House Market Place Codnor, Derbyshire DE5 9QA United Kingdom
Phone Number: +44 (0)1604 648229
Fax: 0044 - 1214231430
Contact Us: Contact Us
Division Name: Hunter Douglas Window Covering
Address: Heathcote Industrial Estate 12 Heathcote Way Warwick United Kingdom
Phone Number: +44(0)1926 310850
Fax:
Contact Us: Contact Us
Division Name: NBK United Kingdom
Web: nbkterracotta.com/
Address: Cattermole Buildings Codnor Derbyshire DE5 9QA United Kingdom
Phone Number: +44 (0) 1773 512 363
Fax:
Contact Us: Contact Us
Thank you for your information. We will be in touch with you shortly.
There was an issue saving your request, please try again.
Please accept the Privacy Agreement.
Name, email, company, phone, location and at least one product selection are required.
QC300 | QUADROCLAD® HONEYCOMB
The QuadroClad® façade system is a unique, open-jointed cladding system based on the principles of rainscreen façade technology. The lightweight skins are fused to a honeycomb aluminium core that provides extreme panel strength and flatness. They are engineered to deliver both outstanding looks and excellent functionality, QuadroClad® panels and components have been designed to perform in even the most challenging of environments and have been independently tested for corrosion resistance, fire resistance and wind-load performance.
General Information
Why QC300?

QuadroClad® QC300 is our COMPLETE system and as its name suggests is our most complete façade solution. It is an ideal external wall finish for larger elevated buildings such as high rise residential buildings and skyscrapers exposed to extreme weather conditions. QC300 features free hanging panels with a ventilated cavity, with open joints that are designed to reduce surface wind loads. Tall buildings by their very nature require a different level of technical specification and Hunter Douglas Architectural have developed a unique patented method of installation (including wall brackets, support rails and fixing plates) to meet these building's requirements.
Characteristics


High rise – unitised panels.
Complete package, saves time in the building chain.
Easy installation due to our patented substructure.
Suitable for extreme technical requirements (windload)
Individually removable.
Application


Façades and external envelope
Self-supporting roofs
Dome shape buildings
Interior walls, ceilings and balconies
Canopies
Renovation of existing building
Material, Finishes & Surfaces


Buildings are defined by form and design. Often they are the product of an architects inspirational vision. At Hunter Douglas our mission is to help designers realise that vision, by providing them with a palette of colours, materials and surface finishes that will inspire their creativity.

Designed to offer the architect a solution for any eventuality. QuadroClad® façade panels can be specified on a wide range of applications.



Make a choice
Best product application
QC50 Standard
QC100 Easy
QC200 Ultimate
QC300 Complete
QC500 Infinity
Canopies
Dome shaped buildings
Renovation
Self-supporting roofs
Diagonal orientation
Interior


QC300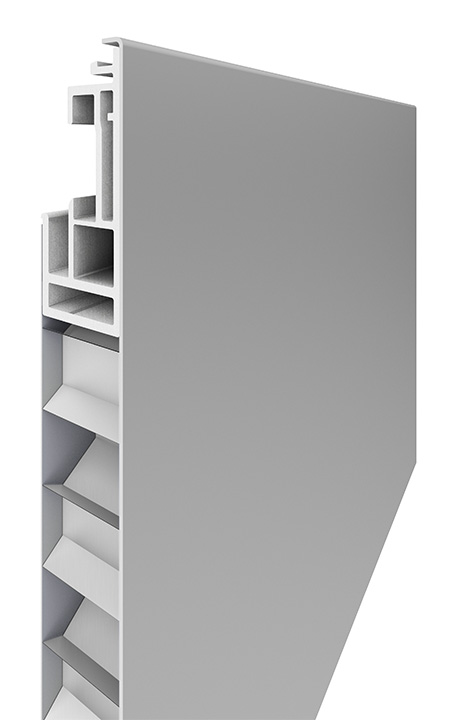 More product details

More detailed information can be found at the downloads section below.


Health and wellbeing
Hunter Douglas contributes to sustainable buildings through aesthetic solutions that enhance comfort and save energy. Promoting health and wellbeing of their occupants is arguably the most important function of buildings. Buildings are not constructed just to be energy efficient. Our shading solutions promote the use of healthy daylight without the hindrances of glare and thermal discomfort. Our acoustic ceilings are a key element in the provision of acoustic comfort.
Sound materials
Environmentally sound materials are key to sustainable buildings. Our strategy is to pick materials that have good environmental properties to start with. Many of our products are made of aluminum produced in our own smelters. We've optimized our processes to use up to 99% of recycled content to produce the right alloy for our products. Our wood is FSC certified and we embrace the Cradle to Cradle principle in our product development.
Energy savings
Reducing the energy use of the total building stock is key to the prevention of global warming. Most modern office buildings use more energy for cooling than heating. Effectively managing the solar energy that passes through the transparent part of the façade is a key strategy in the prevention of overheating in both old and new buildings. Our high performance shading solutions bring substantial energy savings, while at the same time promoting health and wellbeing.
Corporate Social Responsibility
Keen on Green is an important company-wide initiative to reduce energy consumption, water usage and our overall carbon-footprint. We embrace the ISO 14001 framework to actively manage our Keen on Green objectives. Hunter Douglas and its employees actively support the communities in which we live and work, as well as those on a more global scale. Business is people. We pride ourselves on our worldwide network of experienced, intelligent, passionate and creative people that have consciously chosen Hunter Douglas as their employer.