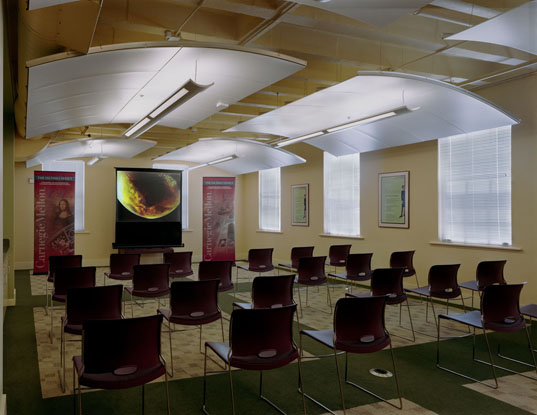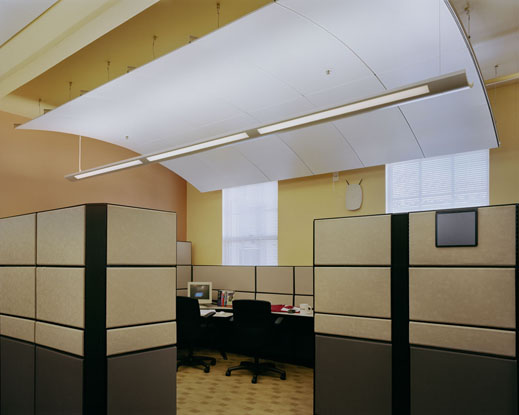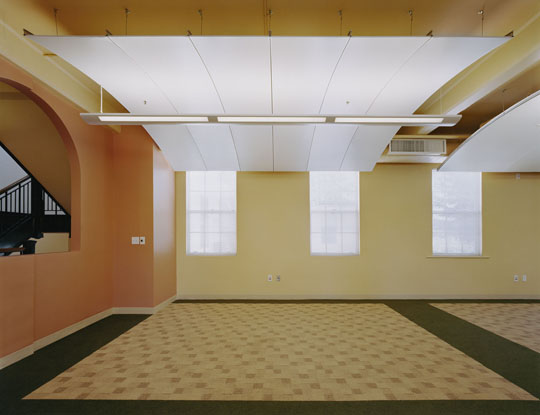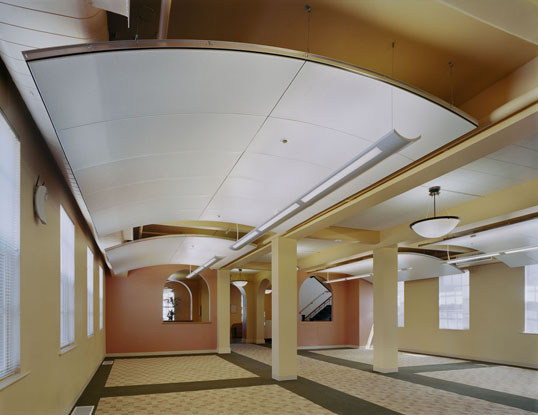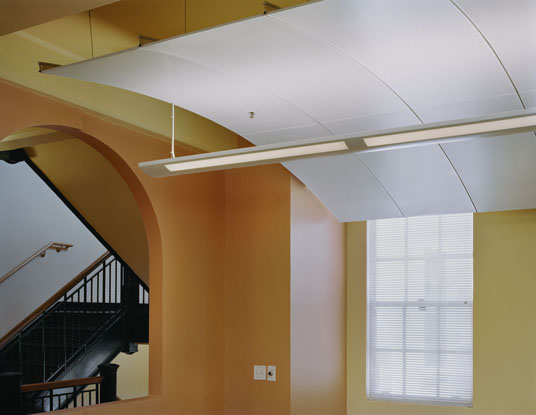 Carnegie Mellon Ames Research Ctr.
Location:
Mountain View, California, United States
Architect/Specifier:
Architectural Resources Group
Carnegie Mellon, the Pittsburgh-based college well known for its computer-science program, recently began developing a "West" campus at NASA's Ames Research Center in California. The project is transforming historic buildings into state-of-the-art educational facilities, and has required special attention because a number of the buildings were listed on the register of the State Historic Preservation Office. Architectural Resources Group (ARG) of San Francisco was selected for the project; the company is well known for its preservation work, which includes the well-received restoration of the Flower Conservatory at San Francisco's Golden Gate Park and the design of the Filoli Visitor Center in Woodside, California, a National Trust property. ARG specified curved metal ceilings from Hunter Douglas in several research/classroom and administration spaces. The flowing planes fit with existing elements while enabling installation of modern lighting and other systems. The precise curves recall the flowing metal arches and planes that were icons of the 1950s Space Age.
Division Name: Hunter Douglas Architectural United Kingdom
Address: Suite 2 - Newton House - Northampton Science Park Kings Park Road - Moulton Park Industrial Estate Northampton NN3 6LG United Kingdom
Phone Number: +44 (0)1604 648229
Fax: +44 1604 212863
Contact Us: Contact Us
Division Name: Guthrie Douglas Window Covering
Address: Heathcote Industrial Estate 12 Heathcote Way Warwick United Kingdom
Phone Number: +44(0)1926 310850
Contact Us: Contact Us
Division Name: NBK United Kingdom
Web: nbkterracotta.com/
Address: Cattermole Buildings Codnor Derbyshire DE5 9QA United Kingdom
Phone Number: +44 (0) 1773 512 363
Contact Us: Contact Us
Thank you for your information. We will be in touch with you shortly.
There was an issue saving your request, please try again.
Please accept the Privacy Agreement.
Name, email, company, phone, location and at least one product selection are required.