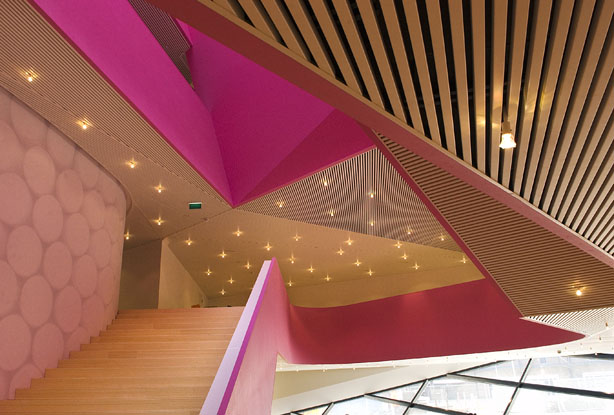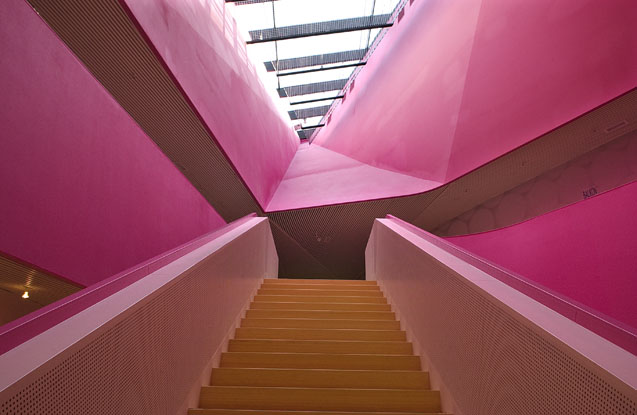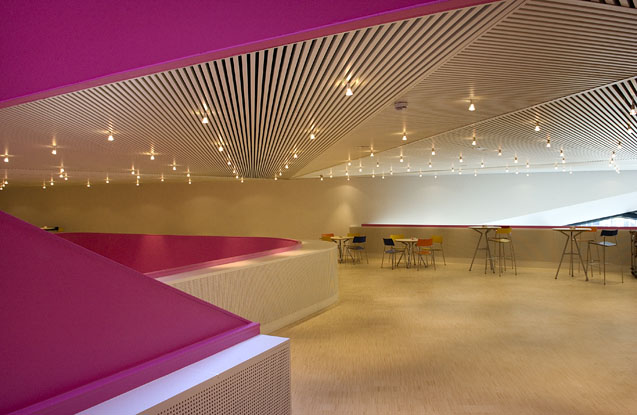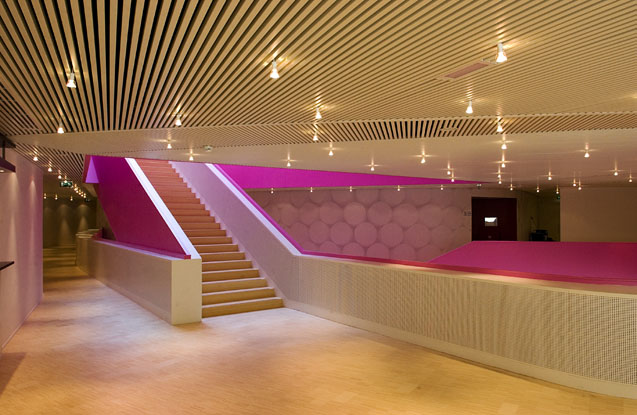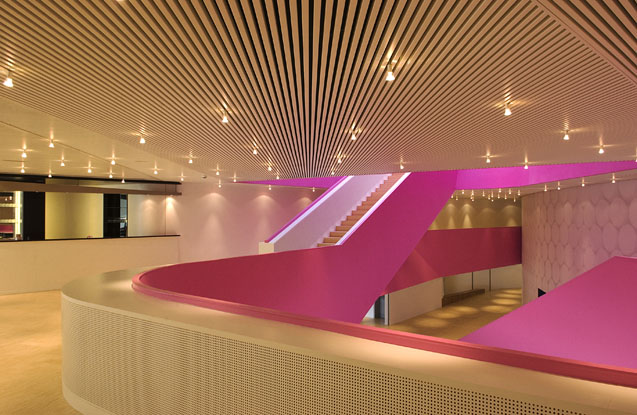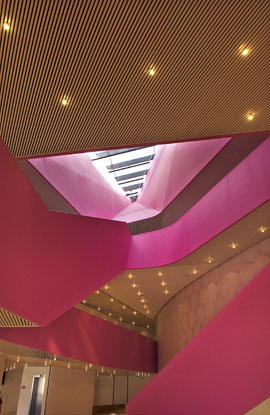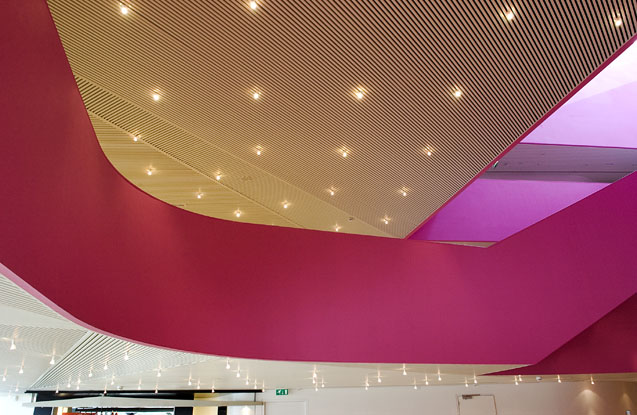 Agora Theatre
Location:
Lelystad, Nederland
Architect/Specifier:
UNStudio, Ben van Berkel
UNStudio's Agora Theatre in Lelystad, the Netherlands, stops passersby dead in their tracks. The design "built upon the idea of integrating the dramatic arts and new media with architecture" does much more than that. It creates an enigmatic, futuristic sculpture. It intertwines interior performance hall with exterior form, dashed with eye-popping colors: tangerine, cherry, lavender. This is architecture as theater, clearly, yet it is also the rare theater that truly emerges as architectonics.

What inspires the off-kilter, aluminum-clad form, glittering with orange, yellow and red panels on the outside, are the two interconnected performance spaces inside, separated by a soaring foyer and grand staircase. Illuminated by skylights and sparkling high-intensity lighting, the dynamic, hot-pink anteroom serves as an unlikely wayfinding device. The stair and foyer direct visitors to the auditoriums or to meeting halls nearby. Surrounding the colorful spiral of the stair, however, are quiet, calm corridors featuring Luxalon® metal ceilings by Hunter Douglas. The monolithic quality of the walls and striated ceilings is serene and smooth, with the superb acoustical control one demands from a theatrical venue.

The architect Ben van Berkel of UN Studio selected the ceilings as much for their linearity and sculptural qualities as for the clean detailing and acoustical performance. "At Agora, theatrical drama and performance are not restricted to the stage and to the evening," he says, adding, "the party should start in the foyer." While the Luxalon ceilings and white walls contrast dramatically with the foyer's exuberance, it is precisely that counterpoint that serves van Berkel's concept so well.

In the deep-red main theater, for example, the line of the balcony winds its way to a prismatic, faceted wall. The chaotic bas-relief recedes the instant the house lights dim, yet between acts provides stark contrast to the darkened stage below the proscenium arch. In this way, the dramatic focu
Division Name: Hunter Douglas Architectural United Kingdom
Address: Suite 2 - Newton House - Northampton Science Park Kings Park Road - Moulton Park Industrial Estate Northampton NN3 6LG United Kingdom
Phone Number: +44 (0)1604 648229
Fax: +44 1604 212863
Contact Us: Contact Us
Division Name: Guthrie Douglas Window Covering
Address: Heathcote Industrial Estate 12 Heathcote Way Warwick United Kingdom
Phone Number: +44(0)1926 310850
Contact Us: Contact Us
Division Name: NBK United Kingdom
Web: nbkterracotta.com/
Address: Cattermole Buildings Codnor Derbyshire DE5 9QA United Kingdom
Phone Number: +44 (0) 1773 512 363
Contact Us: Contact Us
Thank you for your information. We will be in touch with you shortly.
There was an issue saving your request, please try again.
Please accept the Privacy Agreement.
Name, email, company, phone, location and at least one product selection are required.