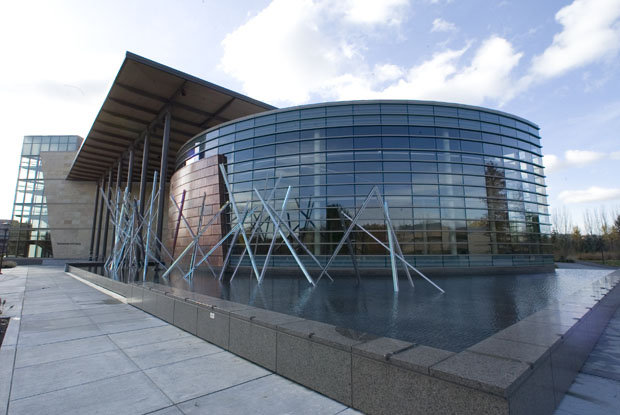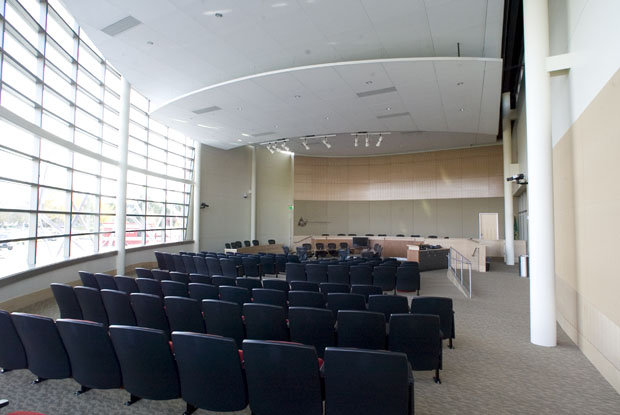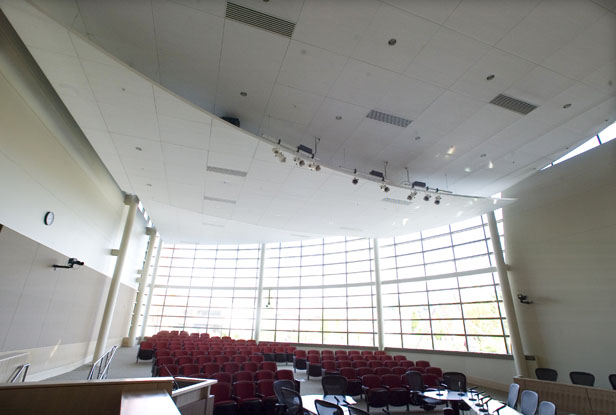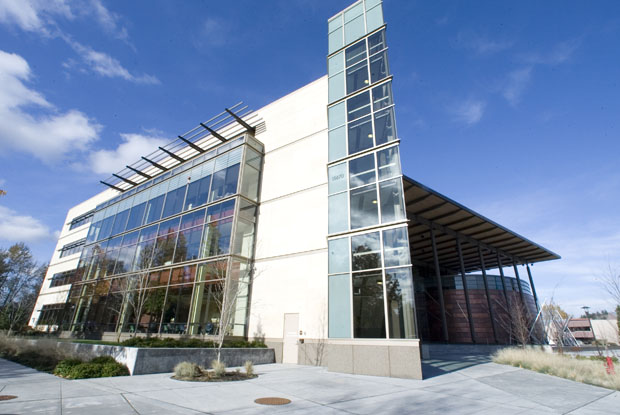 Redmond City Hall
Location:
Redmond, WA, United States
Architect/Specifier:
Mulvanny G2 Architecture
Featured Products:
The new city hall building in the suburb of Redmond, Washington, just east of Seattle, stands as a model of innovative municipal thinking. The result of a juried mini-competition among two powerhouse firms and a comparatively upstart contender, the expressive winged structure rewards Redmond's town leaders for taking calculated risks.

The winning design, completed and occupied last year, features a range of dynamic, light-filled forms, accented by thoughtful sculpture, warm finishes and a 40-foot-high entry canopy roof. Using steel-and-glass walls with ruddy sandstone and tightly detailed precast concrete, the architects created an well-lit, warm space featuring monolithic, bright white Techstyle® ceiling panels by Hunter Douglas Contract that help distribute daylight throughout the space.

Without breaking the bank, the local firm MulvannyG2 Architecture created a LEED Silver-eligible civic monument that is visually arresting both inside and out. Using a clever massing concept, the design team set the building's two wings at an angle, presenting its southern expanse to the main road, while offering views along the Sammamish River opposite. The building's extended arms not only engage the public, but also embrace a pastoral setting that has been carefully preserved throughout the area.

Inside, a double-height atrium greets city employees and visitors. Crisp, bright finishes mark this dramatic entry area. Warm wood and stone finishes complement a curved wall of copper paneling that appears to extend from the exterior cladding of the cylindrical council assembly chamber. This distinctive but unpretentious room has enough glass wall to let every of the town's 48,000 inhabitants watch the proceedings inside.

"Clouds" of Techstyle® Acoustical Ceiling panels stands among the room's more noteworthy elements, reflecting the glow of northern and eastern daylight down to the council work area below, while also managing noise within the chamber. In addition, the ceiling panels conceal mechanical equipment and components of the room's theatrical lighting.

The chamber's brightness and openness stands as a deliberate hallmark of the 114,000-square foot building's design, as well as the city leaders' shared philosophy of leadership. "We see it as a living room for the public," lead designer Ming Zhang has said of the new structure, noting it represents an outcome of a visioning session in which city employees described how they wanted the building to feel. This building had to be a welcoming community space, a place where residents could view art, find city services and easily access the transparent workings of local governance.

Working with MulvannyG2 designers, project architect Peng Liew and project designer Peter Lian, Zhang and his team laid bare the workings of the council members and city administrators, save for a few work areas requiring acoustic privacy or tighter security for confidential files, for example. The office are all open plan, a straightforward fit-out by collaborating design firm Perrault Interiors. Yet it is in the public zones and in ceremonial and legislative areas, as well as from all points of the surrounding civic campus, that this inspired and no-nonsense architecture transforms public opinion of how a city hall can serve it people.

"It's more than a building that simply houses government," says David Glassman, MulvannyG2 project manager for the four-story city hall as well as a leader of the firm's corporate and mixed-use studio. This was an important architectural goal considering the special nature of the community, Glassman adds: "Twenty years ago this was a farm community, and now it's home to Nintendo and Microsoft, making it an economic powerhouse. Yet it's still a very outdoorsy, welcoming and bike-friendly community."

The city hall achieves a grand civic quality without losing touch with the community and the land. In the inviting lobby, for example, a stone tile floor and walls of warm wood and stone comfortably frame a more intimate meeting space with a large fireplace under the bridge connecting the second floors of the wings. As council members or citizens pass through, the compressed space sets up the soaring, airy feel of the council chamber, with its "white cloud" ceiling appearing to recede above. Echoing its surroundings enthusiastically, the building's vertical elements and a metal-and-glass sculpture by Portland artist Ed Carpenter evoke the big trees and river reeds of the region. The extended floor plates are narrow enough to ensure plentiful daylight and big green views reach all of Redmond's city employees. The two wings not only face the town, but they also embrace the highly traveled Sammamish River Trail behind, with its roller skaters, joggers and occasional horse riders.

Yet there's really no back door. Each facet is finished carefully, even where the loading dock or utilities impinge on the naturalistic landscaping. Good thing, as the city hall is a centerpiece of a 17-acre town campus with a library, county courthouses, a senior center, and more. Each façade is finished: Aesthetic touches such as pale yellow granite adorn the extended sides, and an impressive "front porch" entry lends an official, imposing presence to the main façade. (In fact, this side of the facility's plinth-like base serves frequently as a stage for announcements and civic ceremonies.) A reflecting pool outside the council chamber provides unobtrusive security at the large window wall, and the landscaped areas include ample decks for outdoor breaks and lunches.

Throughout the design, attention was lavished on sustainable design features from the recycled content in the Techstyle® panels to the bioswale built into the site for natural storm-water drainage. A LEED Silver rating from the U.S. Green Building Council is in process and expected soon.

The main message, however, remains in the architecture, not the structure's green components. "We let the forms speak more than the materials," Glassman explains. "Yet the colors and materials are always warm, which helped us establish a balance between the dignified, formal government aspect and an image that would be welcoming and warm-feeling to the pedestrian."

The connection that Zhang's design team established with the surroundings and more importantly with the client's ideals fed the firm's resounding success. This was instantly apparent in the selection process, when 114 of the 134 delegates on the competition committee favored MulvannyG2's winged design concept over more conventional schemes submitted by other firms. Redmond's Mayor Rosemarie Ives has said publicly that as the city's biggest building and as a symbol of civic pride, the city hall building should be as great as possible.
Division Name: Hunter Douglas Ceilings & Sun Control
Address: 8 Charter Gate Clayfield Close, Moulton Park Northampton NN3 6QF United Kingdom
Phone Number: +44 (0)1604 648 229
Fax: +44 1604 212863
Contact Us: Contact Us
Division Name: Hunter Douglas Facades
Address: Cattermole House Market Place Codnor, Derbyshire DE5 9QA United Kingdom
Phone Number: +44 (0)1604 648229
Fax: 0044 - 1214231430
Contact Us: Contact Us
Division Name: Hunter Douglas Window Covering
Address: Heathcote Industrial Estate 12 Heathcote Way Warwick United Kingdom
Phone Number: +44(0)1926 310850
Fax:
Contact Us: Contact Us
Division Name: NBK United Kingdom
Web: nbkterracotta.com/
Address: Cattermole Buildings Codnor Derbyshire DE5 9QA United Kingdom
Phone Number: +44 (0) 1773 512 363
Fax:
Contact Us: Contact Us
Thank you for your information. We will be in touch with you shortly.
There was an issue saving your request, please try again.
Please accept the Privacy Agreement.
Name, email, company, phone, location and at least one product selection are required.