Solid Wood Grill Ceilings
Division Name: Hunter Douglas Europe Headquarters
Address: Piekstraat 2 3071 EL Rotterdam European Union
Phone Number: +31 10 486 9911
Fax: +31 10 484 8684
Contact Us: Contact Us
Thank you for your information. We will be in touch with you shortly.
There was an issue saving your request, please try again.
Please accept the Privacy Agreement.
Name, email, company, phone, location and at least one product selection are required.
SOLID WOOD GRILL
The Solid Wooden Grill system consists of wooden slats that are secured to each other with an aluminum dowel. These assembled slats form the grill panel, which can be produced in various lengths and widths. A wide range of wood species is available, all with their own characteristics. The system is easy to install and allows the ceiling to be demountable and provides easy access to the plenum. Due to the freedom of choosing your own grill dimensions, a unique ceiling or wall can be created.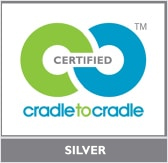 General Information
Why Sold Wood Grill?

When using Solid Wood Grill systems you are creating an environmentally friendly and durable building with an authentic feel. Wood is a natural product that is alive, it breaths and with its own characteristics is suitable for wide range of design solutions. Wood is environmentally friendly and is the only building material that is 100% CO2 neutral, and totally recyclable. The advantage of the system is that it is a made-to-measure solution, meaning no cutting adjustments are required at site, significantly reducing the installation time and cost.
Characteristics


Made to measure solutions, produced as per project dimensions and requirements
Projects are technically supported and developed, providing a perfect fit at site
High acoustic performance with or without rock wool
Reaction to fire classification B-s2,d0 according to EN 13501-1 (higher classification upon request)
Budget and design flexibility due to freedom in slat size and gap.
An all-natural and sustainable wooden ceilings solution with FSC/PEFC certification
Cradle to Cradle Certified™ Silver (Cradle to Cradle Certified™ is a certification mark licensed by the Cradle to Cradle Products Innovation Institute).
Application

The Solid Wood Grill ceilings and walls are suitable for all building sectors: Corporate, Transport (airports, metro-, bus -, train stations), Retail, Leisure, Public spaces, Hospitality, Healthcare, Education or Residential.


Bring nature in
Solid wood is a sustainable and 100% natural building material, which is more and more popular among designers. Wood, in any form, creates a sense of warmth within a space. Each wood specie has its own structure, characteristics and authentic touches such as growth patterns, knots and colour variations.


Our range of wood exceeds 20 different species, with their own unique characteristics. The wooden slats may have a planed, fine-sawn and rough-sawn surface finish. The wooden panels are finished as standard with high-quality varnish to protect the wood against moisture, dust and dirt. Other wood species area available upon request.



Yellow Poplar
Ayous
Yellow Pine
European Pine
Accoya
Siberian Larch
American White Oak
American Ash
European Oak
American Red Oak
Cherry
Oregon Pine
Jatoba
Teak
Cambara
Merbau
Mahogany
Western Red Cedar
American Walnut
Wenge

BAMBOO

Bamboo SP Natural
Bamboo SP Caramel

Finishes

Alongside the standard transparent varnish, there is also a wide range of stains and colours available. This finish can add a nice touch to the wood.
System Characteristics

A perfect fit at site is guaranteed, as the grills are made-to-measure. This avoids any cutting at site, reducing the installation costs and maintaining the beautiful details of the wooden panels. The Solid Wood Grill ceiling and wall system are developed in such a way to maximize the efficiency and minimize installation costs. The suspension system consists of rails and clips, which are easily fixed to the carriers. Light fixtures, vents or speakers can be easily fixed into the ceiling.







Ceiling Solution

The Solid Wood Grill ceiling system consists of solid wooden panels, connected with a metal dowel. With a metal clip, the dowel is connected to the carrier, ensuring a rigid fixation. The male/female connection creates a seamless joint between the grills.

- Full demountable system
- Quick installation with metal clips
- Curved and undulating shapes possible
- Slat size is fully customizable


Wall Solution

We also supply a solid wood grill wall solution. Please click here for more information.

The installation of the Solid Wood Grill wall panels is easily done, by clicking the dowel into the wall clips, which are mounted on a substructure or wall. The grills can be installed horizontally or vertically.

- Quick installation with the dowel that snaps onto the wall clips
- Installation in horizontal and vertical direction possible
- Slat size is fully customizable


Sizes

A selection of common used sizes are shown below, however other sizes are available upon request.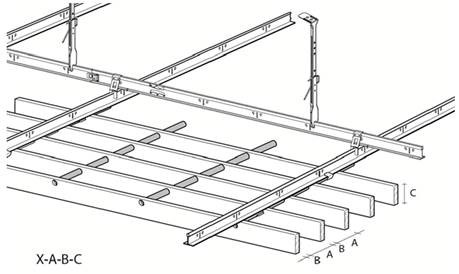 | | | | | | |
| --- | --- | --- | --- | --- | --- |
| Solid Wood Grill | X - A - B - C | | | | |
| | 4 - 70 - 20 - 35 | 4 - 70 - 20 - 55 | 3 - 100 - 20 - 68 | 3 - 150 - 20 - 90/95 | 3 - 100 - 20 - 120 |
| | 5 - 55 - 20 - 35 | 5 - 55 - 20 - 55 | 4 - 80 - 20 - 68 | 3 - 100 - 20 - 90/95 | 4 - 80 - 20 - 120 |
| | 6 - 40 - 20 - 35 | 6 - 40 - 20 - 55 | 5 - 60 - 20 - 68 | 4 - 75 - 20 - 90/95 | |
| | 8 - 25 - 20 - 35 | 8 - 25 - 20 - 55 | 6 - 40 - 20 - 68 | 5 - 50 - 20 - 90/95 | |


More product details

More detailed information can be found at the downloads section below. Here you can find information about Technical drawings and specifications, Maximum spans, Dimension & weights, Material requirements per M2.



Acoustic performance


Acoustical comfort in an office space, school or public building contributes to our well-being as good acoustic comfort can positively affect health, communication, safety, productivity and learning.

Playing with the panel width and gap will, can provide the necessary acoustic performance for different atmospheres. Optionally, the panels can also be perforated.








Reaction to fire


By impregnating wood, a reaction to fire classification (EN13501-1) of B-s2,d0 can be achieved. In some cases higher classifications can also be achieved.



High humidity solutions


Due to a special treatment to the wooden panels, some wood species are perfectly suitable for humid areas, such as swimming pools.
Health and wellbeing
Hunter Douglas contributes to sustainable buildings through aesthetic solutions that enhance comfort and save energy. Promoting health and wellbeing of their occupants is arguably the most important function of buildings. Buildings are not constructed just to be energy efficient. Our shading solutions promote the use of healthy daylight without the hindrances of glare and thermal discomfort. Our acoustic ceilings are a key element in the provision of acoustic comfort.
Sound materials
Environmentally sound materials are key to sustainable buildings. Our strategy is to pick materials that have good environmental properties to start with. Many of our products are made of aluminum produced in our own smelters. We've optimized our processes to use up to 99% of recycled content to produce the right alloy for our products. Our wood is FSC certified and we embrace the Cradle to Cradle principle in our product development.
Energy savings
Reducing the energy use of the total building stock is key to the prevention of global warming. Most modern office buildings use more energy for cooling than heating. Effectively managing the solar energy that passes through the transparent part of the façade is a key strategy in the prevention of overheating in both old and new buildings. Our high performance shading solutions bring substantial energy savings, while at the same time promoting health and wellbeing.
Corporate Social Responsibility
Keen on Green is an important company-wide initiative to reduce energy consumption, water usage and our overall carbon-footprint. We embrace the ISO 14001 framework to actively manage our Keen on Green objectives. Hunter Douglas and its employees actively support the communities in which we live and work, as well as those on a more global scale. Business is people. We pride ourselves on our worldwide network of experienced, intelligent, passionate and creative people that have consciously chosen Hunter Douglas as their employer.