30BD PareauLux Climate ceiling
Division Name: Hunter Douglas Europe Headquarters
Address: Piekstraat 2 3071 EL Rotterdam European Union
Phone Number: +31 10 486 9911
Contact Us: Contact Us
Thank you for your information. We will be in touch with you shortly.
There was an issue saving your request, please try again.
Please accept the Privacy Agreement.
Name, email, company, phone, location and at least one product selection are required.
Pareaulux -30BD linear Climate ceiling
PareauLux-30BD is a modular, linear, aluminium panel which enables interesting design possibilities. Available in several colours and combinations, wood prints and also creative visual treatments such as radial patters or curved surfaces.


General information
Why PareauLux 30BD climate ceiling?

The PareauLux 30BD ceiling is conceived from the collaboration of two top players in the (climate)ceiling industry. Hunter Douglas for the groundbreaking design and material use of the panels whereas Inteco for the innovative climate system which offers an extreme high cooling capacity. This product you are assured of a comfort experience in the widest sens of the word.
Properties


80% more capacity over a standard climate ceiling

Unparalleled design freedom

A-quality parts and total application

Sustainable solution

Acoustical comfort

Fire safe

Low exploitation cost

Long life expectancy

Positive influence on sustainability certification

Always a comfortable and even temperature
Application

PareauLux 30BD is suitable for many sectors such as offices, shopping malls, leisure, public space, catering, healthcare, education and apartment buildings.

Please contact us for your specific requirements.
Design & Inspiration

Climate ceilings are being adapted to the module of the building whereby te climate technics is being invisibly integrated in the ceiling and the inegration of technical appliences such as lighting, ventilation and detection maintain possible. The ceiling is a distinctive part of the overall architecture.

With climate ceilings, the air supply is determined by the need for fresh air and not by the required cooling capacity. The air circulation in the room is therefore lower than with convective systems and the risk of draughts is minimal. The temperature can be set per room or control area.

The 30BD aluminium panels are available in several uni colours, metal finishes and woodprints, suitable for most applications. Contact us for special finishes, requirements or colour schemes.
Material characteristics

The 30BD aluminium panels are available several uni colours, metal finishes and woodprints., suitable for most applications. Contact us for special finishes, requirements or colour schemes.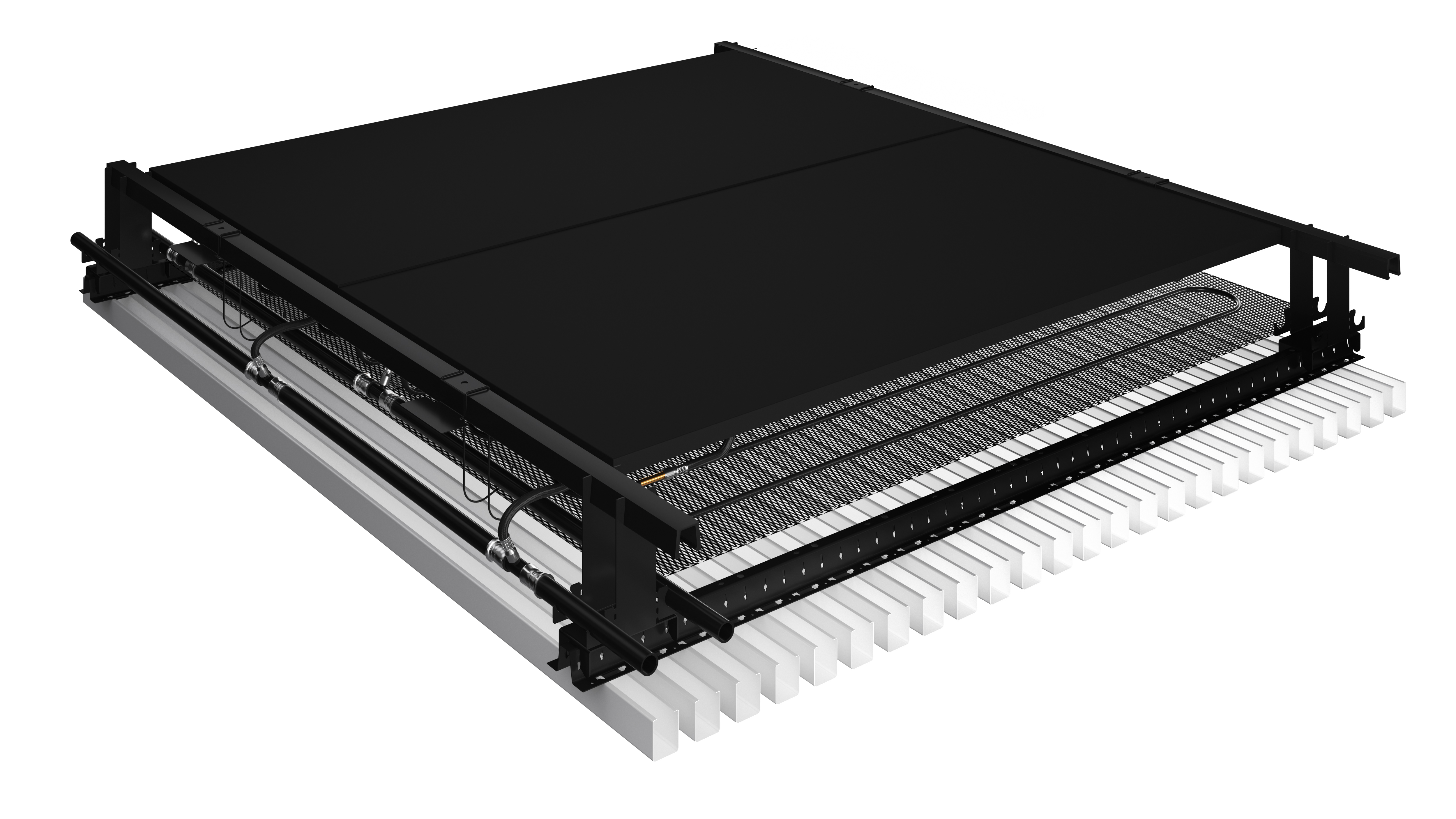 More prouduct features

More detailed information can be found under downloads, including information about: Maximum spans, dimensions and weight and material requirements per m² ,
Acoustic information
The acoustic comfort in an office space, school or public building contributes to our well-being as poor acoustic comfort can affect health, communication, safety, productivity and learning. Using Hunter Douglas high performance acoustical ceiling products are the best solution to deliver outstanding acoustic performance, comfort and an aesthetically pleasing solution. The PareauLux-30BD ceiling slats can be perforated with round holes of 1.5 mm (1 mm and 2 mm optionally available) and are provided with a sound-absorbing fleece to improve the acoustic comfort in a room.

More imformation on acoustics

More information can be found under downloads


Health and wellbeing
The Hunter Douglas Architectural range of ceiling products contribute to sustainable buildings through aesthetic solutions that enhance comfort and save energy. Promoting the health and well being of their occupants is arguably the most important function of building. Our shading solutions promote the use of healthy daylight without the hindrances of glare and thermal discomfort. Our acoustic ceilings are a key element in the provision of acoustic comfort.
Sound materials
Environmentally sound materials are the key to a sustainable building. Our strategy is to pick materials that have good environmental properties to start with. Many of our products are made of aluminum with optimised processes to use up to 84% of recycled content. Our wood is FSC certified and we embrace the Cradle to Cradle principle in our product development
Energy savings
Reducing the energy use of the total building stock is key to the prevention of global warming. Most modern office buildings use more energy for cooling than heating. Effective management of the solar energy that passes through the transparent part of the façade is a key strategy in the prevention of overheating in both old and new buildings. Our high performance shading solutions bring substantial energy savings, while at the same time promoting health and wellbeing.
Corporate Social Responsibility
Keen on Green is an important company-wide initiative to reduce energy consumption, water usage and our overall carbon-footprint. We embrace the ISO 14001 framework to actively manage our Keen on Green objectives. Hunter Douglas and its employees actively support the communities in which we live and work, as well as those on a more global scale. Business is people. We pride ourselves on our worldwide network of experienced, intelligent, passionate and creative people who have consciously chosen Hunter Douglas as their employer.