HeartFelt® PareauLux Climate ceiling
Division Name: Hunter Douglas Bulgaria
Web: www.hunterdouglas.bg
Address: 120, James Boucher Blvd floor 1, office 2 Sofia 1407 БЪЛГАРИЯ
Phone Number: +359 2 979 03 03 / +359 2 979 06 06 / +359 888 60 60 50
Contact Us: Contact Us
Division Name: Хънтър Дъглас България
Web: www.hunterdouglas.bg
Address: бул. "Джеймс Баучър" 120 етаж 1, офис 2 гр. София 1407 БЪЛГАРИЯ
Phone Number: +359 2 979 03 03 / +359 2 979 06 06 / +359 888 60 60 50
Contact Us: Contact Us
Thank you for your information. We will be in touch with you shortly.
There was an issue saving your request, please try again.
Please accept the Privacy Agreement.
Name, email, company, phone, location and at least one product selection are required.
Pareaulux HeartFelt® Climate ceiling
PareauLux-HeartFelt® is a modular, linear, felt panel made from non-woven thermoformed PES fibres.
General information
Why PareauLux HeartFelt®?

The PareauLux HeartFelt® ceiling is conceived from the collaboration of two top players in the (climate)ceiling industry. Hunter Douglas for the groundbreaking design and material use of the panels, whereas Inteco for the innovative climate system which offers an extremely high cooling capacity. This product you are assures of a comfort experience in the widest sense of the word.
Properties
80% more capacity over a standard climate ceiling
Unparalleled design freedom
A-quality parts and total application
Sustainable solution
Acoustical comfort
Fire safe
Low exploitation cost
Long life expectancy
Positive influence on sustainability certification
Always a comfortable and even temperature
Application

PareauLux HeartFelt® is suitable for many sectors such as offices, shopping malls, leisure, public space, catering, healthcare, education and apartment buildings.

Please contact us for your specific requirements.
Design & Inspiration
Climate ceilings are being adapted to the module of the building whereby the climate controls are being invisibly integrated in the ceiling and the integration of technical appliances such as lighting, ventilation and detection remain possible. The ceiling is a distinctive part of the overall architecture.

With climate ceilings, the air supply is determined by the need for fresh air and not by the required cooling capacity. The air circulation in the room is therefore lower than with convective systems and the risk of draughts is minimal. The temperature can be set per room or control area.
Shades of grey & Earth tones

The 40 x 55 felt panels are available five shades of grey and five earth tones. The exact shade of the panels is determined by the ratio of white and black fibres in the basic material.


Shades of grey

WHITE 7593
LIGHT GREY 7596
MIDDLE GREY 7597
DARK GREY 7598
BLACK 7594

Earth Tones

CREME 7575
LIGHT BROWN 7576
MEDIUM BROWN 7577
DARK BROWN 7578
UMBER 7579


Material properties

HeartFelt® is a linear ceilingsystem made from non-woven, thermically shaped PES-fibres, with open joints between the panels. The panels have a dimension of 40 mm wide and 55 mm high and a maximal length of 6.000 mm. For our climate ceilings you can choose from modules from 50 to 100, in steps of 10 mm. Module 70 is recommended as an optimum for acoustical and cooling performance.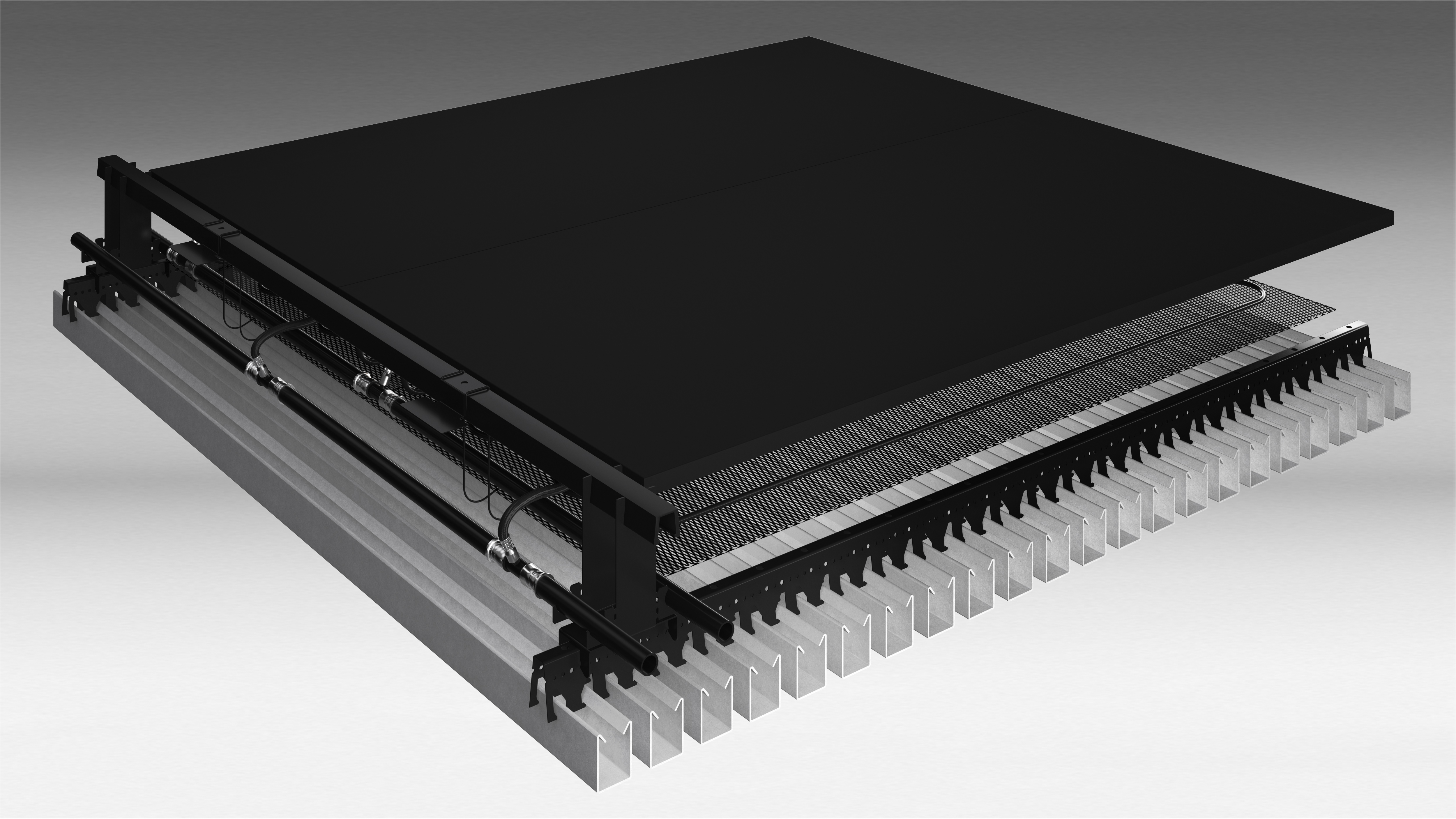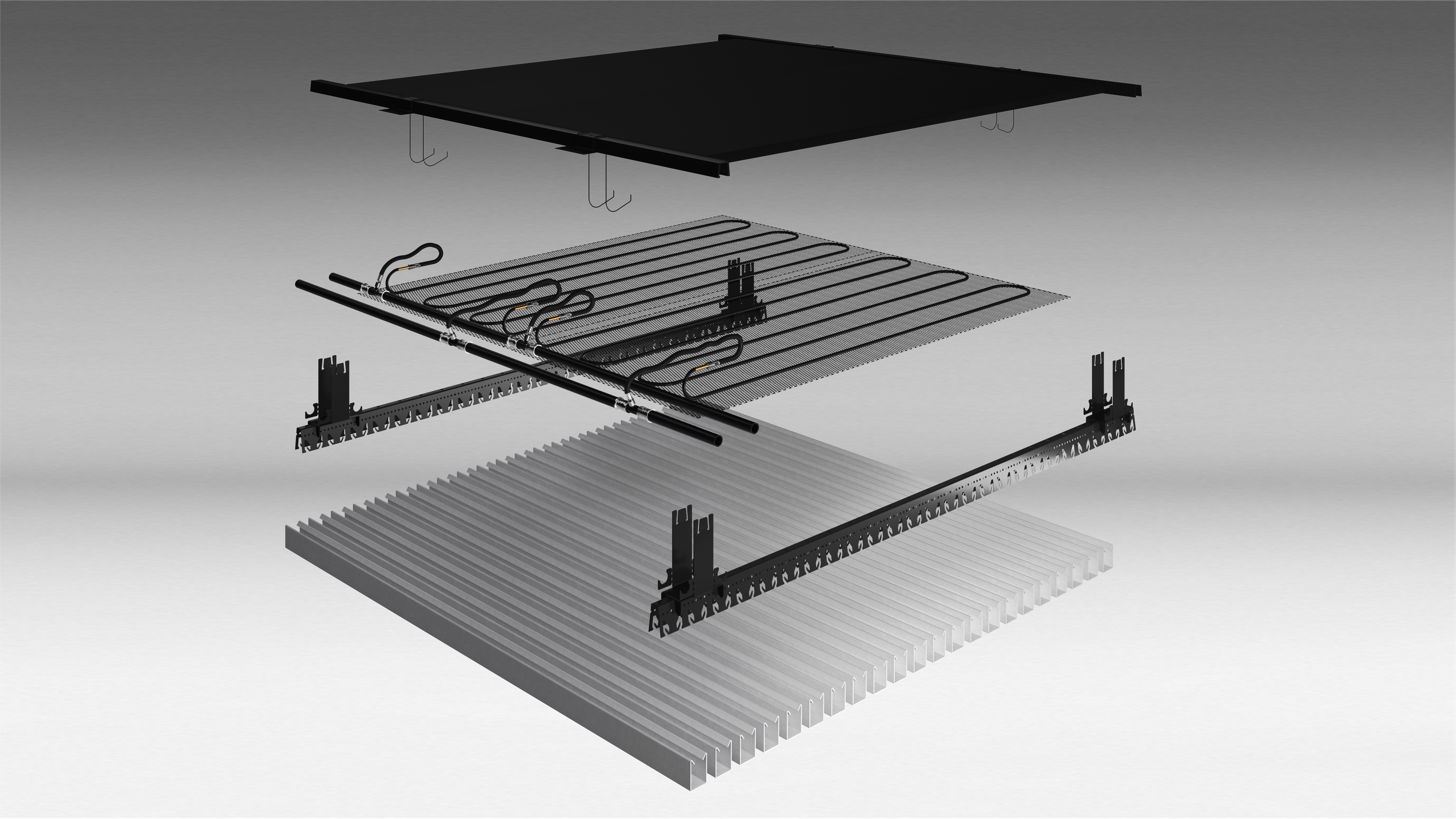 More information
More information can be found under downloads


Acoustic information

The acoustic performance in an office space, school or public building contributes to our well-being, as poor acoustic performance can affect health, communication, safety, productivity and learning. Using Hunter Douglas high performance acoustical ceiling products are the best solution to deliver outstanding acoustic performance, comfort and an aesthetically pleasing solution. With the HeartFelt® ceiling absorption values (αw) between 0.45 (module 100) and 0.70 (module 50) can be achieved. For extra sound absorption (ca 0.95) a mineral wool blanket, sealed in PE foil, can be installed optionally above the climate elements.


More imformation on acoustics

More information can be found under downloads


Health and wellbeing
Hunter Douglas contributes to sustainable buildings through aesthetic solutions that enhance comfort and save energy. Promoting health and wellbeing of their occupants is arguably the most important function of buildings. Buildings are not constructed just to be energy efficient. Our shading solutions promote the use of healthy daylight without the hindrances of glare and thermal discomfort. Our acoustic ceilings are a key element in the provision of acoustic comfort.
Sound materials
Environmentally sound materials are key to sustainable buildings. Our strategy is to pick materials that have good environmental properties to start with. Many of our products are made of aluminum produced in our own smelters. We've optimized our processes to use up to 99% of recycled content to produce the right alloy for our products. Our wood is FSC certified and we embrace the Cradle to Cradle principle in our product development.
Energy savings
Reducing the energy use of the total building stock is key to the prevention of global warming. Most modern office buildings use more energy for cooling than heating. Effectively managing the solar energy that passes through the transparent part of the façade is a key strategy in the prevention of overheating in both old and new buildings. Our high performance shading solutions bring substantial energy savings, while at the same time promoting health and wellbeing.
Corporate social responsability
Keen on Green is an important company-wide initiative to reduce energy consumption, water usage and our overall carbon-footprint. We embrace the ISO 14001 framework to actively manage our Keen on Green objectives. Hunter Douglas and its employees actively support the communities in which we live and work, as well as those on a more global scale. Business is people. We pride ourselves on our worldwide network of experienced, intelligent, passionate and creative people that have consciously chosen Hunter Douglas as their employer.