Hunter Douglas HeartFelt ceiling installed in Scotland for the first time.
September 25, 2020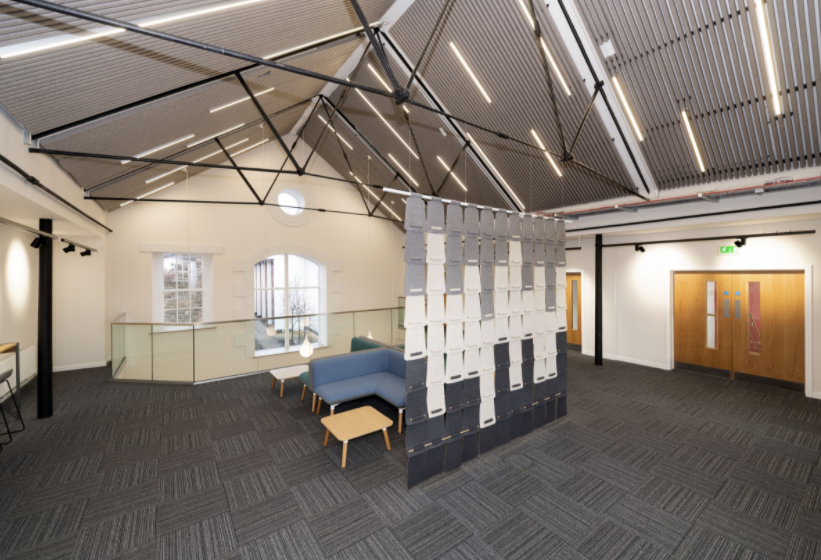 Hunter Douglas HeartFelt ceiling installed in Scotland for the first time.
Hunter Douglas Architectural's award-winning HeartFelt® ceiling system has enhanced a newly refurbished conference and meetings
centre in Stirling, Scotland – the first time it has been used in the country.
The Barracks Conference Centre is a former barracks, built in 1886 by the British Army, that has been transformed by the Robertson Trust
into a new 18,000-sq ft conference centre. It comprises seven accessible meeting rooms, the 170-capacity Robertson Conference Suite, café and formal and informal working areas.
Edinburgh-based JM Architects specified Hunter Douglas Architectural's environmentally friendly, felt ceiling system – the world's first modularand linear felt ceiling system manufactured from 100% recyclable material – for the reception area, cafe and on a pitched roof in a meeting area.
In total, the leading global architectural products company provided a total of 189 linear metres in Light Brown (7576).
Michael Mullen, of JM Architects, said they first learned about HeartFelt® following a Hunter Douglas CPD presentation on wood ceilings. "We were looking for a product that would enhance the visual aspect of the entrance area and the public waiting areas of the Conference Centre," he said.
"HeartFelt® was chosen as it would not just enhance the space but also provide a level acoustic performance and incorporate the lighting within the linear profile.
"It suits the space well. The HeartFelt® within the vaulted ceiling had been admired by visiting dignitaries during the official opening event of the Barracks Conference Centre, which was well received by all."
Hugh Bell, technical sales manager at Hunter Douglas Architectural, said the HeartFelt® ceilings provide striking focal points in the impressive historic building.
"The whole building has been sensitively converted and the use of the innovative HeartFelt® ceiling adds a touch of modernity to the
spaces," he said. "It was used lengthways on the expanse of steep pitched roof, which looks fantastic and showcases how it can be used to great effect in large areas.
"It is the first time that HeartFelt® has been used in Scotland and we hope that now its versatility has been demonstrated we'll soon see other projects using it."
Niall Miller, managing director of Carter Ceilings Ltd, who installed the HeartFelt® ceilings in the building, said his Company have worked
with Hunter Douglas Architectural for more than 40 years and understands its products and systems well, adding HeartFelt® to its toolkit. "It was good to have a new product to work with and having visited the project post completion , we can see that it looks good and works well acoustically," he said.
"The age of the building meant the existing structure wasn't entirely straight, so installation was challenging occasionally, but our skilled operatives were able overcome any issues."
Fiona Jamieson, Venue Manager, said: "I'm delighted that as well as being aesthetically pleasing, they're effective. Some of our meeting rooms are very large and cavernous; therefore it's important that the acoustics are good. Heartfelt works; the sound clarity is excellent – and no echoes."
HeartFelt®, which won the prestigious Red Dot award for product design in 2017 shortly after it launched, complies with regulations for use in non-polluting buildings, is resistant to dirt and dust, meets the indoor European standard EN 15251, and EN 13501 Class B, S1, do fire certification.
The panels are manufactured using thermoformed polyester fibres, which are 100% recyclable – earning the system C2C Bronze certificate from the Cradle to Cradle Products Innovation Institute. The panels are available in up to 6m lengths and are fixed via a special carrier system. They are available in a range of panel size, joint width and mounting height.
The panels in cream, light brown, medium brown, dark brown and umber blend in seamlessly with other materials, such as wood, and complement the five grey shades that launched the line.