Nature and industry combine when Hunter Douglas Architectural supplies ceilings for Maas Tower
December 25, 2019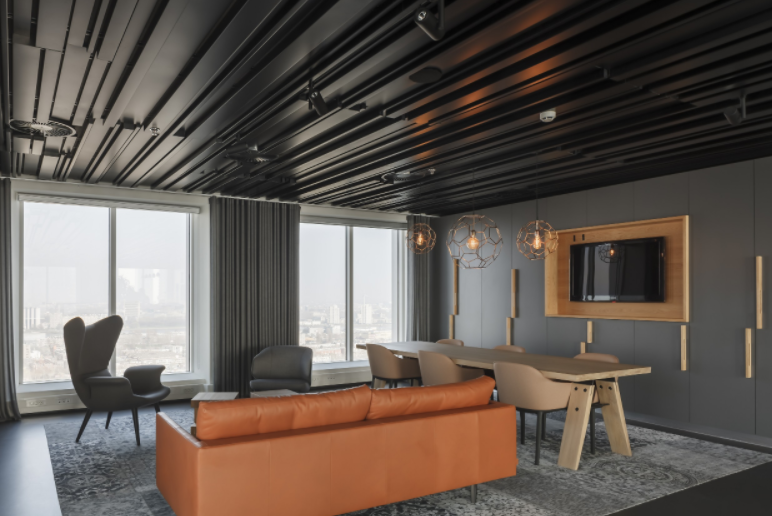 Nature and industry combine when Hunter Douglas Architectural supplies ceilings for Maas Tower.
When the law firm AKD wanted to refurbish the 29th floor of its offices in Rotterdam's Maas Tower, the tallest building in the Benelux region, the architects took their inspiration from the dock yards of Rotterdam.
The building, which sits on the banks of the River Maas, opened in 2010 and comprises two towers – the taller being just over 164 metres high and the second tower, where AKD is located, is 108 metres high.
The new reception and conference centre, designed by OTH architects, features strong materials such as leather, dark wood and blue steel. This look has been complemented by two stunning Hunter Douglas Architectural ceilings.
For the reception, corridors and waiting room areas, Hunter Douglas Architectural was specified to supply 310m2 of grill wood veneer inpoplar, while 105m2 of the industrial-looking metal ceiling was also specified for the staff lounge and bar area.
Terry Woudenberg, of Hunter Douglas Architectural, The Netherlands, said: "The contrasting ceilings in this part of the AKD office are interesting because the light, natural wood contrasts with the hard, industrial look of the Multipanel BXD ceiling. The overall refurbishment completely modernised the space and the ceilings add a real sense of drama and complement the rest of the design beautifully."
Grill wood veneer is an environmentally friendly choice. Not only does the wood come with FSC/PEFC certification, it is also produced efficiently: thanks to modern methods, between 800-1000m2 of veneer can be produced from just 1m3 of wood.
This style of ceiling provides designers with complete freedom when it comes to choosing the dimensions. For this refurbishment project, Hunter Douglas Architectural supplied the grills in 10-40-20-45 profile with standard mismatched veneer to recreate as natural effect as possible. All the panels were installed on a T24 system, with a cassette size of 1200 x 600mm, and because of the demountable clips, the panels were easy to install and can be removed quickly if access to the plenum is required.
Hunter Douglas Architectural worked closely with Bovero, the installation contractor with whom it has undertaken several ceiling projects over the past few years.
Jerry van Horik, commercial director of Bovero, said it was the first time his team had installed a Multipanel BXD ceiling. Made out of special alloy aluminium with up to 92% recycled content, this system is versatile and stylish and can be used in multiple environments, including airports, educational establishments, hotels and retail centres.
"This was a special project for us because it was the first time we got to experience the Multipanel BXD metal ceiling. It felt like a puzzle as there are lots of different measurements and we worked with the Hunter Douglas team to make sure our people understood how it should be installed. Preparation is key and there's no doubt that it's a very good ceiling that is well made and we're pleased with the result and how it looks."
The Multipanel BXD ceiling was specified in RAL 1883 black – a dramatic architectural statement, yet the floor-to-ceiling windows ensured that the rooms in which it was installed maintained the feeling of space.
A versatile system, with outstanding acoustic control qualities, the eight panels are available in three widths – 30, 80 and 130mm – all of which can be used together to create a beautifully engineered three-dimensional design.
For the AKD refurbishment, Hunter Douglas Architectural was specified to supply a range of box, deep box and extra deep box panels in lengths varying from 1213mm to 4853mm. A matt acoustic backing was also used to optimise the sound absorption in the space.
Terry Woudenberg added: "From Amsterdam's Schiphol Airport, where it is used across the main halls, to a smaller office environment, the Multipanel BXD ceiling never fails to impress, thanks to its sheer versatility."
Ferdinand van Dam, OTH architects, said: "Our client, AKD really challenged us to come up with an inspiring interior concept, not looking like a usual office, but more like a club or a lounge of a restaurant.
"By creating the concept of 'dock yards of Rotterdam', we gave the space a specific raw identity, fitting both the building and location.
The grill-like ceilings, in mismatched wood and dark metal, we found in the collection of Hunter Douglas Architectural complemented thedesired look and feel of the interior really well, while providing a great acoustical quality to the space."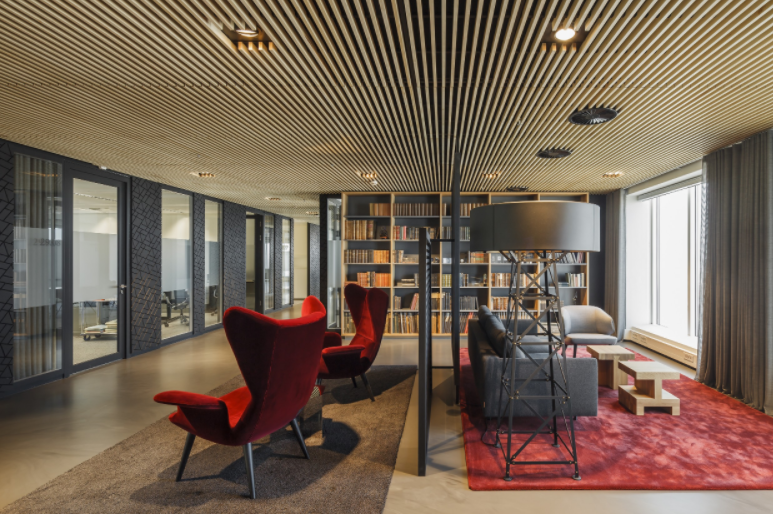 When the law firm AKD wanted to refurbish the 29th floor of its offices in Rotterdam's Maas Tower, the tallest building in the Benelux region, the architects took their inspiration from the dock yards of Rotterdam. The building, which sits on the banks of the River Maas, opened in 2010 and comprises two towers – the taller being just over 164 metres high and the second tower, where AKD is located, is 108 metres high. The new reception and conference centre, designed by OTH architects, features strong materials such as leather, dark wood and blue steel. This look has been complemented by two stunning Hunter Douglas Architectural ceilings. For the reception, corridors and waiting room areas, Hunter Douglas Architectural was specified to supply 310m2 of grill wood veneer in poplar, while 105m2 of the industrial-looking metal ceiling was also specified for the staff lounge and bar area. Terry Woudenberg, of Hunter Douglas Architectural, The Netherlands, said: "The contrasting ceilings in this part of the AKD office are interesting because the light, natural wood contrasts with the hard, industrial look of the Multipanel BXD ceiling. The overall refurbishment completely modernised the space and the ceilings add a real sense of drama and complement the rest of the design beautifully." Grill wood veneer is an environmentally friendly choice. Not only does the wood come with FSC/PEFC certification, it is also produced efficiently: thanks to modern methods, between 800-1000m2 of veneer can be produced from just 1m3 of wood. This style of ceiling provides designers with complete freedom when it comes to choosing the dimensions. For this refurbishment project, Hunter Douglas Architectural supplied the grills in 10-40-20-45 profile with standard mismatched veneer to recreate as natural effect as possible. All the panels were installed on a T24 system, with a cassette size of 1200 x 600mm, and because of the demountable clips, the panels were easy to install and can be removed quickly if access to the plenum is required. Hunter Douglas Architectural worked closely with Bovero, the installation contractor with whom it has undertaken several ceiling projects over the past few years. Jerry van Horik, commercial director of Bovero, said it was the first time his team had installed a Multipanel BXD ceiling. Made out of special alloy aluminium with up to 92% recycled content, this system is versatile and stylish and can be used in multiple environments, including airports, educational establishments, hotels and retail centres. "This was a special project for us because it was the first time we got to experience the Multipanel BXD metal ceiling. It felt like a puzzle as there are lots of different measurements and we worked with the Hunter Douglas team to make sure our people understood how it should be installed. Preparation is key and there's no doubt that it's a very good ceiling that is well made and we're pleased with the result and how it looks." The Multipanel BXD ceiling was specified in RAL 1883 black – a dramatic architectural statement, yet the floor-to-ceiling windows ensured that the rooms in which it was installed maintained the feeling of space. A versatile system, with outstanding acoustic control qualities, the eight panels are available in three widths – 30, 80 and 130mm – all of which can be used together to create a beautifully engineered three-dimensional design. For the AKD refurbishment, Hunter Douglas Architectural was specified to supply a range of box, deep box and extra deep box panels in lengths varying from 1213mm to 4853mm. A matt acoustic backing was also used to optimise the sound absorption in the space. Terry Woudenberg added: "From Amsterdam's Schiphol Airport, where it is used across the main halls, to a smaller office environment, the Multipanel BXD ceiling never fails to impress, thanks to its sheer versatility." Ferdinand van Dam, OTH architects, said: "Our client, AKD really challenged us to come up with an inspiring interior concept, not looking like a usual office, but more like a club or a lounge of a restaurant. "By creating the concept of 'dock yards of Rotterdam', we gave the space a specific raw identity, fitting both the building and location. The grill-like ceilings, in mismatched wood and dark metal, we found in the collection of Hunter Douglas Architectural complemented the desired look and feel of the interior really well, while providing a great acoustical quality to the space."