Linear geschlossen 75C / 150C / 225C
Name der Abteilung: Hunter Douglas Architektur-Systeme
Internet: www.hd-as.de
Adresse: Erich-Ollenhauer-Str. 7 Düsseldorf D-40595 Deutschland
Telefonnummer: (+49) 0800 - 88 000 03
Fax: (+49) 0211 - 97 086 20
Kontakt: Kontakt
Name der Abteilung: Herr Marco Moryson
Objektberater Nord- und Ostdeutchland
Internet: www.hd-as.de
Adresse: Deutschland
Telefonnummer: 0172 - 81 51 802
Fax: 0211 - 970 86 20
Kontakt: Kontakt
Name der Abteilung: Herr Jörg Wöllner
Objektberater Süddeutschland
Internet: www.hd-as.de
Adresse: Deutschland
Telefonnummer: 0172-2905229.
Fax: +49 (0)211 9708620
Kontakt: Kontakt
Herzlichen Dank für Ihre Angaben. Wir werden uns in Kürze bei Ihnen melden.
Es gab ein Problem bei der Speicherung Ihrer Anfrage. Bitte versuchen Sie es erneut.
Please accept the Privacy Agreement.
1. Name, E-Mail-Adresse, Firma, Telefonnummer, Anschrift und mindestens eine Produktauswahl wird benötigt.
AUßEN LINEAR GESCHLOSSEN 75C/150C/225C
Das geschlossene Luxalon®-Deckensystem bietet drei Paneelbreiten zur Auswahl. Alle drei Breiten können kombiniert werden und lassen sich leicht in die gleiche Trageschiene einclipsenein. Die Paneele werden mit Paneelverbindern zusammengesteckt. Sicherungsclips für 150 C und 225C werden kreuzweise an der Tragschiene befestigt, um die Paneele vollständig gegen ein Herausfallen bei Windlasten zu sichern.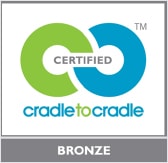 Allgemeine Informationen
Warum eine lineare geschlossene Metall-Außendecke?


Die Haarfugen sorgen für ein gleichmäßiges, geschlossenes Erscheinungsbild. Durch eine Kombination schmaler und breiter Paneele (75, 150 und 225 mm) sind verschiedene dimensionale Effekte möglich, wodurch sich unendlich viele Gestaltungsmöglichkeiten ergeben.
Eigenschaften


Geschlossene Aluminiumdeckenpaneele, die in der fertigen Installation ein geschlossenes und ebenmäßiges Erscheinungsbild ergeben
Alle drei Breiten können mit Clips auf einer universellen Aluminiumträgerschiene befestigt werden
Paneele sind in beliebigen Längen bis zu 6000 mm (standardmäßig) lieferbar, haben eine Stärke von 0,6 mm und bestehen aus einer hoch korrosionsbeständigen Aluminiumlegierung
Paneele werden auf der Tragschiene mit einem speziellen Befestigungsclip (nur 150C/225C-Paneele) arretiert
Auch die arretierten Paneele sind mit einem einfachen Werkzeug vollständig demontierbar, was den uneingeschränkten Zugang zu den Betriebsvorrichtungen und Anlagen im Deckenhohlraum ermöglicht
Alle Deckensysteme wurden auf ihre Widerstandsfähigkeit gegen Windlasten geprüft
Cradle to Cradle Certified™ Bronze (Cradle to Cradle Certified™ is a certification mark licensed by the Cradle to Cradle Products Innovation Institute).
Anwendung


Das geschlossene Außendeckensystem Luxalon® Linear eignet sich für alle Gebäudebereiche: Firmengebäude, Beförderungsgebäude (Flughäfen, U-Bahn-Stationen, Bushaltestellen und Bahnhöfe), Einzelhandel, Freizeiteinrichtungen, öffentliche Gebäude, Hotels und Gaststätten, Gesundheitswesen, Bildungseinrichtungen oder Wohngebäude.

Bitte kontaktieren Sie uns, um Ihre Wünsche mit uns zu besprechen.
Design & Inspiration
Bei geschlossenen linearen Paneelen liegt die Betonung weniger auf der Laufrichtung der Paneele. Sie sind die perfekte Wahl, wann immer ein geschlossenes und ebenmäßiges Deckenbild gefragt ist. Drei verschiedene Breiten in einheitlicher Ausführung oder in Kombination untereinander sorgen für dezente Muster, die Ihrem Projekt den perfekten Look verleihen.
Die Metalldeckenfarben von Hunter Douglas sind standardmäßig für die meisten Deckentypen verfügbar. Bitte wenden Sie sich an das Verkaufsbüro für nähere Informationen zur Verfügbarkeit für den jeweiligen Deckentyp. Spezialausführungen und -farben für Projekte sind auf Anfrage erhältlich.
Luxacote® Außenbeschichtung
Luxacote® ist eine exklusive Innovation von Hunter Douglas, welche die Langlebigkeit von Aluminiumprodukten für den Außeneinsatz erhöht. Seine Stärke und Effizienz beruhen auf einem leistungsfähigen 3-Schicht-System, das aus einer Vorbehandlung mit Anorcoat, der farbigen Beschichtung und einem UV-beständigen und kratzfesten Decklack besteht.
Materialeigenschaften

Dieses Deckensystem kombiniert drei Paneelbreiten, die sich von anderen Hunter Douglas-Systemen durch ihre gefasten Seiten unterscheiden und in der fertigen Installation ein geschlossenes und ebenmäßiges Deckenbild ergeben. Alle drei Paneelbreiten verwenden ein und dieselbe universelle Tragschiene. Die Paneele werden untereinander mit Paneelverbindern befestigt, während die Trageschiene die normalen Tragschienenverbinder verwendet. Paneele (nur 150C und 225C) sind durch den Sicherungsclip zu arretieren.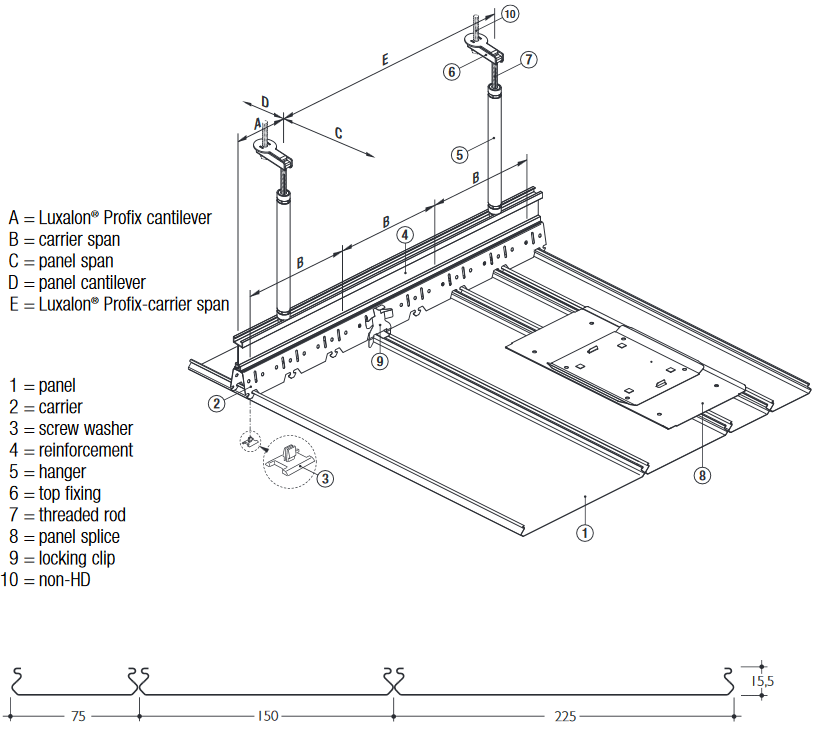 Weitere Produktinformationen
Detailliertere Angaben finden Sie im
downloads
weiter unten. Hier finden Sie Informationen zu den Themen: Maximale Spannweiten, Abmessungen und Gewichte und Materialverbrauch pro m².
Gesundheit und Wohlbefinden
Das Decken-Portfolio von Hunter Douglas Architectural leistet einen Beitrag zur nachhaltigen Bauweise: hochästhetische Lösungen, die Energie sparen und Ihren Komfort optimieren. Die wohl wichtigste Funktion eines jeden Gebäudes ist es, die Gesundheit und das Wohlbefinden seiner Bewohner zu fördern. Unsere Beschattungslösungen lassen gesundes Tageslicht herein, verhindern jedoch Blendeffekte und Temperaturspitzen. Unsere Akustik-Decken sind ein Kernelement bei der Schaffung einer komfortablen Geräuschumgebung.
Nachhaltige Materialien
Umweltgerechte Materialien sind der Schlüssel zu einer nachhaltigen Bauweise. Unser Grundsatz ist es, von Beginn an nur Materialien mit umweltfreundlichen Eigenschaften zu verwenden. Viele unserer Produkte bestehen aus Aluminium, das in unseren hauseigenen Schmelzöfen hergestellt wurde. Wir haben unsere Prozesse so weit optimiert, dass wir bis zu 99 % recycelte Inhaltsstoffe verwenden und genau die passende Legierung für unsere Produkte herstellen können. Unser Holz ist FSC-zertifiziert, und bei unserer Produktentwicklung befolgen wir das "Cradle to Cradle"-Prinzip ("von der Wiege zur Wiege").
Energieeinsparungen
Um die globale Erwärmung wirksam zu bekämpfen, muss der Energieverbrauch im Gebäudebereich nachhaltig gesenkt werden. Die meisten modernen Bürogebäude verbrauchen mehr Energie für die Kühlung bzw. Klimatisierung als für das Heizen. Eine höchst erfolgreiche Strategie zur Vermeidung übermäßig hoher Temperaturen in Alt- und Neubauten: Sonnenenergie, die durch transparente Fassadenkomponenten eines Gebäudes in dessen Innenbereich gelangt, wird effizient weitergeleitet. Unsere überlegenen Beschattungslösungen ermöglichen deutliche Energieeinsparungen und fördern gleichzeitig Gesundheit und Wohlbefinden.
Soziale Verantwortung
"Keen on Green" ist unsere unternehmensweite Initiative zur Verringerung des Energie- und Wasserverbrauches sowie zur Verbesserung unserer allgemeinen Kohlendioxyd-Bilanz. Wir befolgen die ISO-14001-Grundsätze, um unsere unsere "Keen on Green"-Zielsetzungen aktiv umzusetzen. Hunter Douglas und seine Beschäftigten leisten einen aktiven Beitrag zur Unterstützung der Gemeinden, in denen wir leben und arbeiten – doch wir engagieren uns auch auf globaler Ebene. Ein Unternehmen besteht aus Menschen. Wir sind stolz auf unser weltweites Netzwerk an erfahrenen, intelligenten, passionierten und kreativen Mitarbeitern, die Hunter Douglas bewusst als ihren Arbeitgeber ausgewählt haben.
| Name | Download |
| --- | --- |
| Broschüre Exterior Colour Overview | PDF |
| Broschüre Luxacote | PDF |
| Broschüre (Farbig) Aussendecken | PDF |
| Broschüre (Technische) Aussendecken | PDF |
| Broschüre Exterior Colours | PDF |
| Broschüre Umwelt Produktdeklaration Metalldeckensystem aus Aluminium | PDF |
| Broschüre Umwelt Produktdeklaration Metalldeckensysteme aus Stahl | PDF |
| Colour Overview Exterior | PDF |
| Commercial Ceilings & Walls Product Guide 2022/2023 | PDF |