Name der Abteilung: Hunter Douglas Architektur-Systeme
Internet: www.hd-as.de
Adresse: Erich-Ollenhauer-Str. 7 Düsseldorf D-40595 Deutschland
Telefonnummer: (+49) 0800 - 88 000 03
Fax: (+49) 0211 - 97 086 20
Kontakt: Kontakt
Name der Abteilung: Herr Marco Moryson
Objektberater Nord- und Ostdeutchland
Internet: www.hd-as.de
Adresse: Deutschland
Telefonnummer: 0172 - 81 51 802
Fax: 0211 - 970 86 20
Kontakt: Kontakt
Name der Abteilung: Herr Jörg Wöllner
Objektberater Süddeutschland
Internet: www.hd-as.de
Adresse: Deutschland
Telefonnummer: 0172-2905229.
Fax: +49 (0)211 9708620
Kontakt: Kontakt
Herzlichen Dank für Ihre Angaben. Wir werden uns in Kürze bei Ihnen melden.
Es gab ein Problem bei der Speicherung Ihrer Anfrage. Bitte versuchen Sie es erneut.
Please accept the Privacy Agreement.
1. Name, E-Mail-Adresse, Firma, Telefonnummer, Anschrift und mindestens eine Produktauswahl wird benötigt.
RASTERDECKE MIT ZELLENRASTER
Diese quadratischen oder rechteckigen Zellenraster sind in vielen verschiedenen Ausführungen erhältlich. Das umfassende Angebot und die kleinere Kachelausführung verleihen der Decke hoch dekorative Eigenschaften.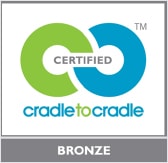 Allgemeine Informationen
Warum Deckenplatten mit Zellenraster?

Deckenplatten mit Zellenraster sorgen für ein großzügiges Erscheinungsbild und sind somit ideal für Innenraumgestaltungen geeignet, bei denen eine offene und leichte Umgebung gewünscht wird. Sie erleichtern den Einsatz verschiedener Typen in einer Decke und sind ideal für die visuelle Abschirmung des Deckenhohlraums geeignet. Dieses vielseitige Produkt ist in fünf verschiedenen Plattenausführungen und einer breiten Auswahl an modularen Zellabmessungen erhältlich.
Eigenschaften


Diese Paneele ermöglichen eine indirekte Streuung natürlichen oder künstlichen Lichts zusammen mit einer visuellen Abschirmung des Deckenhohlraums
Einfache Installation durch simple Anbringung der Platten auf das T-Gitter
Die Paneele in den Standardgrößen 600 x 600 mm und 600 x 1200 mm sind leicht und gleichzeitig robust
Je nach Ausführung sind standardmäßig verschiedene Module erhältlich. Weitere Module (quadratisch oder rechteckig) sind auf Anfrage erhältlich
Für die Abdeckung von Betriebsvorrichtungen wie Rohren, Klimaanlagen und ähnlichen Deckeninstallationen konzipiert
Cradle to Cradle Certified™ Bronze (Cradle to Cradle Certified™ is a certification mark licensed by the Cradle to Cradle Products Innovation Institute).
Anwendung

Decken mit Zellenraster eignen sich für Gebäudebereiche, die eine leichte und offene Decke erfordern: Firmengebäude, Beförderungsgebäude (Flughäfen, U-Bahn-Stationen, Bushaltestellen und Bahnhöfe), Einzelhandel, Freizeiteinrichtungen, öffentliche Gebäude oder Hotels und Gaststätten.

Bitte kontaktieren Sie uns, um Ihre Wünsche mit uns zu besprechen.
Design & Inspiration
Mit den Zellenraster-Decken von Hunter Douglas können Architekten eine offene Decke mit leistungsstarkem Aluminium gestalten. Mit ihrer breiten Palette an Zellenrasternbieten diese Decken höchste Designfreiheit. Deckensysteme mit Zellenraster sorgen für ein großzügiges Erscheinungsbild und sind somit ideal für eine Innenraumgestaltung geeignet, bei der offene und leichte Konstruktionen gewünscht werden. Deckensysteme mit offenem Zellenraster erleichtern die Gestaltung verschiedener Module in einer Decke und sind perfekt für sehr kleine Hohlraumtiefen geeignet. Die Systeme sind als Lay In 15/0.
Das Sortiment von Hunter Douglas an gebogenen Metalldecken ist in verschiedenen Standardfarben erhältlich, die sich für die meisten Anwendungen eignen. Weitere Informationen zu den für bestimmte Projekte verfügbaren Deckentypen, Ausführungen und Farbpaletten erhalten Sie von unserem Verkaufsbüro.
Materialeigenschaften

Deckenplatten mit Zellenraster in den Größen 600 x 600 mm oder 600 x 1200 mm werden werkseitig aus Aluminium-Profilen montiert, um ein integriertes Produkt zu schaffen. Deckenplatten mit Zellenraster sind im Handel für 15 mm T-Profilen für nahtlose Konstruktionen erhältlich. T15-Raster werden aus rollgeformten U-Profilen mit einem umlaufenden Randstreifen gefertigt, der die T-Schienen verbirgt.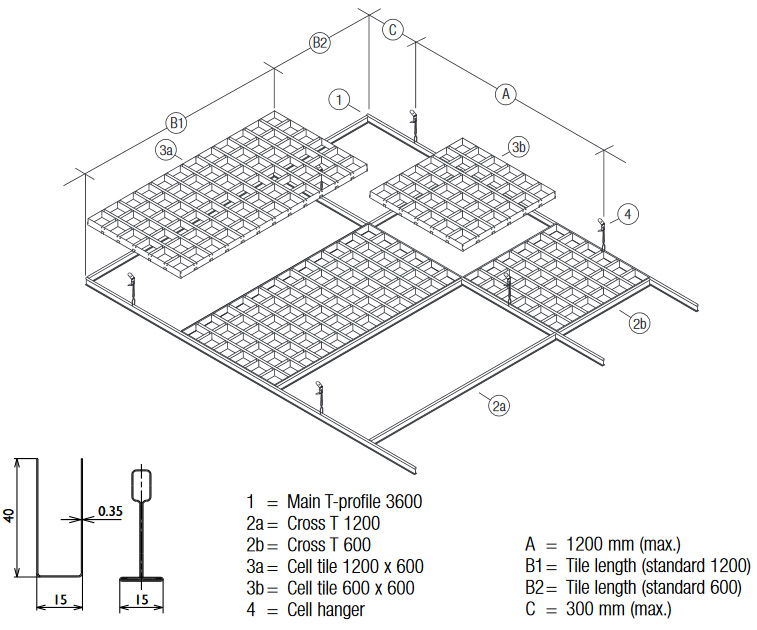 Weitere Produktinformationen
Detailliertere Angaben finden Sie im
Download-Bereich
weiter unten.
Akustische Informationen
Die Akustik in Büroräumen oder in öffentlichen Einrichtungen und Schulgebäuden trägt zu unserem Wohlbefinden bei, da eine minderwertige Akustikleistung unsere Gesundheit, Kommunikation, Sicherheit, Produktivität und unser Lernvermögen beeinträchtigen kann. Zellenraster Decken haben keine eigenen akustischen Eigenschaften. Mithilfe von Akustikmatten, die über den Paneelen angebracht werden, lassen sich die schallabsorbierenden Eigenschaften jedoch an jede Anforderung anpassen.





Weitere Informationen zur Akustik
Weitere akustische Informationen finden Sie im
Download-Bereich
weiter unten.
Gesundheit und Wohlbefinden
Das Decken-Portfolio von Hunter Douglas Architectural leistet einen Beitrag zur nachhaltigen Bauweise: hochästhetische Lösungen, die Energie sparen und Ihren Komfort optimieren. Die wohl wichtigste Funktion eines jeden Gebäudes ist es, die Gesundheit und das Wohlbefinden seiner Bewohner zu fördern. Unsere Beschattungslösungen lassen gesundes Tageslicht herein, verhindern jedoch Blendeffekte und Temperaturspitzen. Unsere Akustik-Decken sind ein Kernelement bei der Schaffung einer komfortablen Geräuschumgebung.
Nachhaltige Materialien
Umweltgerechte Materialien sind der Schlüssel zu einer nachhaltigen Bauweise. Unser Grundsatz ist es, von Beginn an nur Materialien mit umweltfreundlichen Eigenschaften zu verwenden. Viele unserer Produkte bestehen aus Aluminium, das in unseren hauseigenen Schmelzöfen hergestellt wurde. Wir haben unsere Prozesse so weit optimiert, dass wir bis zu 99 % recycelte Inhaltsstoffe verwenden und genau die passende Legierung für unsere Produkte herstellen können. Unser Holz ist FSC-zertifiziert, und bei unserer Produktentwicklung befolgen wir das "Cradle to Cradle"-Prinzip ("von der Wiege zur Wiege").
Energieeinsparungen
Um die globale Erwärmung wirksam zu bekämpfen, muss der Energieverbrauch im Gebäudebereich nachhaltig gesenkt werden. Die meisten modernen Bürogebäude verbrauchen mehr Energie für die Kühlung bzw. Klimatisierung als für das Heizen. Eine höchst erfolgreiche Strategie zur Vermeidung übermäßig hoher Temperaturen in Alt- und Neubauten: Sonnenenergie, die durch transparente Fassadenkomponenten eines Gebäudes in dessen Innenbereich gelangt, wird effizient weitergeleitet. Unsere überlegenen Beschattungslösungen ermöglichen deutliche Energieeinsparungen und fördern gleichzeitig Gesundheit und Wohlbefinden.
Soziale Verantwortung
"Keen on Green" ist unsere unternehmensweite Initiative zur Verringerung des Energie- und Wasserverbrauches sowie zur Verbesserung unserer allgemeinen Kohlendioxyd-Bilanz. Wir befolgen die ISO-14001-Grundsätze, um unsere unsere "Keen on Green"-Zielsetzungen aktiv umzusetzen. Hunter Douglas und seine Beschäftigten leisten einen aktiven Beitrag zur Unterstützung der Gemeinden, in denen wir leben und arbeiten – doch wir engagieren uns auch auf globaler Ebene. Ein Unternehmen besteht aus Menschen. Wir sind stolz auf unser weltweites Netzwerk an erfahrenen, intelligenten, passionierten und kreativen Mitarbeitern, die Hunter Douglas bewusst als ihren Arbeitgeber ausgewählt haben.