Name der Abteilung: Hunter Douglas Architektur-Systeme Zweigniederlassung der Hunter Douglas GmbH
Internet: www.hd-as.de
Adresse: Erich-Ollenhauer-Str. 7 Düsseldorf D-40595 Deutschland
Telefonnummer: (+49) 0800 - 88 000 03
Fax: (+49) 0211 - 97 086 20
Kontakt: Kontakt
Name der Abteilung: Herr Marco Moryson
Objektberater Deckensysteme Deutschland
Adresse: PLZ 00 – 67 und 98 - 99 Deutschland
Telefonnummer: 0172 – 81 51 802
Fax: 0211 – 970 86 20
Kontakt: Kontakt
Name der Abteilung: Herr H.G. Kaminski Objektberater Decke Süddeutschland/Österreich
Adresse: PLZ 70000 - 98999 Deutschland
Telefonnummer: 0152-09035824
Fax: 0211-9708620
Name der Abteilung: NBK Keramik GmbH & Co
Internet: www.nbkterracotta.com
Adresse: Reeser Str. 235 Emmerich D-46446 Deutschland
Telefonnummer: (+49) 02822 – 81 110
Fax:
Name der Abteilung: FLEXALUM Sonnenschutzsysteme, Zweigniederlassung der Hunter Douglas GmbH
Internet: www.flexalum.de
Adresse: Erich-Ollenhauer-Str. 7 Düsseldorf D-40595 Deutschland
Telefonnummer: (+49) 0211 – 739 19 - 0
Fax: (+49) 0211 - 739 19 - 80
Kontakt: Kontakt
Name der Abteilung: Herr A. Herfurth
Objektberater Fassadensysteme
Adresse: Deutschland
Telefonnummer: 0170 - 32 06 578
Fax:
Kontakt: Kontakt
Name der Abteilung: Herr Jörg Wöllner Objektberater N-W Deutschland Sonnenschutz
Adresse: Deutschland
Telefonnummer: 0172 - 29 05 229
Fax:
Kontakt: Kontakt
Name der Abteilung: Herr Marcus Hahn Vertriebsleiter Sonnenschutzsysteme
Adresse: Deutschland
Telefonnummer: 0160 – 90 11 31 24
Fax:
Kontakt: Kontakt
Herzlichen Dank für Ihre Angaben. Wir werden uns in Kürze bei Ihnen melden.
Es gab ein Problem bei der Speicherung Ihrer Anfrage. Bitte versuchen Sie es erneut.
Please accept the Privacy Agreement.
1. Name, E-Mail-Adresse, Firma, Telefonnummer, Anschrift und mindestens eine Produktauswahl wird benötigt.
FURNIERHOLZ KASSETTEN & PANEELE
Das Sortiment Furnierholz Kassetten & Paneele besteht aus Akustikdecken- und Wandelementen, die aus einem MDF-Kern gefertigt werden und mit einem Holzfurnier verkleidet sind. Wählen Sie aus den Standardpaneelen oder gestalten Sie individuelle Paneelformen für ein einzigartiges Erscheinungsbild. Die breite Palette an Furnieren, Ausführungen und Perforationen macht jedes Designvorhaben möglich.
Allgemeine Informationen
Warum lineares Furnierholz?

Furnierholzkassetten und -paneele sind ein umweltfreundliches Bauprodukt mit endlosen Möglichkeiten. Das Holz wird bei der Produktion von Furnieren effizient eingesetzt, da mit modernen Produktionsmethoden aus 1 m³ Holz 800-1000 m² Furnier produziert werden können. Die vier demontierbaren Deckentypen Classic, Modern, Prestige und System zeichnen sich alle durch ihren besonderen Look, ihre Fuge und ihre eigenen Vorteile aus. Mit der starren Aufhängung sind die Paneele einfach zu installieren und können bei Bedarf problemlos demontiert werden. Die Topline®-Akustikpaneele zeichnen sich durch ein Nut-und-Feder-System für eine nahtlose Oberfläche aus.
Eigenschaften


Kundenspezifische Paneelgrößen für eine maßgearbeitete Lösung
Sehr hohe Akustikleistung bis zu αw 0,95
Gestalten Sie eine Lösung mit einer verborgenen hohen Akustikleistung durch die Mini-Mikro-Perforation
Topline®-Paneele verwenden ein Nut-und-Feder-System für eine nahtlose Oberfläche
Verschiedene Lösungen für den Zugang zum Deckenhohlraum und die Demontage
Als Decken- und Wandlösung verfügbar
Anwendung


Die Furnierholzkassetten und -paneele eignen sich für alle Gebäudebereiche: Firmengebäude, Beförderungsgebäude (Flughäfen, U-Bahn-Stationen, Bushaltestellen und Bahnhöfe), Einzelhandel, Freizeiteinrichtungen, öffentliche Gebäude, Hotels und Gaststätten, Gesundheitswesen, Bildungseinrichtungen oder Wohngebäude.

Natürliche Flexibilität
Mit Furnierholzkasetten haben Sie die Freiheit, eine natürlich aussehende Wand oder Decke zu gestalten. Das Aussehen der Holzpaneele entsteht durch eine sorgfältige Auswahl der Holzarten, Farben und Struktur. Die natürliche Holzmaserung jedes Baumes sowie natürliche Merkmale, wie Astlöcher und Auswuchs, sind im Furnier deutlich zu sehen. Nach Auswahl des Furniers werden die Paneele gemäß Verlegeplan gefertigt, um eine perfekte Passform sicherzustellen.
American Cherry
American Walnut
American White Oak
American Maple
Anigre
Ash
Bamboo
Beech
Birch
Cedar
European Oak
Hemlock
Koto
Pine
Red Oak
Spruce
Sycamore
Teak



Choose from more than 40 veneers to create the ideal ambiance and feel. From light to dark tones, there is a veneer for each design. Standard, the panels are provided with a transparent lacquer, but if a special look is required, special varnishes, staining or paint finishes are also possible.






Wählen Sie aus über 40 Furnieren für das ideale Ambiente und Flair. Von hell bis dunkel gibt es ein Furnier für jedes Design. Standardmäßig werden die Paneele mit Klarlackbeschichtung geliefert. Für einen besonderen Look sind allerdings auch spezielle Lackierungen, Beiz- oder Farblackierungen möglich.







Furnierabstimmung


Die Furnierblätter von 10-25 cm Breite werden spiegelbildlich angeordnet und miteinander verleimt, um Paneele zu bilden. Auf Anfrage können die Furnierblätter auch verschoben oder versetzt angeordnet werden. Je nach Anordnung der Furniere ergibt sich so ein aussagekräftiges Design.



| | | |
| --- | --- | --- |
| | | |
| Spiegelbildlich | Verschoben | Versetzt |


Die Furnierholz-Deckenkassetten können in beliebigen Größen bis zu 600x1200 mm gefertigt werden. Sondergrößen sind auf Anfrage verfügbar. Je nach der erforderlichen Fugenbreite und den Zugangsanforderungen sind vier Paneeltypen verfügbar.


Classic - Sichtbare Fugen

Das Classic-Paneel ist ein typisches Einlage-Paneel, das auf einem standardmäßigen T-Gitter (15 mm oder 24 mm) angebracht werden kann. Durch die Seitenausführung mit Nut bleibt das Paneel sicher an seinem Platz.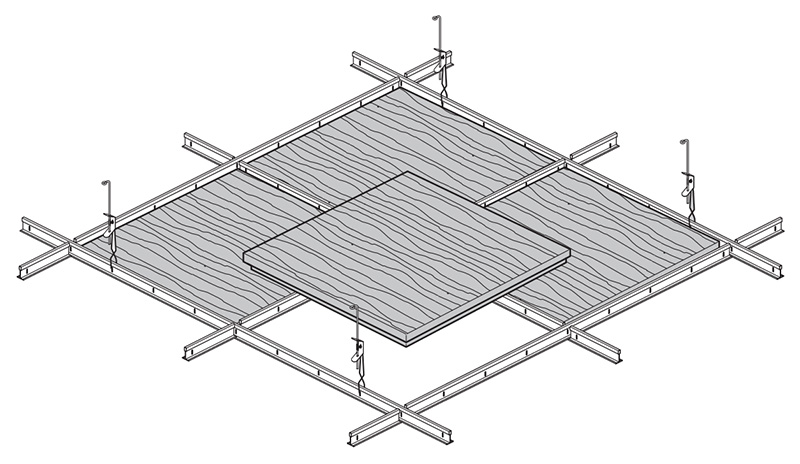 Modern - teilverborgene Fugen

Das Modern-Paneel zeigt aufgrund eines speziellen Kantendetails nur 4 mm des 24 mm T-Gitters nach dem Zusammenbau. Jedes Paneel kann leicht nach unten abgenommen werden, was den uneingeschränkten Zugang zum Deckenhohlraum durch einen simplen Druck ermöglicht.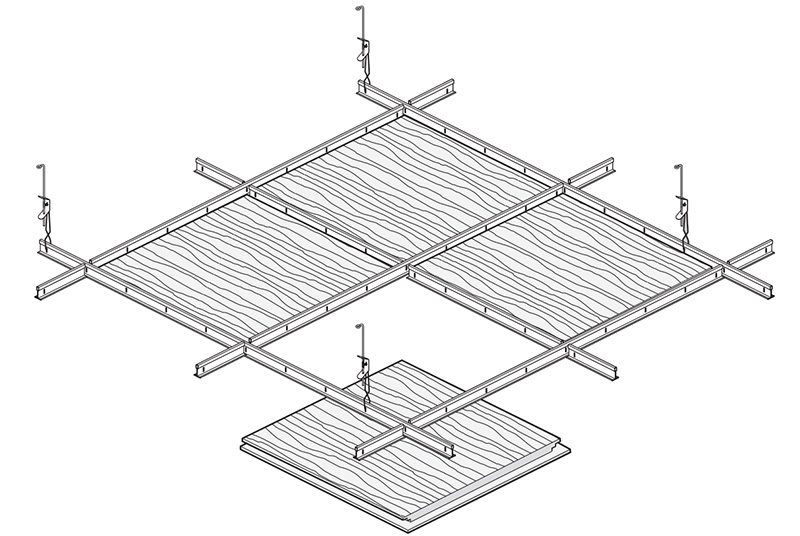 Prestige - Verborgene Fugen

Das Prestige-System zeichnet sich durch spezielle Kantenausführungen aus, sodass die Unterstruktur komplett verborgen wird. Jedes Paneel kann weiterhin durch einfaches Heben und Kippen entfernt werden.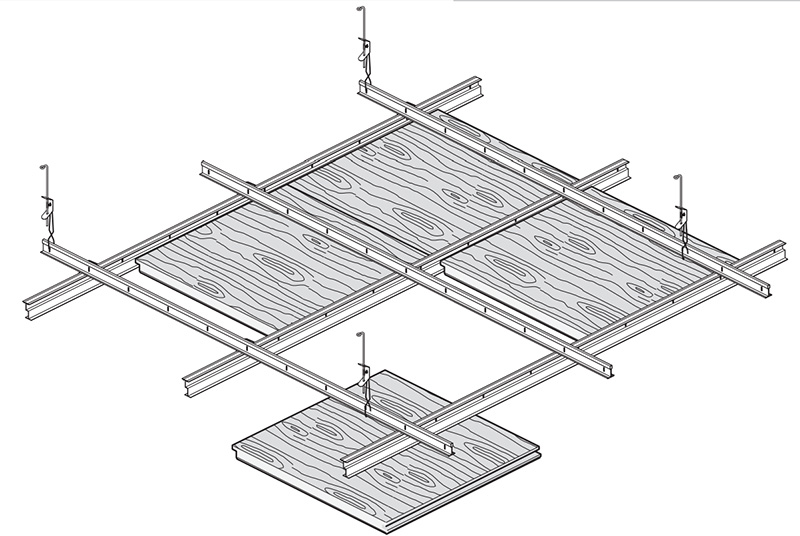 Furnierholz-Wandkassetten



Die Furnierholz-Wandkacheln können in beliebigen Größen bis 600x1200 mm gefertigt werden. Sondergrößen sind auf Anfrage verfügbar. Je nach der erforderlichen Fugenbreite und den Zugangsanforderungen sind zwei Paneeltypen verfügbar.



Standard - Offene Fugen
Trend - Geschlossene Fugen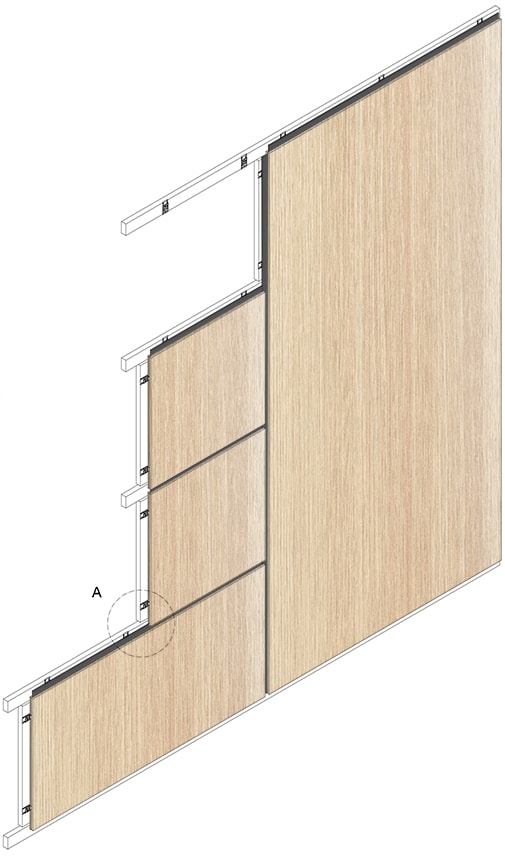 Furnierholzpaneele & Topline®


Die Furnierholzpaneele sind in verschiedenen Breiten bis 288 mm und Längen bis 2780 mm erhältlich und eignen sich sowohl für Decken- als auch Wandanwendungen. Die Befestigung erfolgt auf einer Unterkonstruktion mittels spezieller Metallclips, die eine geschlossene oder offene Fuge erzeugen können. Bei den Topline®-Paneelen handelt es sich um leistungsstarke schallabsorbierende Paneele. Ermöglicht wird diese Akustikleistung durch ein einzigartiges Nutenfräsmuster in Kombination mit einer Akustikmembran. Das Design und die Akustik können durch die Wahl des passenden Modells vollständig auf jedes Projekt abgestimmt werden, sodass sichergestellt wird, dass die Schallenergie nahezu vollständig absorbiert oder reflektiert wird. Dank der Nut-und-Feder-Verbindung sind die Fugen zwischen den Paneelen unsichtbar.



Akustikleistung


Der akustische Komfort in Büroräumen oder in öffentlichen Einrichtungen und Schulgebäuden trägt zu unserem Wohlbefinden bei. Guter akustischer Komfort kann sich positiv auf unsere Gesundheit, Kommunikation, Sicherheit, Produktivität und Lernvermögen auswirken.
Einer der wichtigsten Vorteile des Angebots von Hunter Douglas an Furnierholz ist die breite Palette an Perforationsmustern, die auf alle Furnierholzpaneele angewendet werden kann. Je nach Art der Perforation wird eine spezifische Akustikleistung erzielt. Nachstehend ist eine Auswahl der standardmäßigen Perforationsmuster aufgeführt. Weitere Muster sind auf Anfrage erhältlich.




Unsichtbare akustische Perforationen


Vor kurzem entwickelte Hunter Douglas ein neues Perforationsmuster, das eine sehr gute Akustik hat (Alpha W 0.95). Dieses Mini-Mikro-Perforationsmuster besteht aus Löchern mit einem Durchmesser von 0,5 mm, die aus der Entfernung nicht mit dem bloßen Auge sichtbar sind. Dies ermöglicht es dem Konstrukteur, eine ausgezeichnete Akustik zu erzielen mit einer scheinbar nicht perforierten Platte.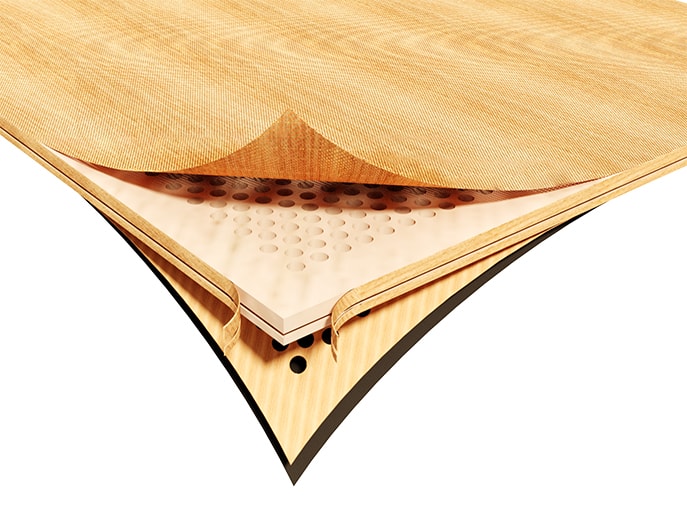 Brandverhalten


Durch das Imprägnieren von Holz kann ein Brandverhalten der Klasse (EN13501-1) B-s1,d0 erzielt werden. In einigen Fällen können auch höhere Klassen erzielt werden.







Lösungen für Bereiche mit hoher Feuchtigkeit


Dank einer speziellen Vorbehandlung der Holzpaneele eignen sich bestimmte Holzarten perfekt für feuchte Bereiche wie Schwimmbäder.
Gesundheit und Wohlbefinden
Das Decken-Portfolio von Hunter Douglas Architectural leistet einen Beitrag zur nachhaltigen Bauweise: hochästhetische Lösungen, die Energie sparen und Ihren Komfort optimieren. Die wohl wichtigste Funktion eines jeden Gebäudes ist es, die Gesundheit und das Wohlbefinden seiner Bewohner zu fördern. Unsere Beschattungslösungen lassen gesundes Tageslicht herein, verhindern jedoch Blendeffekte und Temperaturspitzen. Unsere Akustik-Decken sind ein Kernelement bei der Schaffung einer komfortablen Geräuschumgebung.
Nachhaltige Materialien
Umweltgerechte Materialien sind der Schlüssel zu einer nachhaltigen Bauweise. Unser Grundsatz ist es, von Beginn an nur Materialien mit umweltfreundlichen Eigenschaften zu verwenden. Viele unserer Produkte bestehen aus Aluminium, das in unseren hauseigenen Schmelzöfen hergestellt wurde. Wir haben unsere Prozesse so weit optimiert, dass wir bis zu 99 % recycelte Inhaltsstoffe verwenden und genau die passende Legierung für unsere Produkte herstellen können. Unser Holz ist FSC-zertifiziert, und bei unserer Produktentwicklung befolgen wir das "Cradle to Cradle"-Prinzip ("von der Wiege zur Wiege").
Energieeinsparungen
Um die globale Erwärmung wirksam zu bekämpfen, muss der Energieverbrauch im Gebäudebereich nachhaltig gesenkt werden. Die meisten modernen Bürogebäude verbrauchen mehr Energie für die Kühlung bzw. Klimatisierung als für das Heizen. Eine höchst erfolgreiche Strategie zur Vermeidung übermäßig hoher Temperaturen in Alt- und Neubauten: Sonnenenergie, die durch transparente Fassadenkomponenten eines Gebäudes in dessen Innenbereich gelangt, wird effizient weitergeleitet. Unsere überlegenen Beschattungslösungen ermöglichen deutliche Energieeinsparungen und fördern gleichzeitig Gesundheit und Wohlbefinden.
Soziale Unternehmensverantwortung
"Keen on Green" ist unsere unternehmensweite Initiative zur Verringerung des Energie- und Wasserverbrauches sowie zur Verbesserung unserer allgemeinen Kohlendioxyd-Bilanz. Wir befolgen die ISO-14001-Grundsätze, um unsere unsere "Keen on Green"-Zielsetzungen aktiv umzusetzen. Hunter Douglas und seine Beschäftigten leisten einen aktiven Beitrag zur Unterstützung der Gemeinden, in denen wir leben und arbeiten – doch wir engagieren uns auch auf globaler Ebene. Ein Unternehmen besteht aus Menschen. Wir sind stolz auf unser weltweites Netzwerk an erfahrenen, intelligenten, passionierten und kreativen Mitarbeitern, die Hunter Douglas bewusst als ihren Arbeitgeber ausgewählt haben.
| Name | Download |
| --- | --- |
| Installation Instructions Hunter Douglas® Wood Tiles Classic | PDF |
| Installation Instructions Hunter Douglas® Wood Tiles Modern | PDF |
| Installation Instructions Hunter Douglas® Wood Tiles Prestige | PDF |
| Installation Instructions Topline Horizontal wall application | PDF |
| Installation Instructions Wood Panel Topline Vertical wall application | PDF |
| Installation Instructions Wood Panel Topline ceiling application | PDF |
| Installation Instructions Wood Panel Trend / Standard ceiling application on profiles | PDF |
| Installation Instructions Wood Panel Trend / Standard ceiling application on woodgrid | PDF |
| Installation Instructions Wood Panel Trend / Standard wall application (non demountable) | PDF |