Metálico Exterior

¿Por qué limitar su visión al interior? Aporte estilo a los espacios exteriores con nuestros techos para exterior. Estos paneles se fijan a soportes suspendidos de forma rígida, diseñados para soportar todo tipo de condiciones adversas. Desde techos lineales y paneles anchos hasta techos curvos y bandejas, desde soportales hasta marquesinas y tejados; grandes o pequeños, lo tenemos todo para sus espacios exteriores. Los techos exteriores se han diseñado especialmente con el mismo aspecto estético que los techos interiores, por lo que podrá contar con un gran número de posibilidades de diseño.
Use our product selector to choose the ceiling that fits with your project. Click on the button below
WHAT ARE EXTERIOR METAL CEILINGS?
The Hunter Douglas range of exterior metal ceilings, are specifically designed to withstand harsh conditions. Attached to rigidly suspended carriers, designers can have every confidence that the ceilings are structurally sound. Perfect for a range of applications, exterior metal ceilings are the perfect solution for environments such as car parks, stadiums, and providing a covered outdoor area.
EXTERIOR METAL VARIATIONS
At Hunter Douglas we believe in design flexibility, hence our extended portfolio of exterior metal ceiling variations. Our range includes linear closed, linear open and open and wide panel ceilings, all of which can be created using a range of configurations. Let your imagination run wild with the Hunter Douglas range of exterior metal ceiling systems.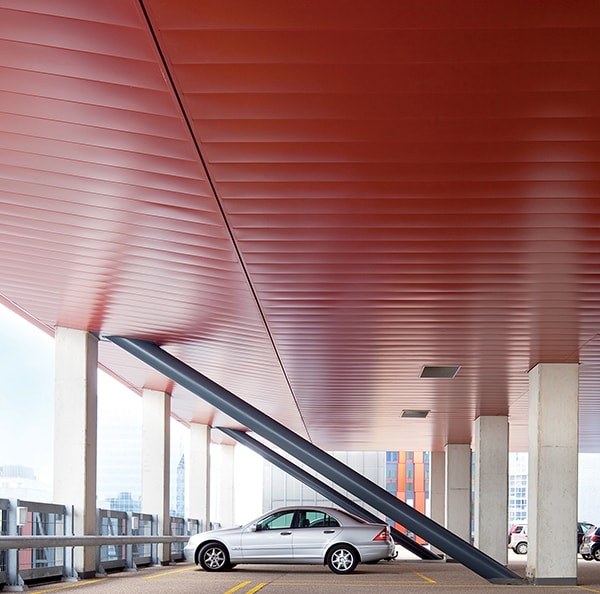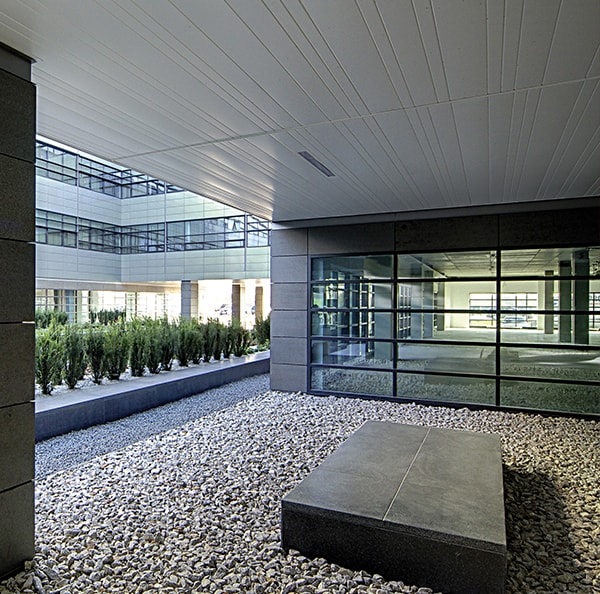 EXTERIOR METAL CEILING COLOURS
We offer a wide of colour choices to match our extensive range of ceiling systems. Please contact us for more information about the colours and special finishes that we offer. All of our exterior ceilings, receive a Luxacote® Exterior Coating to enhance the ceilings strength and durability. This exclusive Hunter Douglas innovation is constructed of 3 powerful layers of –pre-treament, primers and a UV and scratch resistance topcoat.
CEILING QUALITY
Our focus on quality (ISO9001 and TAIM certified) ensures the highest standard of production processes, material, machinery and finished product. The superior durability of Hunter Douglas products translates into lower costs during the life cycle of the product
FIRE PROTECTION
Hunter Douglas Metal ceiling panels are classified incombustible and will therefore not contribute to possible fires. Where a ceiling is required to protect the structural integrity of the building, Hunter Douglas Ceilings offer a range of practical and tested solutions with regards to fire resistance and fire stability. Further information is available on request.
INSPIRATION
Be inspired on our project gallery with exterior metal ceilings. Click on the photo for more information.
Project Gallery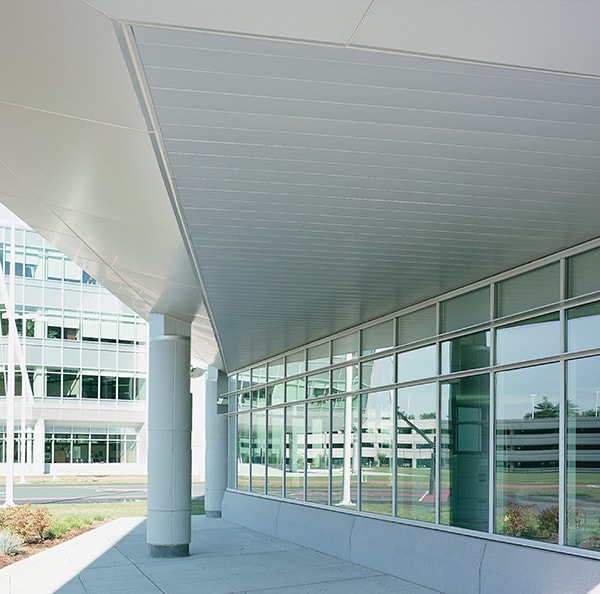 SELECCIÓN DE FILTROS DE Exterior metálico
Utilice los filtros siguientes para navegar por nuestra selección completa de Exterior metálico Productos.
Exterior metálico Productos