Techos textiles
Al proporcionar un rendimiento acústico excepcional y una apariencia exclusiva, nuestros techos textiles ofrecen unas prestaciones inmejorables en términos de confort y estética. Nuestros techos textiles destilan sostenibilidad, ya que son reciclables al 100 % y fáciles de reutilizar. En Hunter Douglas utilizamos fieltro para crear techos espectaculares y adaptados a las necesidades que proporcionan un rendimiento acústico y visual inmejorable. HeartFelt® es el hecho de fieltro desarrollado internamente por Hunter Douglas para satisfacer todos estos requisitos y muchos más.
Use our product selector to choose the ceiling that fits with your project. Click on the button below
WHAT ARE TEXTILE CEILINGS
Textile ceilings are a combination of precision engineering and strong design. Offering a clean look using materials that are both dirt and dust resistant. Felt ceilings are ideal for renovation projects and are particularly suited for a range of sectors including the hospitality, education and healthcare sectors. A felt ceiling is a stunning addition to any buildings interior.
TEXTILE CEILING VARIATIONS
Our HeartFelt® ceiling is available in seven shades of grey, as well as five earth tones. This colour combination enables architects and designers to create a warm and soothing ambience to a rooms interior. Altering the panel height and spacing can have a major influence on both the aesthetic appearance and acoustic performance of the ceiling space. HeartFelt® panels can also be fixed to walls to create a continuous flow of textile appearance. This can add further warmth and sound absorption to a room or corridor where noise levels or an extra calming influence is required.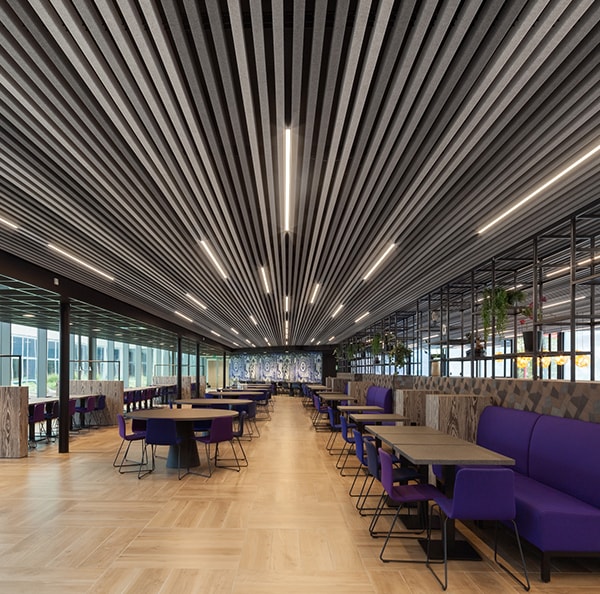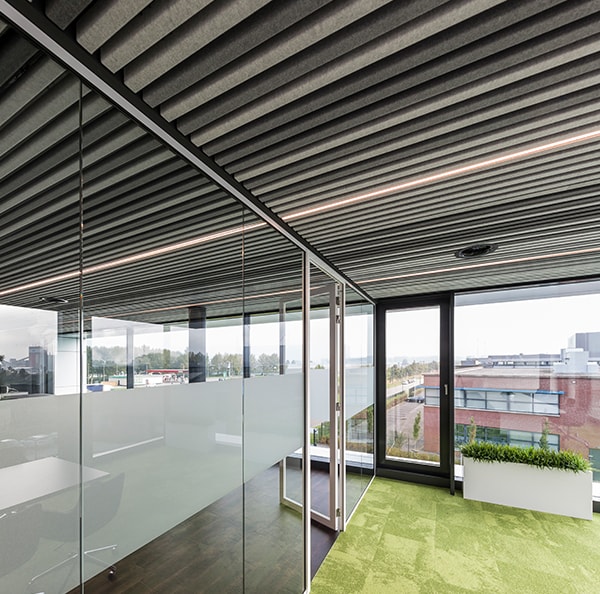 TEXTILE CEILING PANEL COLOURS
Our HeartFelt® ceiling is currently available in 7 different shades of grey and 5 earth tones. This allows for a soft look and warm ambience that lends itself well to any interior area.
TEXTILE CEILING QUALITY
Our focus on quality and sustainability (ISO9001 and ISO14001 certified) ensures the highest standard of production processes, material, machinery and finished product. The superior durability of Hunter Douglas products translates into lower costs during the life cycle of the product.
ACOUSTICS
Textile ceilings are the ideal solution for environments where acoustic comfort is important. By altering the height of the panels and the width between the panels, the ceiling can offer the most ideal acoustic performance for the space.
THE IMPORTANCE OF ACOUSTICS
Acoustic comfort is particularly important in large and busy areas where noise levels can be particularly high. Felt ceilings work to reduce echo and as such, improve the acoustic comfort of the area. Failure to have an acoustic ceiling could lead to hearing damage if people are frequently exposed to the area for long periods of time.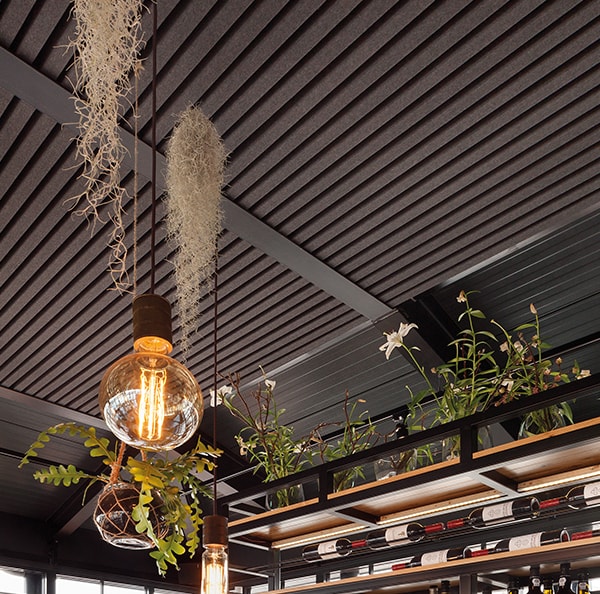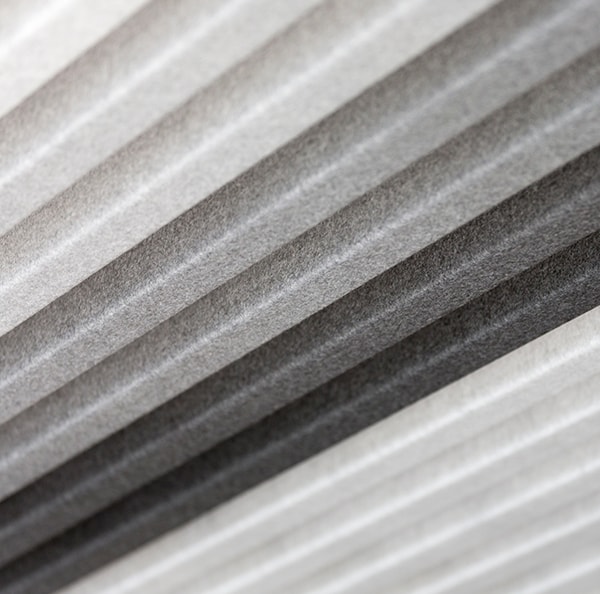 TEXTILE CEILING INSPIRATION
Be inspired by our project gallery with interior metal ceilings. Click on the photo for more information.
Project Gallery
SELECCIÓN DE FILTROS DE Textil
Utilice los filtros siguientes para navegar por nuestra selección completa de Textil Productos.