Nombre de la división: Hunter Douglas España, S.A.
Web: www.hunterdouglas.es
Dirección: La Granja 15 Pol.Ind. Alcobendas (Madrid) 28108 España
Número de teléfono: +34 91 661 7314
Fax:
Contacto: Contacto
Nombre de la división: Hunter Douglas España NBK
Web: nbkterracotta.com/
Dirección: Pilotegi 12, F16 San Sebastian, 20018 España
Número de teléfono: +34 620744396
Fax:
Contacto: Contacto
Muchas gracias por su información. Nos pondremos en contacto con usted con la mayor brevedad.
Se produjo un error al guardar su solicitud. Inténtelo de nuevo.
Please accept the Privacy Agreement.
Name, email, company, phone, location and at least one product selection are required.
Sistema de techo HeartFelt® Origami
HeartFelt® Origami es una ampliación de los sistemas de techo de fieltro ya existentes en la colección HeartFelt®: un sistema de techo cuyas forma y rigidez se basan en la técnica de plegado del origami.
Información general
¿Por qué HeartFelt® Origami?

HeartFelt® Origami no solo presenta un aspecto único desde el punto de vista estético, sino también un elevado rendimiento acústico. La combinación del material y la forma: los paneles plegados a modo de origami confiere una apariencia muy original a cada espacio. Esto permite lograr que los paneles de fieltro ofrezcan una rigidez y unas cualidades acústicas superiores.
Propiedades


Rendimiento acústico sobresaliente
Cinco tonos de gris que aportan calidez
Basado en la técnica de plegado del origami
100 % reciclable o reutilizable fácilmente
Cradle to Cradle Certified™ Bronze (Cradle to Cradle Certified™ es una marca de certificación otorgada por el Cradle to Cradle Products Innovation Institute).
Mantenimiento sencillo: resistente a la suciedad y al polvo
Aplicación

HeartFelt® Origami está indicado para muchos sectores, como: empresas, tiendas, recintos de ocio, espacios públicos, negocios de restauración, instalaciones sanitarias, instituciones de enseñanza y viviendas.
Póngase en contacto con nosotros para comentarnos sus necesidades específicas.
Diseño e inspiración
HeartFelt® Origami es un método muy práctico para aportar rigidez al material sin tener que incorporar otros materiales o productos. HeartFelt® Origami desempeña así un papel importante en la búsqueda de una construcción sostenible en aras de la economía circular. Al mismo tiempo, la forma final con sus originales triángulos brinda una alta absorción acústica.




Sscala de grises

HeartFelt® Origami está disponible en cinco tonos de gris. El color exacto de los paneles se determina según la proporción de fibras blancas y negras en el material de base.




WHITE 7593
LIGHT GREY 7596
MIDDLE GREY 7597
DARK GREY 7598
BLACK 7594


* Puede haber diferencias de color debido a la realidad en comparación con una pantalla de computadora.


Características de los materiales

HeartFelt® Origami es un sistema de techo non-lineal fabricado a partir de fibras de poliéster no tejidas y termoformadas. Las cinco medidas de nuestra oferta brindan mucha libertad a la hora de escoger una forma única o combinada que resulte óptima para un espacio concreto.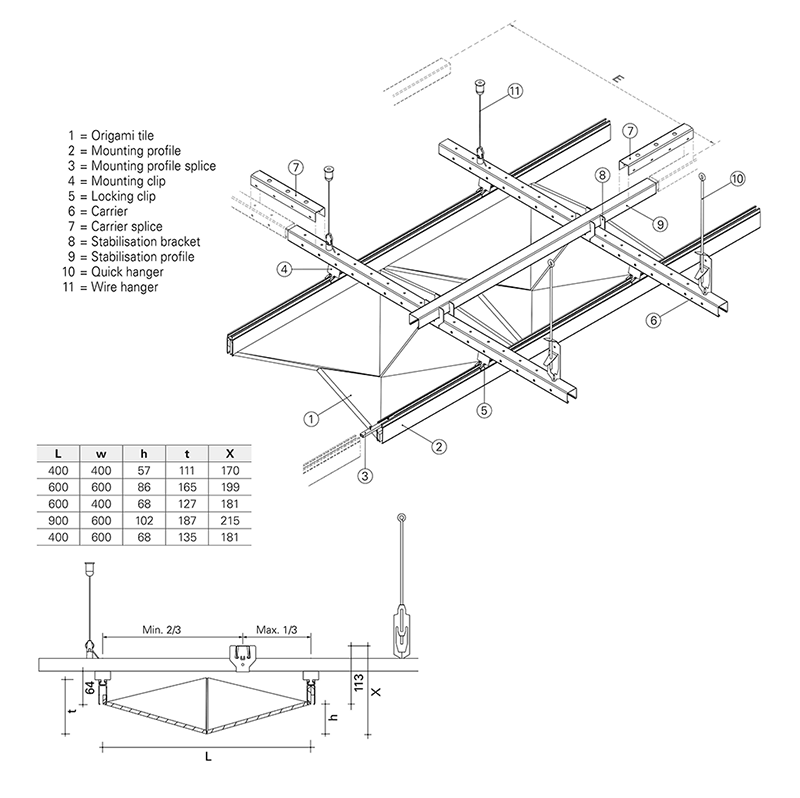 Más características de los productos

Puede encontrar más información en descargas, con datos, p. ej., sobre: sobretensión, dimensiones y peso máximos, así como los requisitos de los materiales por m².


Información acústica

Una acústica adecuada en la oficina, el colegio o un edificio público es importante para nuestro bienestar, dados los efectos que una mala acústica puede tener para la salud, la comunicación, la seguridad, la productividad y el aprendizaje. Los productos de techo de alta calidad acústica de Hunter Douglas son la mejor opción para un rendimiento excepcional en cuanto a acústica, comodidad y estética. Los valores de absorción (αw) del techo HeartFelt® oscilan entre 0,75 y 0,80.



Más información sobre la acústica

Puede encontrar datos más detallados en las descargas

Health and wellbeing
Hunter Douglas contributes to sustainable buildings through aesthetic solutions that enhance comfort and save energy. Promoting health and wellbeing of their occupants is arguably the most important function of buildings. Buildings are not constructed just to be energy efficient. Our shading solutions promote the use of healthy daylight without the hindrances of glare and thermal discomfort. Our acoustic ceilings are a key element in the provision of acoustic comfort.
Sound materials
Environmentally sound materials are key to sustainable buildings. Our strategy is to pick materials that have good environmental properties to start with. Many of our products are made of aluminum produced in our own smelters. We've optimized our processes to use up to 99% of recycled content to produce the right alloy for our products. Our wood is FSC certified and we embrace the Cradle to Cradle principle in our product development.
Energy savings
Reducing the energy use of the total building stock is key to the prevention of global warming. Most modern office buildings use more energy for cooling than heating. Effectively managing the solar energy that passes through the transparent part of the façade is a key strategy in the prevention of overheating in both old and new buildings. Our high performance shading solutions bring substantial energy savings, while at the same time promoting health and wellbeing.
Corporate Social Responsibility
Keen on Green is an important company-wide initiative to reduce energy consumption, water usage and our overall carbon-footprint. We embrace the ISO 14001 framework to actively manage our Keen on Green objectives. Hunter Douglas and its employees actively support the communities in which we live and work, as well as those on a more global scale. Business is people. We pride ourselves on our worldwide network of experienced, intelligent, passionate and creative people that have consciously chosen Hunter Douglas as their employer.