Nom de la division: Hunter Douglas Produits Architecturaux France
Web: www.hunterdouglas.fr
Adresse: 3 Avenue des Marronniers Bonneuil Cedex F-94380 France
Numéro de téléphone: +33 1 43399100
Fax: +33 1 4339 1451
Nous contacter: Nous contacter
Nom de la division: Espace Voiles
Web: www.espacevoiles.com
Adresse: 4 Impasse Marius Berliet ZA La Bilias Deniaud Vigneux De Bretagne 44360 France
Numéro de téléphone: 02 28 01 08 80
Fax: 02 28 01 08 81
Merci. Nous prendrons rapidement contact avec vous.
Votre demande n'a pas pu être enregistrée, veuillez réessayer.
Please accept the Privacy Agreement.
Name, email, company, phone, location and at least one product selection are required.
300C CINTRÉ
Les plafonds métalliques cintrés Luxalon® de Hunter Douglas ajoutent de la fantaisie à la traditionnelle vision de la conception du plafond. Imaginez des formes concaves, convexes et ondulées attirant le regard vers le haut.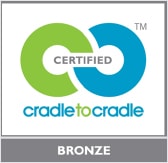 Informations Générales
Pourquoi le système 300C ?

Les plafonds cintrés Luxalon® 300C sont la solution idéale pour créer des arches et des designs multiniveaux Les lames, allant jusqu'à 6 m de longueur, vous laisseront définir de larges et petits espaces. Les excellentes propriétés acoustiques, la variété des coloris, les finitions ainsi que les options de cintrage en font un produit futuriste.
Caractéristiques


Les panneaux cintrés créent des plafonds concaves, convexes ou ondulés d'un rayon minimum de 1 000 mm
La longueur réalisée sur mesure jusqu'à une longueur de 6 000 mm permet une installation rapide (particulièrement dans les espaces plus grands) et réduit à un minimum la nécessité de joint
L'utilisation d'un même porteur caché que pour les plafonds 300C standard permet une liaison aisée aux plafonds droits utilisant le même panneau
Un produit standard et un processus de fabrication, qui permettent de créer une solution de plafond métallique cintré très économique
Une surface de plafond fermée et lisse, utilisant un système de suspension à porteur caché, permet de déterminer l'aspect du plafond en fonction de la courbe du panneau choisie
Cradle to Cradle Certified™ Bronze (Cradle to Cradle Certified™ is a certification mark licensed by the Cradle to Cradle Products Innovation Institute).
Application

Les bacs cintrés Luxalon® 300C conviennent à la plupart des fonctions du bâtiment : entreprise, transport (aéroports, métro, gares ferroviaires et routières), commerce, loisir, espace public, accueil, soins de santé et éducation.

Contactez-nous pour nous faire savoir vos exigences.
Design et Inspiration
Les plafonds bacs cintrés Luxalon® 300C ont été conçus en pensant à l'architecte. Le système promeut la liberté de pensée et met à l'épreuve le concepteur d'utiliser les formes, les courbes et les ruptures de ligne du plafond pour atteindre leur vision.
La gamme Hunter Douglas de plafonds métalliques cintrés est disponible en un éventail de coloris standard qui conviennent à la plupart des applications. Veuillez contacter notre bureau commercial pour obtenir davantage d'informations sur les types de plafonds, les finitions spéciales et l'éventail de coloris disponibles pour des projets spécifiques.
Caractéristiques du matériau

Les plafonds bacs 300C sont généralement utilisés dans les application où l'architecte recherche un look plus robuste. Les panneaux de 300 mm sur une longueur de 6 000 mm peuvent être cintrés concaves, convexes ou ondulés. Le rayon minimal pour toutes les formes est de 1 000 mm. Les panneaux cintrés présentent des extrémités droites de 200 mm.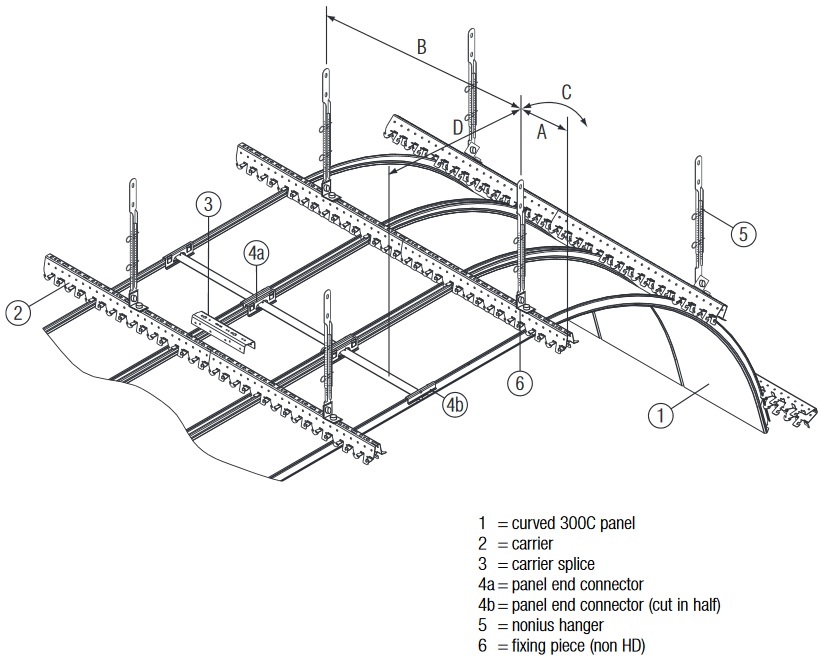 Informations complémentaires sur le produit

Pour de plus amples informations, consultez la partie
Téléchargement

s
ci-dessous.
Informations acoustiques

Les performances acoustiques dans un bureau, une école ou un bâtiment public contribuent à notre bien-être. Un mauvais confort acoustique peut nuire à la santé, la communication, la sécurité, la productivité et l'apprentissage. Les produits de plafond aux performances acoustiques exceptionnelles propres à Hunter Douglas sont la meilleure solution garantissant des performances acoustiques, un confort et un aspect esthétique inégalés. Le système de lames cintrées Luxalon 300C offre une valeur d'absorption (αw) de 0,75, selon la configuration de lame et de plafond. Le choix du rayon interviendra aussi dans le domaine de la correction acoustique : une augmentation de la quantité de lames permettra une amélioration de 55 % en surface d'absorption.




Informations supplémentaires concernant l'acoustique
Pour de plus amples informations concernant l'acoustique, consultez la partie
Téléchargements
ci-dessous.
Santé et bien-être
La gamme de plafonds Hunter Douglas Architectural contribue à la construction de bâtiments durables au moyen de solutions esthétiques qui améliorent le confort et permettent d'économiser de l'énergie. La fonction principale du bâtiment est sans doute de préserver la santé et le bien-être de ses occupants. Nos protections solaires permettent de profiter de la lumière naturelle sans tous les désagréments liés à l'éblouissement et à l'inconfort thermique. Nos plafonds acoustiques sont un élément fondamental dans l'amélioration du confort acoustique.
Matériaux solides
Les matériaux écologiques sont la clé du succès si l'on désire avoir un bâtiment durable. Notre stratégie est de commencer par utiliser des matériaux qui ont d'excellentes propriétés environnementales. Bon nombre de nos produits sont fabriqués à partir d'aluminium produit dans nos propres fonderies. Nous avons optimisé nos processus afin d'utiliser jusqu'à 99 % de contenu recyclé, dans le but de produire l'alliage adapté à nos produits. Notre bois est certifié FSC et nous adoptons le principe « Cradle to Cradle » dans la fabrication de nos produits.
Économies d'énergie
Diminuer la consommation énergétique de l'ensemble du bâtiment est un élément capital pour la prévention du réchauffement de la planète. La plupart des bureaux modernes consomment plus d'énergie pour la climatisation que pour le chauffage. Une gestion efficace de l'énergie solaire pénétrant par la partie transparente de la façade est une stratégie clé dans la prévention de la surchauffe des anciens et nouveaux bâtiments. Nos protections solaires très performantes permettent de faire d'importantes économies d'énergie, tout en préservant la santé et le bien-être.
Responsabilité sociale des entreprises
Keen on Green est une initiative majeure lancée à l'échelle de l'entreprise qui réduit la consommation énergétique, l'utilisation de l'eau et notre empreinte carbone globale. Nous adoptons le cadre ISO 14001 afin de gérer activement nos objectifs Keen on Green. Hunter Douglas et ses employés soutiennent activement les communautés dans lesquelles nous vivons et travaillons, ainsi que les communautés à une échelle plus globale. Business is people. Nous sommes fiers de notre réseau mondial de talents créatifs, passionnés, intelligents et expérimentés qui ont délibérément choisi Hunter Douglas comme employeur.