Nom de la division: Hunter Douglas Produits Architecturaux France
Web: www.hunterdouglas.fr
Adresse: 3 Avenue des Marronniers Bonneuil Cedex F-94380 France
Numéro de téléphone: +33 1 43399100
Fax: +33 1 4339 1451
Nous contacter: Nous contacter
Nom de la division: Espace Voiles
Web: www.espacevoiles.com
Adresse: 4 Impasse Marius Berliet ZA La Bilias Deniaud Vigneux De Bretagne 44360 France
Numéro de téléphone: 02 28 01 08 80
Fax: 02 28 01 08 81
Merci. Nous prendrons rapidement contact avec vous.
Votre demande n'a pas pu être enregistrée, veuillez réessayer.
Please accept the Privacy Agreement.
Name, email, company, phone, location and at least one product selection are required.
MUR À CLAIRE-VOIE EN BOIS MASSIF
Nous sommes fiers de vous présenter notre mur à claire-voie en bois massif, un produit naturel et respectueux de l'environnement, et le seul matériau de construction complètement neutre sur le plan de l'émission de CO2 et entièrement recyclable. Nous travaillons exclusivement avec des essences de bois massif, chacune possédant ses propres caractéristiques naturelles, comme la structure, les nœuds, la couleur, le grain et la tolérance dimensionnelle. Notre système en bois à claire-voie est adapté à des applications intérieures, mais aussi extérieures à condition d'être protégé par une avancée importante.
Informations Générales
Pourquoi le système linéaire en bois massif ?


Lorsque vous sélectionnez les systèmes linéaires en bois massif, vous créez une construction écologique et durable avec une touche authentique. Le bois est un produit naturel qui vit, qui respire et qui possède ses propres caractéristiques le rendant adapté à de nombreuses solutions de conception. Le bois est aussi le seul matériau de construction entièrement recyclable et complètement neutre en CO2.

L'avantage du système est qu'il s'agit d'une solution sur mesure, ce qui signifie aucune coupe à dimensions sur place pour une réduction considérable du temps d'installation et des coûts. La personnalisation intégrale du panneau et de la dimension de joint permet toutes les conceptions.
Characteristics


Solution sur mesure pour une réduction du temps d'installation et des adaptations sur site
Les projets bénéficient d'un support et d'une élaboration techniques, pour une adaptation parfaite sur site
Performances acoustiques jusqu'à 0,70 αw (sans laine de roche en option)
Classe de tenue au feu B-s2, d0 conformément à la norme EN 13501-1 (classe plus élevée sur demande)
Un plafond ou une solution murale en bois durables et naturels certifiés FSC/PEFC
Solutions cintrées possibles grâce à un porteur spécial ou une découpe CNC.
Cradle to Cradle Certified™ Silver (Cradle to Cradle Certified™ is a certification mark licensed by the Cradle to Cradle Products Innovation Institute).
Application

Les plafonds et murs linéaires en bois massif conviennent à toutes les fonctions de bâtiment : entreprise, transport (aéroports, métro, gares ferroviaires et routières), commerce, loisir, espace public, accueil, soins de santé, éducation ou résidentielle.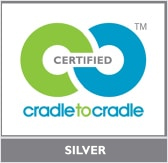 Faites entrer la nature
Puissance de la nature
Le bois est un produit naturel et très durable, qui résiste pendant des années. Le traitement industriel de ce matériau n'a qu'un impact environnemental très limité, et le bois lui-même stocke le CO2. Cela permet de proposer des produits respectueux de l'environnement, sains et responsables. Avec un mur en bois, la nature s'invite dans votre intérieur.
Essences de bois
Les lames de bois peuvent être rabotées, brossées ou brutes de sciage, option déterminée en collaboration avec l'un de nos consultants en fonction de vos envies et de la solution la plus adaptée. Notre portfolio regroupe une vingtaine d'essences, chacune présentant des caractéristiques naturelles particulières.
La finition standard des panneaux est un vernis de haute qualité, pour la protection du bois contre la poussière, l'humidité et la saleté. Si vous avez d'autres questions concernant les essences, n'hésitez pas à nous contacter.
| | | | |
| --- | --- | --- | --- |
| Yellow Poplar | African Ayous | Yellow Pine | European Pine |
| Accoya | Siberian Larch | American White Oak | American Ash |
| European Oak | American Red Oak | Cherry | Oregon Pine |
| Jatoba | Teak | Cambara | Merbau |
| Mahogany | Western Red Cedar | American Walnut | Wenge |

Finitions
Nous proposons une vaste gamme de lasures et de peintures destinées à une application sur les murs à claire-voie en bois massif, finitions qui peuvent donner sa touche finale au bois. Évidemment, un vernis transparent est également disponible.
Caractéristiques du système
Nos murs à claire-voie en bois massif sont réalisés sur mesure, pour garantir un ajustement parfait à chaque site. Aucune recoupe n'est donc nécessaire sur le site, ce qui permet une réduction des frais d'installation et la conservation des détails esthétiques des panneaux de bois. Notre système à claire-voie en bois massif est développé pour optimiser l'efficacité et minimiser les coûts d'installation. La structure de suspension consiste en un système de rails et de clips aisément fixés aux porteurs. Ainsi des appareils d'éclairage ou de ventilation ou des haut-parleurs peuvent être intégrés au plafond.


Performances acoustiques

En général, un bon mur à claire-voie possède d'excellentes performances acoustiques. Ajuster la largeur des panneaux et leur espacement permet d'obtenir les performances acoustiques adaptées en fonction de l'atmosphère désirée.
Réaction au feu
Le bois est ignifugé conformément à la norme EN 13501-1. L'ignifugation du bois est un aspect important de tout projet. Pour être en conformité avec les réglementations de protection contre les incendies, les systèmes Hunter Douglas sont ignifugés, si nécessaire, par la méthode de cycles sous vide et pression : le bois est imprégné d'une substance ignifugeante.

Grâce à ces traitements, nous nous assurons que les lames et les panneaux utilisés comme revêtement respectent la norme européenne EN 13501-1. Le processus de traitement est réalisé conformément aux recommandations KOMO et fait l'objet d'une inspection périodique par l'organisme SKH pour pouvoir employer le marquage CE requis.





Pour plus d'informations concernant l'acoustique
Pour connaître les résultats des tests ou nous poser des questions, n'hésitez pas à contacter nos consultants.