Nom de la division: Hunter Douglas Produits Architecturaux France
Web: www.hunterdouglas.fr
Adresse: 3 Avenue des Marronniers Bonneuil Cedex F-94380 France
Numéro de téléphone: +33 1 43399100
Fax: +33 1 4339 1451
Nous contacter: Nous contacter
Nom de la division: Espace Voiles
Web: www.espacevoiles.com
Adresse: 4 Impasse Marius Berliet ZA La Bilias Deniaud Vigneux De Bretagne 44360 France
Numéro de téléphone: 02 28 01 08 80
Fax: 02 28 01 08 81
Merci. Nous prendrons rapidement contact avec vous.
Votre demande n'a pas pu être enregistrée, veuillez réessayer.
Please accept the Privacy Agreement.
Name, email, company, phone, location and at least one product selection are required.
CASSETTES ET PANNEAUX EN BOIS PLAQUÉ
La gamme cassettes et panneaux en bois plaqué consiste en des plafonds et des panneaux muraux acoustiques en bois vernis avec une âme MDF. Choisissez parmi les panneaux standard ou les formes de panneau design personnalisées pour une apparence unique. Le large éventail de vernis, de finitions et perforations répondra toujours à l'objectif de conception.
Informations Générales
Pourquoi les Cassettes et panneaux placage bois?

Les panneaux et cassettes en placage bois sont un matériau de construction écologique aux possibilités infinies. La production de placage rentabilise efficacement le bois grâce aux méthodes de production modernes qui garantissent une production d'environ 800 à 1 000 m2 de placage dans 1 m3 de bois. Les quatre types de plafonds démontables, Classic, Modern, Prestige et System, ont tous leur propre look, joint et leurs propres avantages. Avec le système de suspension rigide, les panneaux sont faciles à installer et à démonter le cas échéant. Les panneaux acoustiques Topline® sont pourvus d'un système de languettes et de rainures pour une surface invisible.
Caractéristiques


Dimensions standard 600 x 600, 1200 x 600, 1800 x 600 mm
Dimensions de panneau personnalisées pour une solution sur mesure
Acoustique très élevée jusqu'à 0,95 alpha w
Crée une excellente solution acoustique cachée avec des microperforations
Les panneaux Topline® utilisent système de languettes et de rainures, pour une surface continue
Plusieurs solutions d'accès au plénum et de démontage
Disponible en tant que solution de plafond et murale
Application


Les cassettes et panneaux en placage bois conviennent à toutes les fonctions de bâtiment : entreprise, transport (aéroports, métro, gares ferroviaires et routières), commerce, loisir, espace public, accueil, soins de santé, éducation ou résidentielle.


Flexibilité naturelle
Les cassettes en placage bois vous offre l'opportunité de créer un mur ou un plafond d'aspect naturel. L'aspect des panneaux en bois est créé par une sélection rigoureuse des essences, des couleurs et du grain du bois. Les marques naturelles de croissance de chaque arbre sont clairement visibles dans le placage, y compris leurs caractéristiques naturelles comme les nœuds et les excroissances ainsi que les variations de teinte. Une fois le placage choisi, les panneaux seront fabriqués selon le plan de disposition pour garantir une adaptation parfaite.
Essences de bois et finitions
American Cherry
American Walnut
American White Oak
American Maple
Anigre
Ash
Bamboo
Beech
Birch
Cedar
European Oak
Hemlock
Koto
Pine
Red Oak
Spruce
Sycamore
Teak
Choisissez parmi plus de 40 placages pour créer l'atmosphère et la sensation idéales. Des teintes claires aux foncées, il existe un placage pour chaque conception. En équipement standard, les panneaux sont recouverts d'un vernis transparent, mais si un look particulier est souhaité, des vernis, teintes et finitions de peinture spéciaux sont disponibles.







Assortiment de placage


Les feuilles de placage d'une largeur de 10 à 25 cm sont dépareillées et collées pour former des panneaux. Sur demande, il est également possible d'apparier ou d'assembler les panneaux à livre ouvert. Un design particulier sera créé en fonction de l'arrangement des placages



| | | |
| --- | --- | --- |
| | | |
| Assemblé à livre ouvert | Apparié | Mélangé (Standard) |


Les cassettes de plafond en bois plaqué sont disponibles dans les dimensions standard suivantes : 600 x 600, 1 200 x 600 et 1 800 x 600 mm. Des dimensions spéciales sont disponibles sur demande. En fonction des exigences de largeur de joint et d'accès requises, quatre types de panneau sont disponibles. Les cassettes de plafond peuvent être installées sur une grille T-24 en métal.


Classique - Grille apparente

Le panneau classique est un panneau qui se pose de façon classique, notamment sur une grille T24 mm.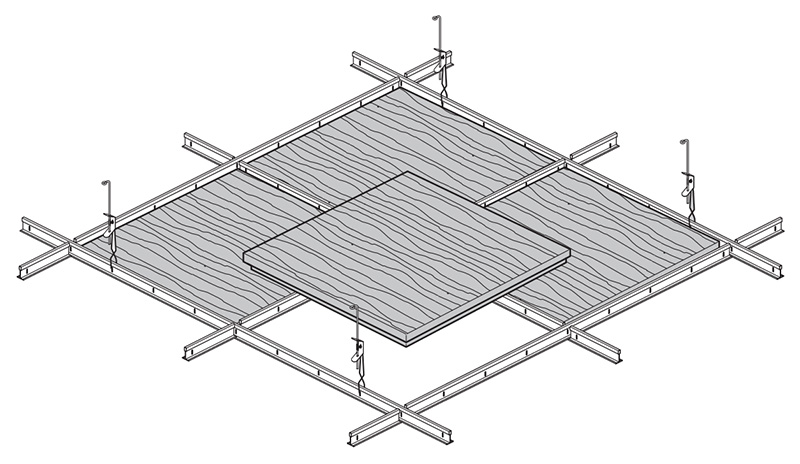 Gille semi-exposée

Grâce à l'usinage spécial du champ, le panneau Modern ne laisse voir que 4 mm de l'ossature en T de 24 mm après assemblage. Chacun des panneaux est facilement démontable vers le bas et offre un accès complet au plénum d'une simple pression.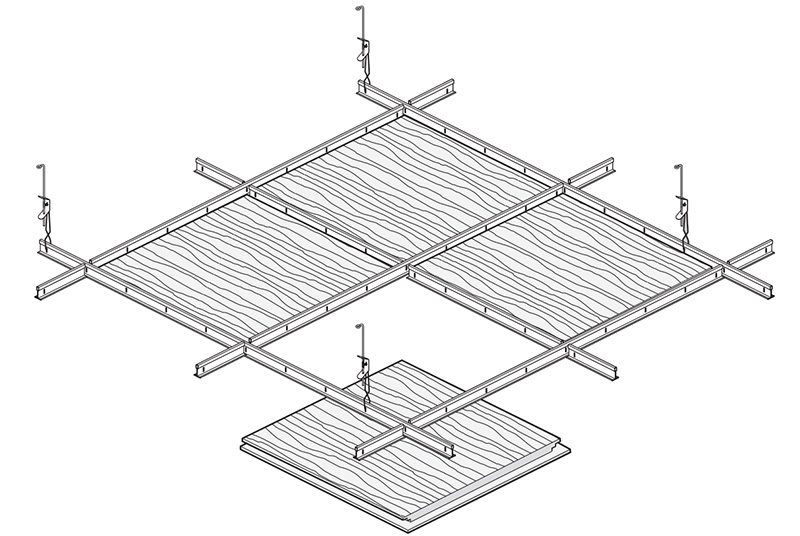 Grille invisible

Le système Prestige offre une finition spéciale du champ qui garantit l'invisibilité totale de l'ossature. Chacun des panneaux peut toujours être retiré, il suffit de les soulever et de les incliner.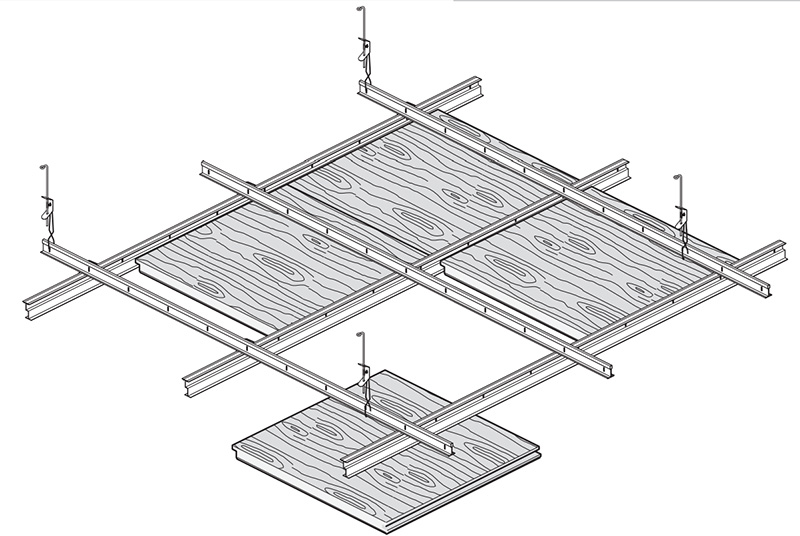 Cassettes de plafond en bois plaqué


Les cassettes pour mur en bois plaqué sont proposées jusqu'à une dimension de 2 700 x 1 200 mm. Des dimensions spéciales sont disponibles sur demande. En fonction des exigences de largeur de joint et d'accès requises, deux types de panneau sont disponibles.

Standard - Joints ouverts
Trend - Joints fermés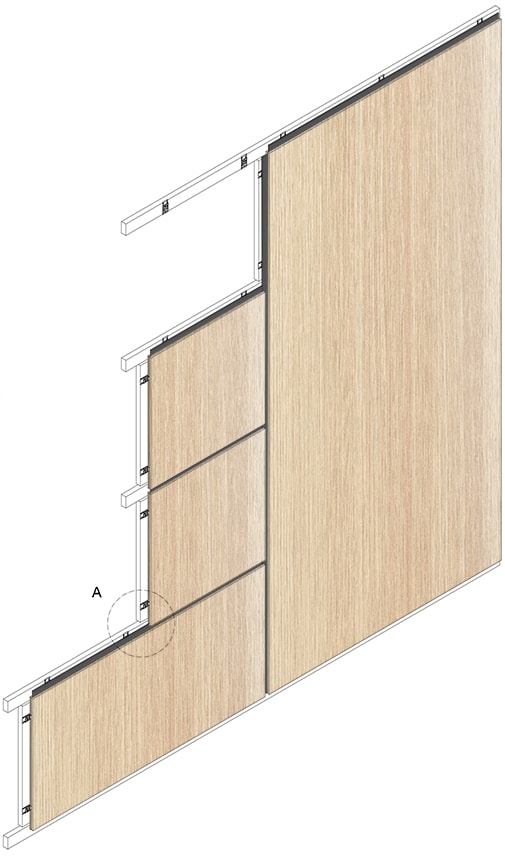 Panneaux de qualité pour plafond et mur


Les panneaux de qualité sont disponibles en taille standard de 128 mm x 2 780 mm, disponibles pour les applications de plafond ou de mur. Ils se fixent directement sur une sous-structure à l'aide d'attaches métalliques. Les panneaux Topline® sont des panneaux d'absorption acoustique haute performance obtenus grâce à un fraisage exclusif et à un motif de rainurage associé à un voile acoustique. L'esthétique et l'acoustique de chaque projet peuvent être entièrement adaptées en choisissant le modèle qui garantira que l'énergie sonore est presque complètement absorbée, ou, réfléchie. Grâce au système de languettes et de rainures, les joints entre les panneaux sont invisibles.



Performances acoustiques


Le confort acoustique dans un bureau, une école ou un bâtiment public contribue à notre bien-être. Il peut exercer une influence positive sur la santé, la communication, la sécurité, la productivité et l'apprentissage.

Un des avantages les plus importants de la gamme bois plaqué de Hunter Douglas réside dans la large étendue de modèles de perforation, applicables à tous les panneaux plaqués. Les performances acoustiques spécifiques varient en fonction du type de perforation. Vous retrouverez une sélection de modèles de perforation standard ci-dessous, d'autres dimensions sont disponibles sur demande.








Perforation nano


Les lames de plaquées peuvent comporter des perforations nano. Ce procédé consiste à réaliser une multitude de perforations microscopiques (0,5 mm de diamètre) dans le placage, dissimulant ainsi la perforation plus importante du matériau de l'âme. Nous obtenons ainsi une excellente qualité acoustique sans nuire à l'esthétique. Les panneaux comportent un feutre acoustique sur l'envers. Lors des essais, il a été démontré que les lames nano-perforées présentaient une absorption phonique de 0,95 αw et 0,90 NRC.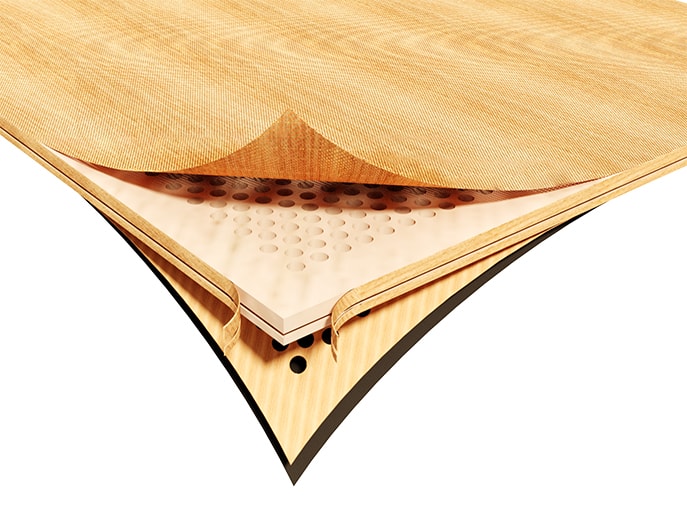 Tenue au feu


Le bois imprégné permet d'atteindre une tenue au feu de classe B-s1, d0 (EN13501-1).







Solutions adaptées à l'humidité élevée


Grâce au traitement spécial des panneaux en bois, certaines essences conviennent parfaitement aux espaces humides comme les piscines.
| Description | ID | Téléchargements |
| --- | --- | --- |
| Veneered Wood Ceiling Tiles Classic Plus | C-i-VW-TI-CL-T24- 2D_Application | dwg pdf |
| Veneered Wood Ceiling Tiles Classic | Classic-C-i-VW-TI-CL-T24-2D | dwg pdf |
| Veneered Wood Ceiling Tiles Modern | Modern-C-i-VW-TI-MO-T24-2D | dwg pdf |
| Veneered Wood Ceiling Tiles Prestige Cross-Lock | Prestige-CL-C-i-VW-TI-PR-T24-2D | dwg pdf |
| Veneered Wood Ceiling Tiles Prestige Quick-Lock | Prestige-QL-C-i-VW-TI-PR-T24-2D | dwg pdf |
| Veneered Wood Ceiling Tiles System | System-C-i-VW-TI-MO-T24-2D | dwg pdf |
Santé et bien-être
La gamme de plafonds Hunter Douglas Architectural contribue à la construction de bâtiments durables au moyen de solutions esthétiques qui améliorent le confort et permettent d'économiser de l'énergie. La fonction principale du bâtiment est sans doute de préserver la santé et le bien-être de ses occupants. Nos protections solaires permettent de profiter de la lumière naturelle sans tous les désagréments liés à l'éblouissement et à l'inconfort thermique. Nos plafonds acoustiques sont un élément fondamental dans l'amélioration du confort acoustique.
Matériaux solides
Les matériaux écologiques sont la clé du succès si l'on désire avoir un bâtiment durable. Notre stratégie est de commencer par utiliser des matériaux qui ont d'excellentes propriétés environnementales. Bon nombre de nos produits sont fabriqués à partir d'aluminium produit dans nos propres fonderies. Nous avons optimisé nos processus afin d'utiliser jusqu'à 99 % de contenu recyclé, dans le but de produire l'alliage adapté à nos produits. Notre bois est certifié FSC et nous adoptons le principe « Cradle to Cradle » dans la fabrication de nos produits.
Économies d'énergie
Diminuer la consommation énergétique de l'ensemble du bâtiment est un élément capital pour la prévention du réchauffement de la planète. La plupart des bureaux modernes consomment plus d'énergie pour la climatisation que pour le chauffage. Une gestion efficace de l'énergie solaire pénétrant par la partie transparente de la façade est une stratégie clé dans la prévention de la surchauffe des anciens et nouveaux bâtiments. Nos protections solaires très performantes permettent de faire d'importantes économies d'énergie, tout en préservant la santé et le bien-être.
Responsabilité sociale des entreprises
Keen on Green est une initiative majeure lancée à l'échelle de l'entreprise qui réduit la consommation énergétique, l'utilisation de l'eau et notre empreinte carbone globale. Nous adoptons le cadre ISO 14001 afin de gérer activement nos objectifs Keen on Green. Hunter Douglas et ses employés soutiennent activement les communautés dans lesquelles nous vivons et travaillons, ainsi que les communautés à une échelle plus globale. Business is people. Nous sommes fiers de notre réseau mondial de talents créatifs, passionnés, intelligents et expérimentés qui ont délibérément choisi Hunter Douglas comme employeur.
| Nom | Téléchargement |
| --- | --- |
| Technical leaflet veneered wood ceiling Panels Classic | PDF |
| Technical leaflet veneered wood ceiling Panels Classic plus | PDF |
| Technical leaflet veneered wood ceiling Panels Modern | PDF |
| Technical leaflet veneered wood ceiling Panels Prestige | PDF |
| Technical leaflet veneered wood ceiling Panels System | PDF |
| Technical Specifications Tiles Classic | DOC |
| Technical Specifications Tiles Classic Plus | DOC |
| Technical Specifications Tiles Modern | DOC |
| Technical Specifications Tiles Prestige | DOC |
| Technical Specifications Tiles System | DOC |
| Technical Specifications Topline | DOC |
| Technical Specifications Wall Panels | DOC |
| Technisch Leaflet Nano Perforation | PDF |
| Nom | Téléchargement |
| --- | --- |
| Installation Instructions Hunter Douglas® Wood Tiles Classic | PDF |
| Installation Instructions Hunter Douglas® Wood Tiles Modern | PDF |
| Installation Instructions Hunter Douglas® Wood Tiles Prestige | PDF |
| Installation Instructions Hunter Douglas® Wood Tiles System | PDF |
| Installation Instructions Topline Horizontal wall application | PDF |
| Installation Instructions Wood Panel Topline ceiling application | PDF |
| Installation Instructions Wood Panel Topline Vertical wall application | PDF |
| Installation Instructions Wood Panel Trend / Standard ceiling application on profiles | PDF |
| Installation Instructions Wood Panel Trend / Standard ceiling application on woodgrid | PDF |
| Installation Instructions Wood Panel Trend / Standard wall application (non demountable) | PDF |