Divisienaam: Hunter Douglas Architectural Belgium
Hartelijk dank voor uw informatie. Wij nemen zo spoedig mogelijk contact met u op.
Bij het opslaan van uw aanvraag is een probleem opgetreden. Probeer het opnieuw.
Please accept the Privacy Agreement.
Name, email, company, phone, location and at least one product selection are required.
HeartFelt® Multipanel
Een perfecte geluidsabsorptie, in combinatie met een unieke look en feel: HeartFelt® Multipanel is een stijlvol, modulair plafond dat de blikken naar boven zal leiden. Van nature beschikt vilt over uitstekende akoestische eigenschappen. Dit maakt HeartFelt® Multipanel geschikt voor een veelvoud aan ruimten waar een goede geluidsabsorptie gewenst is.
Algemene informatie
Waarom HeartFelt® Multipanel?

De plafondpanelen van HeartFelt® Multipanel staan voor een warme look in combinatie met de perfecte, natuurlijke geluidsabsorptie van vilt. Met HeartFelt® Multipanel ontstaat er een grote ontwerpvrijheid. Speel met een avontuurlijke combinatie van verschillende breedtes en creëer zo een duurzaam, modulair plafondsysteem dat gezien mag worden.
Eigenschappen


Uitstekende akoestische prestaties
Vijf verschillende grijstinten voor een warme sfeer
Leverbaar in paneelmaten 30x60, 80x35, 130x35 en 180x35mm
100% recycleerbaar of gemakkelijk herbruikbaar
Onderhoudsgemak: vuil- en stofafstotend
Cradle to Cradle Certified™ Bronze (Cradle to Cradle Certified™ is a certification mark licensed by the Cradle to Cradle Products Innovation Institute).
Toepassing

HeartFelt® Multipanel is geschikt voor vele sectoren zoals; bedrijven, winkels, vrijetijdsfaciliteiten, openbare ruimten, de horeca, de gezondheidszorg en het onderwijs.

Neem contact met ons op voor uw specifieke wensen.
Design en inspiratie
Het HeartFelt® plafondsysteem is geïnspireerd door vilt als een intrigerend materiaal voor kleding, meubels en modeartikelen. Het biedt architecten, interieurontwerpers en technisch adviseurs opnieuw een hoogwaardige designkeuze uit onze productportfolio. Het plafond mag weer gezien worden: Er wordt steeds vaker gebruik gemaakt wordt van verschillende vormen, materialen of kleuren, waardoor een plafond interessanter wordt. Met HeartFelt® Multipanel wordt deze behoefte vervuld.





Kleuren

HeartFelt® Multipanel zijn beschikbaar in vijf tinten grijs. De exacte tint van de panelen wordt bepaald door de verhouding van witte en zwarte vezels in het basismateriaal.


Vijf grijstinten

WHITE 7593
LIGHT GREY 7596
MIDDLE GREY 7597
DARK GREY 7598
BLACK 7594
Neem contact met ons voor uw specifieke wensen.

* * Er kunnen kleurverschillen zijn m.b.t. de werkelijkheid t.o.v. een computer scherm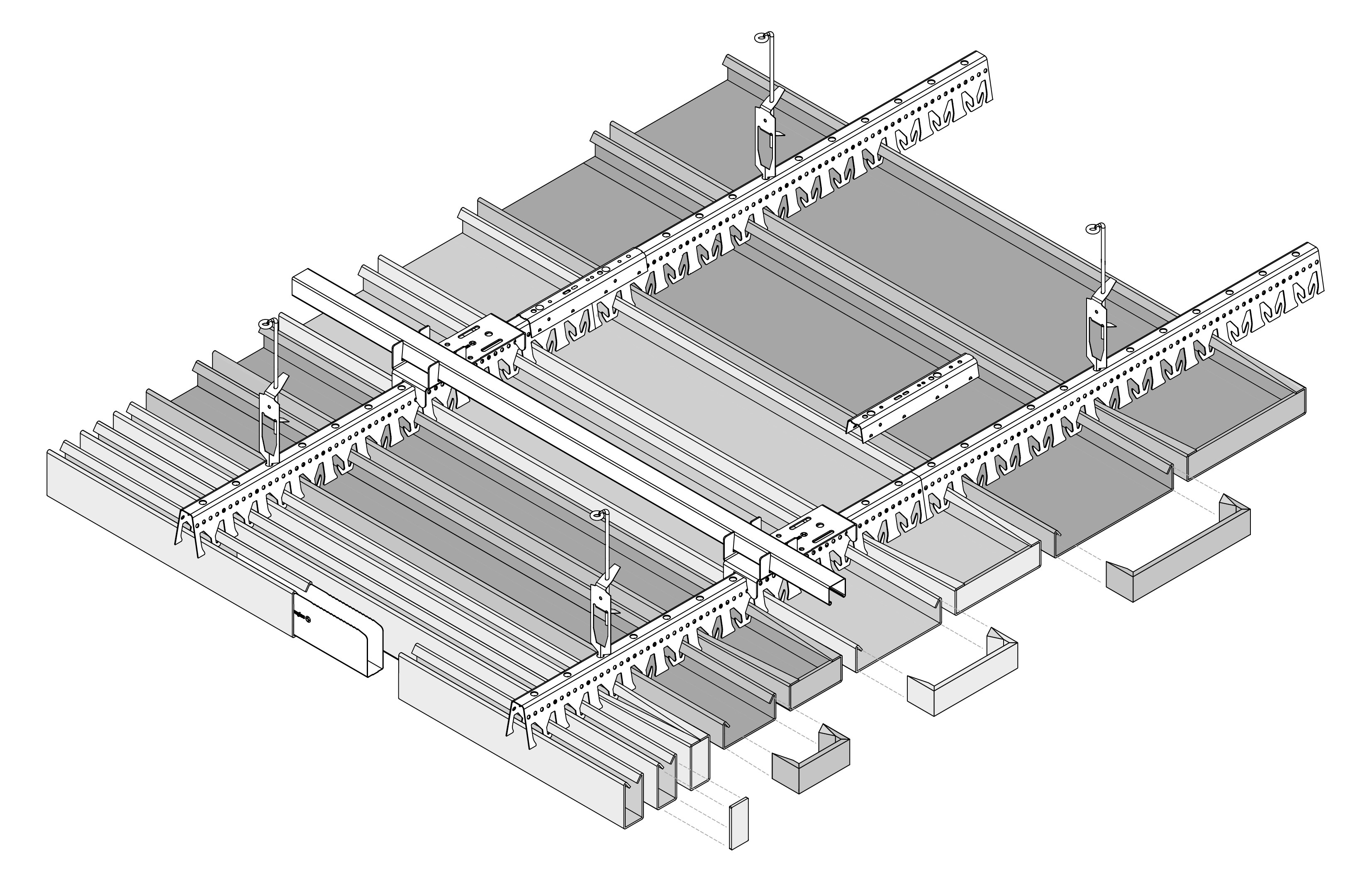 Materiaaleigenschappen

HeartFelt® Multipanel is gemaakt van non-woven, thermisch gevormde PES-vezels met open voegen tussen de panelen. De panelen zijn leverbaar in de afmeting: 30x60, 80x35, 130x35 en 180x35mm, met een maximale lengte van 4000-6000mm. De volgende modules zijn beschikbaar: 50 - 200 mm, afhankelijk van het formaat van het paneel.



Meer productgegevens

Uitgebreidere informatie is terug te vinden onder downloads, met informatie o.a. over: Maximale overspanningen, afmetingen en gewicht en materiaalvereisten per m².

Akoestische informatie

Het akoestisch comfort in een kantoor, school of openbaar gebouw is belangrijk voor ons welzijn aangezien een slechte akoestiek gevolgen kan hebben voor de gezondheid, communicatie, veiligheid, productiviteit en leerprestaties. De hoogwaardige akoestische plafondproducten van Hunter Douglas bieden de beste oplossing voor uitstekende akoestische prestaties, comfort en een esthetisch aanzicht. De absorptiewaarden (αw) van HeartFelt® Multipanel ligt rond de 0,70.




Meer informatie over akoestiek

Uitgebreidere informatie is onderstaand terug te vinden onder downloads