Metalen Houtprint Plafond
Divisienaam: Hunter Douglas Architectural Belgium
Hartelijk dank voor uw informatie. Wij nemen zo spoedig mogelijk contact met u op.
Bij het opslaan van uw aanvraag is een probleem opgetreden. Probeer het opnieuw.
Please accept the Privacy Agreement.
Name, email, company, phone, location and at least one product selection are required.
METALEN HOUTPRINT
Creëer een houten uitstraling met een lineair- of open plafond voorzien van metalen houtprint. Met een open plafondsysteem en diverse lineaire plafondpanelen, kan een natuurlijke sfeer worden gecreëerd. Met een aanbod aan diverse houtdesigns kan eenvoudig een licht-in-gewicht, kostenefficiënt houten plafond worden gemaakt.
Algemene informatie
Waarom metalen houtprint?


Dit systeem onderscheidt zich door de mogelijkheid om verschillende paneeldiepten en -breedten te combineren. Door toepassing van het open plafondsysteem en panelen lineaire collectie in één plafond, kan met gebruik maken van een maximaal designflexibiliteit.
Eigenschappen


Een licht metalen plafond met diverse houten afwerkingen
De combinatie van panelen zorgt voor diverse dynamische effecten
Panelen kunnen in elke lengte tot 6.000 mm worden geleverd (als standaard)
Panelen zorgen in combinatie met voegprofielen voor een visueel gesloten plafond
Gebogen en radiale designs zijn ook mogelijk
Gemaakt van een speciale aluminiumlegering met 92% gerecycleerde inhoud
Toepassing


Het metalen houtprint plafondsysteem is geschikt voor alle bouwsectoren: voor bedrijven, transportfaciliteiten (luchthavens, metro-, bus- en treinstations), winkels, vrijetijdsfaciliteiten, openbare ruimten, de horeca, de gezondheidszorg, het onderwijs en woningen.

Voor al uw technische vragen en productmogelijkheden mbt brandstabiliteitseisen van toepassing voor de Belux projecten, neem contact op met ons verkoopkantoor.
Design en inspiratie
De panelen zijn beschikbaar in drie breedten van 30, 75, 80, 84 en 130 mm en diverse hoogtes. Door middel van deze unieke combinatie, kunnen uiterst functionele en prachtige ontworpen driedimensionale designs worden gecreëerd. De voegen van 20 mm kunnen open blijven of worden gesloten en je kunt bovendien onze speciale verlichtingsoplossing Luxalon® Light Lines integreren, voor extra functionaliteit en een nog beter plafonddesign. Daarnaast is de metalen houtprint ook beschikbaar in het V100 plafondsysteem.


De plafonds met metalen houtprint zijn standaard beschikbaar in vijf houtprints: palissander-, dennen-, ceder-, eiken- en berken. Voor informatie over de beschikbaarheid per plafondtype, kunt u contact opnemen met het plaatselijke verkoopkantoor. Speciale afwerkingen en kleuren voor projecten zijn op aanvraag beschikbaar.


8620 Pine
8612 Cedar
8610 Palisander
8616 Elm
8601 Oak

Extra diepe, akoestische plafondpanelen met uitstekende geluidsabsorptiekwaliteiten en ontwerpmogelijkheden om te zorgen voor een hout-look met alle voordelen van metaal.


De robuuste uitstraling van het plafondsysteem, past dit plafond perfect in grote open ruimten met een hoog geluidsniveau zoals luchthavens, winkelcentra of congresgebouwen. Dankzij de uitstekende geluidskwaliteit tovert het plafondsysteem luide omgevingen om tot ruimten met een aangename akoestiek. Daarnaast biedt het plafond unieke ontwerpmogelijkheden en zijn er vele opties beschikbaar voor de integratie ervan in het bouwontwerp.





Meer productgegevens

Uitgebreidere informatie is onderstaand terug te vinden onder downloads, met informatie o.a. over: Maximale overspanningen, afmetingen en gewicht en materiaalvereisten per m².
Akoestische informatie

Voor een hoge akoestische prestatie is een speciale zijperforatie van 1,5 mm ontwikkeld voor het 30BD-paneel. Met deze perforatie blijft de zichtbare kant van het 30BD-paneel ononderbroken, terwijl tegelijkertijd wordt gezorgd voor een uitstekende akoestiek. Aan de binnenkant van het paneel wordt non-woven akoestisch materiaal toegevoegd om de akoestische prestaties te verbeteren.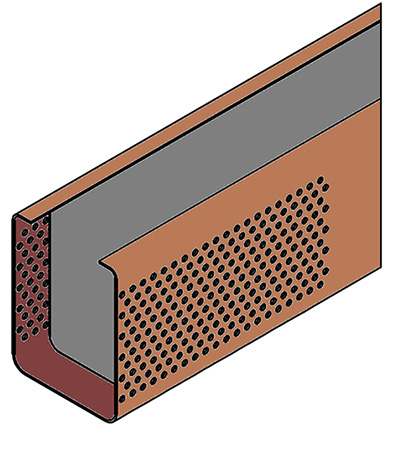 Het akoestisch comfort in een kantoor, school of openbaar gebouw is belangrijk voor ons welzijn, omdat een prettige akoestiek een gunstig effect op de gezondheid, communicatie, veiligheid, productiviteit en leerprestaties kan hebben. De hoogwaardige akoestische plafondproducten van Hunter Douglas bieden de beste oplossing voor uitstekende akoestische prestaties, comfort en een esthetisch aanzicht. Met het metalen houtprint plafondsysteem kunnen absorptiewaarden (αw) tussen de 0,55 en 0,85 worden behaald, afhankelijk van de configuratie van het plafond en de panelen.


Uitgebreidere informatie is onderstaand terug te vinden onder downloads




| Beschrijving | ID | Downloads |
| --- | --- | --- |
| Linear Ceiling 84B 2D | C-i-LI-84B-2D-02 | dwg pdf |
| Linear Ceiling 84B 3D | C-i-LI-84B-3D-02 | dwg pdf |
| Linear Ceiling 84R 2D | C-i-LI-84R-2D-02 | dwg pdf |
| Linear Ceiling 84R 3D | C-i-LI-84R-3D-02 | dwg pdf |
| Interior Multi Panel Ceiling 2D | C-i-LI-MP-2D-06 | dwg pdf |
| Interior Multi Panel Ceiling 3D | C-i-LI-MP-3D-02 | dwg pdf |
| Interior Linear Screen Ceiling Sliding 2D | C-i-LI-SC-S-2D-01 | dwg pdf |
| Interior Linear Screen Ceiling Sliding 3D | C-i-LI-SC-S-3D-01 | dwg pdf |
| Interior Linear Screen Ceiling Fixed 2D | C-i-LI-SC-F-2D-03 | dwg pdf |
| Interior Linear Screen Ceiling Fixed 3D | C-i-LI-SC-F-3D-01 | dwg pdf |
Gezondheid en welzijn
Het assortiment plafondproducten van Hunter Douglas Architectural draagt bij aan duurzame gebouwen door middel van esthetische oplossingen die het comfort verbeteren en energie besparen. Het bevorderen van de gezondheid en het welzijn van de gebruikers is waarschijnlijk de belangrijkste functie van een gebouw. Onze zonweringoplossingen bevorderen het gebruik van gezond daglicht zonder vervelende verblinding of gebrek aan thermisch comfort. Onze akoestische plafonds spelen een centrale rol bij het realiseren van akoestisch comfort.
Verantwoorde materialen
Ecologisch verantwoorde materialen zijn essentieel voor een duurzaam gebouw. Onze strategie is erop gericht om materialen te selecteren die op zichzelf al goede ecologische eigenschappen hebben. Veel van onze producten zijn gemaakt van aluminum dat in onze eigen smelterij wordt geproduceerd. Wij hebben onze processen geoptimaliseerd om tot 99% gerecycled materiaal te gebruiken om de juiste legering voor onze producten te produceren. Ons hout is FSC-gecertificeerd en wij omarmen het cradle-to-cradleprincipe in onze productontwikkeling.
Energiebesparing
Verlaging van het energieverbruik van het volledige pand is cruciaal om opwarming van de aarde tegen te gaan. De meeste moderne kantoorpanden verbruiken meer energie voor koelen dan voor verwarmen. Een effectief beheer van de zonne-energie die door het transparante deel van de gevel heen dringt, is een belangrijke strategie bij het voorkomen van oververhitting in zowel oude and nieuwe gebouwen. Onze hoogwaardige zonweringoplossingen bieden aanzienlijke energiebesparingen, terwijl ze tevens gezondheid en welzijn bevorderen.
Maatschappelijk verantwoord ondernemen
'Keen on Green' is een belangrijk bedrijfsbreed initiatief om ons energieverbruik, waterverbruik en onze totale CO2-voetafdruk te verlagen. We omarmen het ISO 14001-model voor actief beheer van onze 'Keen on Green'-doelstellingen. Hunter Douglas en zijn medewerkers leveren een actieve bijdrage aan de gemeenschappen waarin we wonen en werken, evenals gemeenschappen op een meer wereldwijde schaal. Zakendoen draait om mensen. We zijn trots op ons wereldwijde netwerk van ervaren, intelligente, gepassioneerde en creatieve mensen die er bewust voor hebben gekozen om bij Hunter Douglas te werken.