Exterior Linear Open Ceilings
Hunter Douglas offers a wide range of exterior linear open ceilings that provide the architect with the opportunity to achieve a stunning look. Exterior linear open ceilings are created using panels of either the same or varying lengths in different configurations. Open joints are used to form a small gap between the panels, placing emphasis on the design and layout of the panels.
Use our product selector to choose the ceiling that fits with your project. Click on the button below
WHAT ARE LINEAR OPEN CEILINGS
Linear Open Ceilings can be arranged in various configurations and can be easily fixed to the carrier. By choosing the different size and shape of panels, architects can create an extensive range of designs. By designing open joints that leave small gaps between the panels, your eyes are drawn to the layout of the panels, and the stunning look that this creates.
EXTERNAL LINEAR OPEN CEILING VARIATIONS
In addition to traditional panels, Hunter Douglas also offer box shape panels. These provide additional design opportunities for architects with the gaps between the panels creating a directional effect that can be used in a wide range of applications.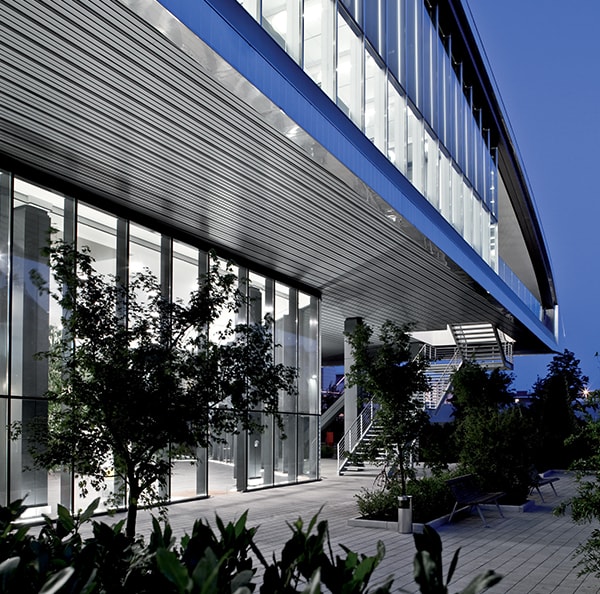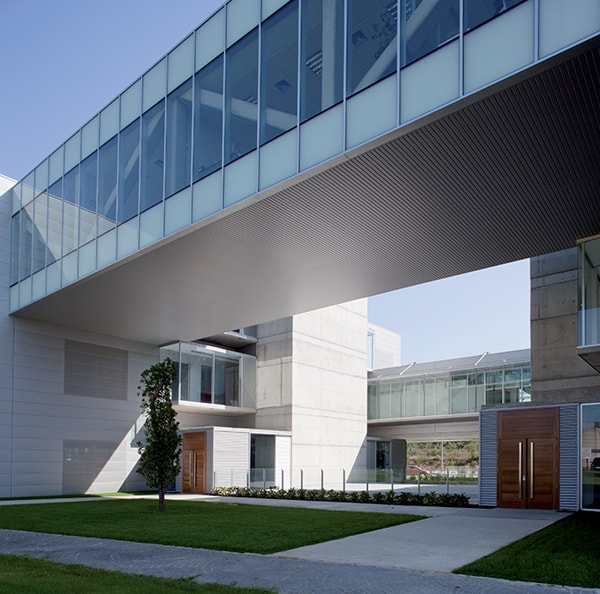 CEILING PANEL COLOURS
For external applications we use our Luxacote® finish. This has been specially designed to withstand the most severe of external conditions, giving you a long lasting appearance. Perfect colour and gloss stability is guaranteed by the UV filter contained within the topcoat. Tested to real-world conditions, Luxacote® offers scratch and abrasion resistance, and the alloy pre-treatment offers excellent resistance to corrosion. Our External Linear Open Ceilings are also available in a wide range of RAL colours.
LINEAR OPEN CEILING QUALITY
Our focus on quality (ISO9001 and TAIM certified) ensures the highest standard of production processes, material, machinery and finished product.
WIND RESISTANCE
Our Exterior Ceilings have been extensively tested against varying wind loads by TNO, the Netherlands. Wind load calculations allow us to easily use our span tables. These tables support the engineer in developing the optimal and most economical hanging construction for the designed exterior ceiling.
LINEAR OPEN CEILING INSPIRATION
Linear Open Ceilings offer enhanced design using state of the art systems. A multitude of designs can be achieved, giving architects real design freedom, allowing them to bring their visions to life. Be sure to browse our product gallery for further inspiration.
Project Gallery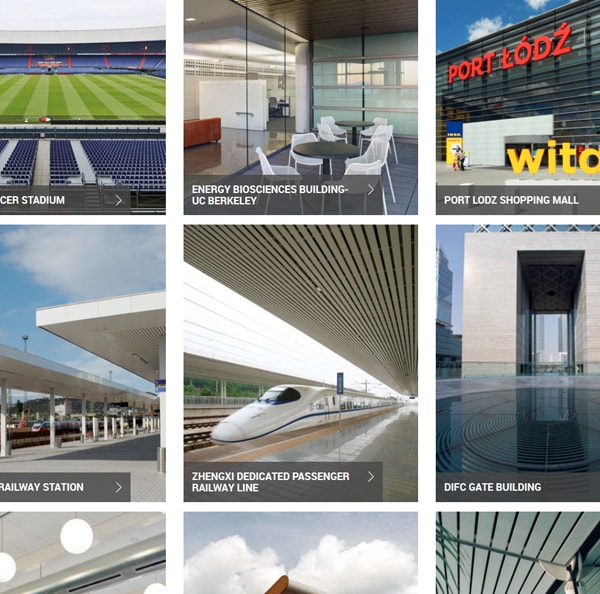 FILTER SELECTION OF Linear Open
Use the filters below to browse our full selection of Linear Open Products.