Division Name: Hunter Douglas Rumania
Web: www.hunterdouglas.ro
Address: Bd Basarabia nr 80, et 1, sect 2 Bucharest Romania
Phone Number: +40 2 1321 2745
Fax: +40 2 1327 4355
Contact Us: Contact Us
Thank you for your information. We will be in touch with you shortly.
There was an issue saving your request, please try again.
Please accept the Privacy Agreement.
Name, email, company, phone, location and at least one product selection are required.
SOLID WOOD LINEAR WALLS
The solid wood linear wall system is a wood solution in it's most natural form. A wide range of wood species are available, all with their own characteristics. Various panel widths can be combined creating a unique look. The system is easy to install and environmentally friendly.
General Information
Why a Solid Wood Linear Wall?


Because it's natural beauty, high acoustical value and to create a natural environment. Combining a linear wood wall in your architectural project with other textures like concrete or felt, will increase the aesthetical awareness of the interior design. The systems guarantee fast and simple assembly. Budget flexible and because of modular delivery very suitable for prefab building.
Characteristics


Environmentally friendly. Wood is the only building material that is 100% CO2 neutral and totally recyclable.
The systems guarantee fast and simple assembly.
High acoustic values.
Treated to be fire retardant according to EN 13501-1.
Using certified and preserved materials.
Budget flexible and because of modular delivery very suitable for prefab building.
Cradle to Cradle Certified™ Silver (Cradle to Cradle Certified™ is a certification mark licensed by the Cradle to Cradle Products Innovation Institute).
Application


The Solid Wood Linear Wall is suitable for all building sectors: Retail, Leisure, Public spaces, Hospitality, Healthcare, Corporate, Transport (airports, metro-, bus -, train stations), Residential or Education.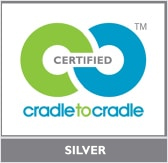 The power of nature
Wood is a product of nature and its variation is one of the most appealing factors of wood products. There is a very limited environmental impact with industrial wood processing and wood itself stores CO2. Nature is pleased with simplicity, the beauty of it is recognizable in our Solid Wood Linear Wall system.
Wood Wall Species
There are around 20 different solid wood species. Each type of wood has it´s own natural characteristics such as colour, grain, structure, knots and size tolerance. The wooden slats may have a planed, fine-sawn and rough-sawn surface finish. Other wood species area available upon request.
| | | | |
| --- | --- | --- | --- |
| Yellow Poplar | African Ayous | Yellow Pine | European Pine |
| Accoya | Siberian Larch | American White Oak | American Ash |
| European Oak | American Red Oak | Cherry | Oregon Pine |
| Jatoba | Teak | Cambara | Merbau |
| Mahogany | Western Red Cedar | American Walnut | Wenge |
Finishes
Wood is wood, a natural product but can be cultivated with transparent varnish. There is also a wide range of colours and stains available to create an extra dimension to the appearance of the wall.
System Characteristics
The slats of the linear solid wall system can be produced in a size of a minimum of 63 mm to a maximum of 140 mm wide. Completely demountable of this wall system is possible. The minimum joint size is then 12 mm. For the fixed system the slats can be produced in a maximum width of 185 mm and minimum thickness 15 mm. With the ingenious fastening structure, various slat widths, slat thicknesses and joint sizes can be combined in one system.


Reaction to fire
Fire retardance is an important element for any wood application. To be able to comply with fire safety regulations, Hunter Douglas systems are treated, if necessary, so that they are fire retardant. This is done by means of the vacuum and pressure method, whereby the wood is impregnated with a fire retardant substance.
With these treatments we makes sure that the slats and panels, used as a coating/finishing material meet the European standard EN 13501-1. The treatment process is performed according to KOMO guidelines and is periodically inspected by the SKH so that the required CE marking can be employed.
Wall Grill Solution
The Solid Wood Linear wall system is developed to create a natural, made-to-measure wall solution. The aluminium SLR profile, together with the pre-assembled clips guarantee easy installation in a horizontal or vertical direction.


More product details
More detailed information can be found at the downloads section below.
Acoustic information
The acoustic comfort in an public building, school, office space, or contributes to our health as good acoustic comfort can positively affect communication, health, safety, productivity and learning. The linear wood wall have high acoustic values to create this perfect acoustical environments, comfort and an aesthetic pleasing solution. With the Solid Wood Linear system absorption Alpha w values between 0.55 and 0.85 can be obtained, depending on panel and joint widths.