GRILL WOOD WALLS
Designing a wall with creative freedom is not a problem for Hunter Douglas Grill Walls. The wall is a wood solution in it's most natural form and benefits from being environmentally friendly.
Use our product selector to choose the ceiling that fits with your project. Click on the button below
WHAT ARE GRILL WALLS
The Grill wall system from Hunter Douglas consists of wooden slats that are secured to each other with an aluminum dowel. These assembled slats form the wall panel, which can be produced in various lengths and widths. The system is easy to install and due to the freedom of choosing your own grill dimensions, a unique wall can be created.
GRILL WALL VARIATIONS
There is a range of grill walls available that all have their own characteristics. You can opt for a solid wood wall which keeps the natural characteristics such as knots and grain. Alternatively you may choose to specify veneered grill walls to create an acoustic feature.
COLOURS AND FINISHES
There are around 20 different solid wood species and 40 different light and dark veneer tones, we have a wide choice of options to create your desired look.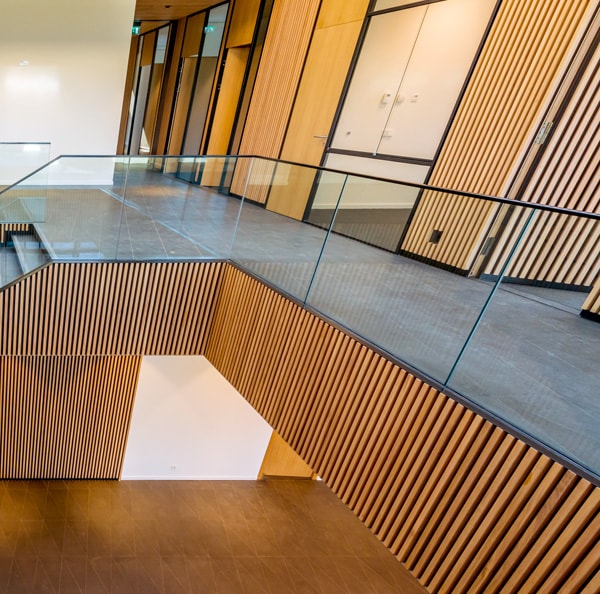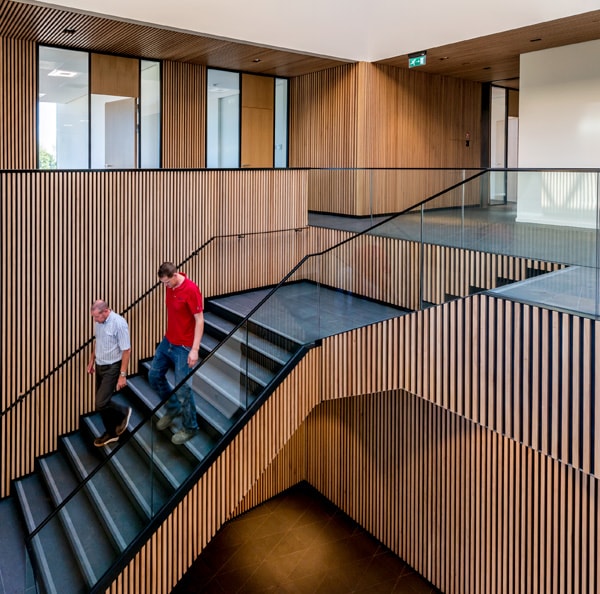 GRILL WALLS QUALITY
Our focus on quality ensures the highest standard of production processes, material, machinery and finished product. The superior durability of our grill walls translates into lower costs during the life cycle of the product.
FIRE PROTECTION
Fire retardance is an important element for any wood application. To be able to comply with fire safety regulations, Hunter Douglas systems are treated, if necessary, so that they are fire retardant. With these treatments we make sure that the slats and panels, used as a coating/finishing material meet the European standard EN 13501-1. The treatment process is performed according to KOMO guidelines and is periodically inspected by the SKH so that the required CE marking can be employed.
ACOUSTICS IN GRILL WALLS
Our high performance acoustic grill elements are the best solution for delivering outstanding comfort, acoustic performance, and an aesthetically pleasing appearance.
Playing with the panel width and gap can provide the necessary acoustic performance for different atmospheres. Optionally, the panels can also be perforated to give you outstanding acoustic wall performance.
WHY ARE ACOUSTICS IMPORTANT?
The acoustic comfort in an office space, school or public building contributes to our wellbeing. Poor acoustic performance can affect health, communication, safety, productivity and learning. Hunter Douglas Architectural high performance acoustic walls deliver outstanding acoustic performance, comfort and an aesthetically pleasing environment.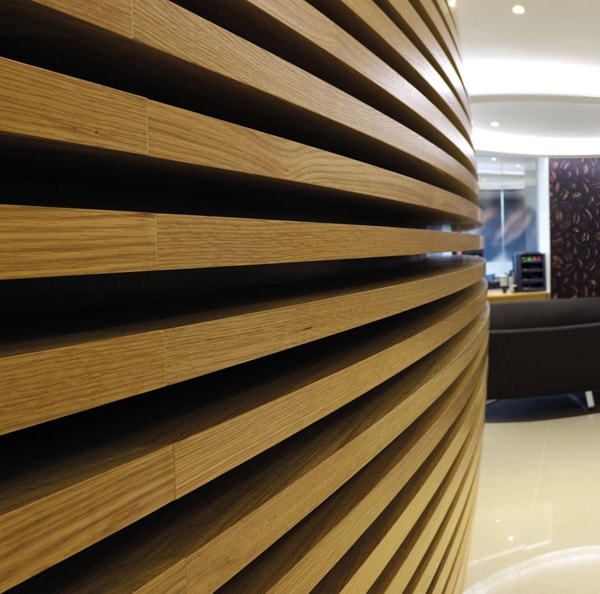 FILTER SELECTION OF Grill Walls
Use the filters below to browse our full selection of Grill Walls Products.