TILES AND PANELS WOOD WALLS
Hunter Douglas wood wall tiles and panels give you the freedom to make a natural looking wall design. They can be produced in any standard size up to 600x1200mm with bespoke sizes available on request.
Use our product selector to choose the ceiling that fits with your project. Click on the button below
WHAT ARE TILES AND PANELS?
Hunter Douglas wood wall tiles and panels fix directly onto a substructure with the use of special metal clips, which can create a closed or open joint. The natural growth patterns of each tree can be clearly seen in the veneer, including natural characteristics such as knots and outgrowth. The panels will be produced according to the layout plan to ensure a perfect fit.
WOOD WALL TILE AND PANEL VARIATIONS
Hunter Douglas offers different demountable wood wall tile types which all have their own look, jointing system and advantages. Huge design variations are available between these systems but this can also be achieved through differing veneers, colours and panel finishes. There is a wide scope of perforation patterns, which can be applied to all veneered panels.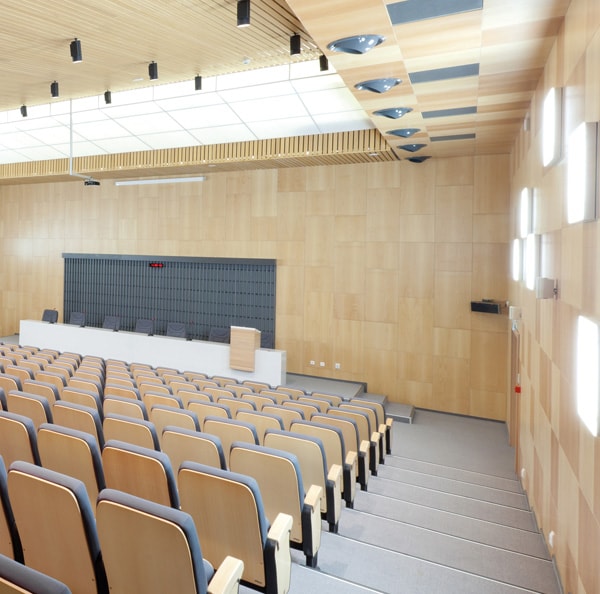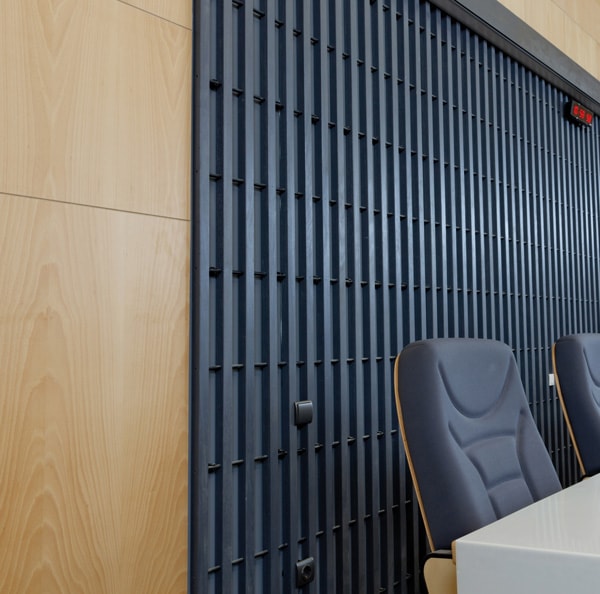 COLOURS AND FINISHES
Our veneered systems exceed 40 veneers to create the ideal ambiance and feel. These wall panels are then provided with a transparent lacquer but if a special look is required, special varnishes, staining or paint finishes are also possible.
WALL TILES & PANELS QUALITY
Our focus on quality ensures the highest standard or product. The superior durability of Hunter Douglas wall panels translates into lower costs during the life cycle of the product. Due to a special treatment of the wooden panels, some wood species are perfectly suitable for humid areas, such as swimming pools.
FIRE PROTECTION
By impregnating wood, a reaction to fire classification (EN13501-1) of B-s1,d0 can be achieved. In some cases higher classifications can also be achieved.
ACOUSTICS IN WALL TILES AND PANELS
Depending on the type of panel perforation, a specific acoustical performance can be achieved. Bespoke perforations are available as well as our standard varieties. We have recently developed a new perforation pattern that offers up to Alpha W 0.95 by creating 0.5mm diameter holes invisible to the naked eye.
The acoustic comfort in an office space, school or public building contributes to our wellbeing. Poor acoustic performance can affect health, communication, safety, productivity and learning. Hunter Douglas Architectural high performance acoustic walls deliver outstanding acoustic performance, comfort and an aesthetically pleasing environment.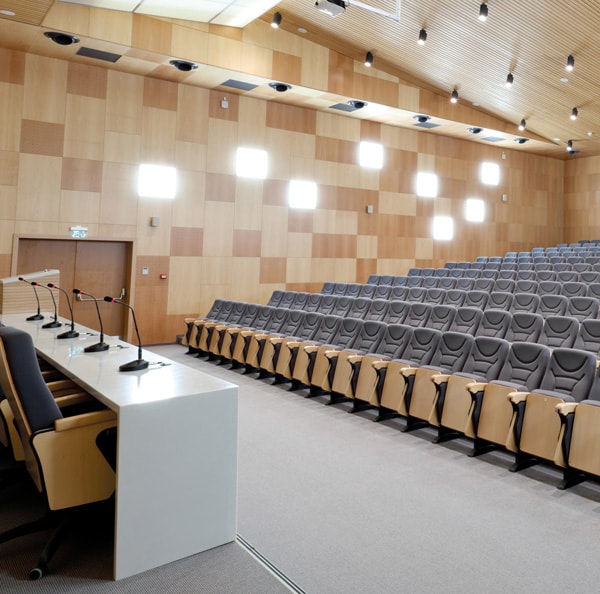 FILTER SELECTION OF Tiles & Panel Walls
Use the filters below to browse our full selection of Tiles & Panel Walls Products.
Tiles & Panel Walls Products