Divisienaam: Hunter Douglas Architectural Plafondsystemen
Hartelijk dank voor uw informatie. Wij nemen zo spoedig mogelijk contact met u op.
Bij het opslaan van uw aanvraag is een probleem opgetreden. Probeer het opnieuw.
Onder de nieuwe AVG-verordening ga je akkoord met het privacybeleid van onze website door dit vakje aan te kruisen
Name, email, company, phone, location and at least one product selection are required.
Baffles Tavola™ Straight
Met lineaire panelen aan het plafond biedt de Tavola™ Baffles serie een oplossing met baffles van lichtgewicht metaal voor commerciële binnenruimtes. Plafonds met baffles van metaal zijn modern, flexibel en makkelijk te installeren.
Algemene informatie
Waarom Baffles Tavola™ Straight?

Plafonds met baffles zijn uitermate geschikt voor een goede akoestiek en minder lawaai in openbare ruimtes. Vanuit designoogpunt geven plafonds met baffles een heel ruimtelijk effect door hun lineaire, open structuur. Vanuit praktisch oogpunt is het plafond makkelijk te installeren en is het nog steeds goed toegankelijk, net als zaken als verlichting, luidsprekers, sprinklers enzovoort.
Kenmerken


Lengte profielen tot 5000 mm
Hoogte profielen: 100, 150, 200 mm
Breedte profielen: 30, 40 en 50 mm
Standaard FE-drager 43 x 60 mm, zwart
Minder afval ter plekke doordat het materiaal in de fabriek op maat wordt gemaakt
Hangend gewicht: lagere statische belasting door lichtgewicht staal
Standaard geleverd uit een reeds geverfde strook staal
Gemakkelijke toegang tot het plenum
Toepassing

Plafonds met baffles zijn geschikt voor de meeste bouwsectoren, waaronder grote bedrijven, de vervoerssector (luchthavens, metro-, bus- en treinstations), winkels, vrijetijdsfaciliteiten, openbare ruimten, de horeca, de gezondheidszorg en het onderwijs.

Neem contact met ons op om jouw wensen te bespreken.
Design & Inspiratie
Met het Baffles Tavola™ Straight bafflesysteem kun je een heel scala aan plafonds ontwerpen met verschillende afstanden tussen de baffles, breedtes van 30, 40 en 50 mm, hoogtes van 100, 150 en200 mm en een scala aan verschillende verfkleuren, en gelamineerd hout. Hierdoor heeft de architect veel ontwerpvrijheid bij een project. Andere (hout) kleuren op aanvraag.

Kleuren en afwerkingen

Hunter Douglas biedt een grote keuze aan kleuren en afwerkingen. De kleuren kunnen op aanvraag op elkaar worden afgestemd. Neem contact op met de plaatselijke verkoopvestiging van Hunter Douglas voor minimumhoeveelheden en leveringstijden. Kijk op ons website voor de meest actuele informatie. De kleuren zijn er alleen ter illustratie.

Materiaaleigenschappen

Hieronder zie je een foto van het Baffles Tavola™ Straight-plafondsysteem. Spanwijdte van het primaire en secundaire rooster maximaal 1200 mm. Uitkragende liggers maximaal 300 mm.

Er zijn verschillende perforatiepatronen mogelijk.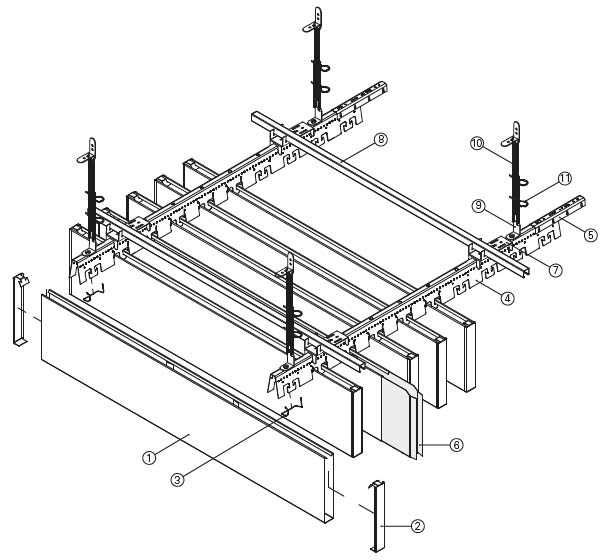 1 = Tavola™ Baffle
2 = End cap
3 = Locking spring
4 = Carrier
5 = Carrier splice
6 = Baffle splice
7 = Stabilisation bracket
8 = Stabilisation profile
9 = Lower nonius hanger, bend
10 = Upper nonius hanger
11 = nonius hanger locking clip




Meer productinformatie

Uitgebreidere informatie vind je onder download hieronder.


Akoestische informatie over Tavola™ Baffles


De akoestiek in een kantoor, school of openbaar gebouw is belangrijk voor ons welzijn, omdat een slechte akoestiek gevolgen kan hebben voor de gezondheid, communicatie, veiligheid, productiviteit en leerprestaties. De hoogwaardige akoestische plafondproducten van Hunter Douglas bieden de beste oplossing voor uitstekende akoestische prestaties, comfort en een esthetische uitstraling.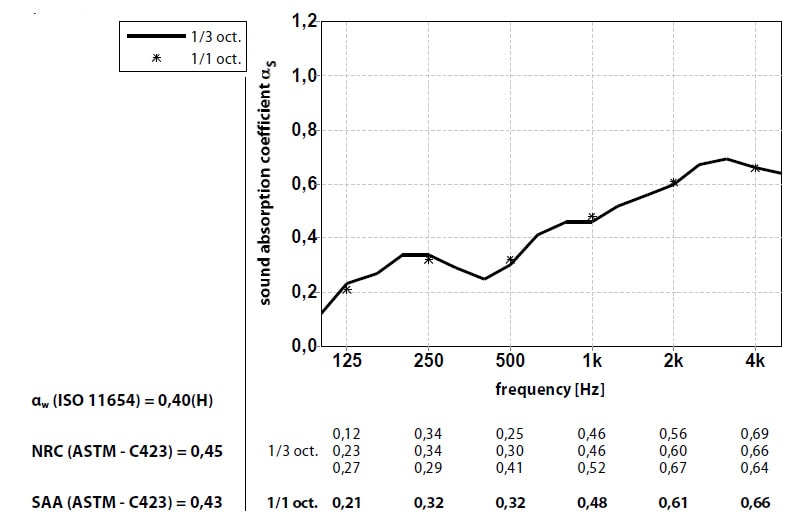 Baffle afmetingen 30x200mm, afstand 200mm ctc, ophanghoogte 200mm

*Bij producten die pas later worden geverfd is de open ruimte iets kleiner door de dikte van de verf



Meer informatie over de akoestiek


Als je meer informatie nodig hebt over de akoestiek, neem dan contact met ons op en we zullen zo snel mogelijk reageren.


Gezondheid en welzijn
Het assortiment plafondproducten van Hunter Douglas Architectural draagt bij aan duurzame gebouwen door middel van esthetische oplossingen die het comfort verbeteren en energie besparen. Het bevorderen van de gezondheid en het welzijn van de bewoners is waarschijnlijk de belangrijkste functie van een gebouw. Onze zonweringoplossingen bevorderen het gebruik van gezond daglicht zonder vervelende verblinding of gebrek aan thermisch comfort. Onze akoestische plafonds spelen een centrale rol bij het realiseren van akoestisch comfort.
Verantwoorde materialen
Ecologisch verantwoorde materialen zijn essentieel voor een duurzaam gebouw. Onze strategie is erop gericht om materialen te selecteren die op zichzelf al goede ecologische eigenschappen hebben. Veel van onze producten zijn gemaakt van aluminum dat in onze eigen smelterijen wordt geproduceerd. We hebben onze processen geoptimaliseerd om tot 99% gerecycled materiaal te gebruiken om de juiste legering voor onze producten te produceren. Ons hout is FSC-gecertificeerd en we omarmen het cradle-to-cradleprincipe in onze productontwikkeling.
Energiebesparing
Verlaging van het energieverbruik van het totale woningbestand is cruciaal om opwarming van de aarde tegen te gaan. De meeste moderne kantoorpanden verbruiken meer energie voor koelen dan voor verwarmen. Een effectief beheer van de zonne-energie die door het transparante deel van de gevel heen dringt, is een belangrijke strategie bij het voorkomen van oververhitting in zowel oude and nieuwe gebouwen. Onze hoogwaardige zonweringoplossingen bieden aanzienlijke energiebesparingen, terwijl ze tevens gezondheid en welzijn bevorderen.
Maatschappelijk verantwoord ondernemen
'Keen on Green' is een belangrijk bedrijfsbreed initiatief om ons energieverbruik, waterverbruik en onze totale CO2-voetafdruk te verlagen. We omarmen het ISO 14001-model voor actief beheer van onze 'Keen on Green'-doelstellingen. Hunter Douglas en zijn medewerkers leveren een actieve bijdrage aan de gemeenschappen waarin we wonen en werken, evenals gemeenschappen op een meer wereldwijde schaal. Zakendoen draait om mensen. We zijn trots op ons wereldwijde netwerk van ervaren, intelligente, gepassioneerde en creatieve mensen die er bewust voor hebben gekozen om bij Hunter Douglas te werken.