Gefineerd Hout PareauLux Klimaatplafond
Divisienaam: Hunter Douglas Architectural Plafondsystemen
Hartelijk dank voor uw informatie. Wij nemen zo spoedig mogelijk contact met u op.
Bij het opslaan van uw aanvraag is een probleem opgetreden. Probeer het opnieuw.
Onder de nieuwe AVG-verordening ga je akkoord met het privacybeleid van onze website door dit vakje aan te kruisen
Name, email, company, phone, location and at least one product selection are required.
PAREAULUX Gefineerd Houten Grills
De flexibiliteit van de productrange zorgt voor volledige ontwerpvrijheid. De kern van latten bestaan uit MDF engineered solid wood (ESW) met op de drie zichtzijdes een decoratieve toplaag van fineer, melamine decor of een RAL kleur. Door de vormstabiliteit van ESW is er veel vrijheid in de breedte- en dikte afmetingen van de latten.



Algemene Informatie
Waarom PareauLux hout fineer grill klimaat plafonds?

Het PareauLux Houten Grills plafond is ontstaan door een samenwerking van twee topspelers in de (klimaat)plafondbranche. Hunter Douglas voor het onderscheidende design en materiaalgebruik van de lamellen en Inteco voor het innovatieve klimaatsysteem met een extreem hoog koelvermogen. Met dit product bent u verzekerd van een comfortbeleving in de breedste zin van het woord.
Eigenschappen
80% meer capaciteit dan een standaard klimaatplafond
Ongekende ontwerpvrijheid
A-kwaliteit onderdelen en totaal toepassing
Duurzame oplossing
Akoestisch comfort
Brandveilig
Lage exploitatiekosten
Lange levensduur
Positieve invloed op duurzaamheidscertificeringen
Altijd een behaagelijke en gelijkmatige temperatuur
Toepassing

PareauLux Houten Grills is geschikt voor vele sectoren zoals; bedrijven, winkels, vrijetijdsfaciliteiten, openbare ruimten, de horeca, de gezondheidszorg, het onderwijs en woningen.

Neem contact met ons op voor uw specifieke wensen.
Design & Inspiratie
Klimaatplafonds worden aangepast aan de modulering van het gebouw waarbij de klimaattechniek niet zichtbaar in het plafond geïntegreerd is en inbouwcomponenten zoals verlichting en luchtroosters mogelijk zijn. Het plafond vormt een onderscheidend onderdeel binnen de totale architectuur.

Bij klimaatplafonds wordt de luchttoevoer bepaald aan de hand van de behoefte aan verse lucht en niet door de benodigde koelcapaciteit. De luchtcirculatie in de ruimte is daardoor lager dan bij convectieve systemen en de kans op tochtverschijnselen minimaal. De temperatuur is per ruimte of regelgebied instelbaar.
HOUTSOORTEN EN AFWERKINGEN
American Cherry
American Walnut
American White Oak
American Maple
Anigre
Ash
Bamboo
Beech
Birch
Cedar
European Oak
Hemlock
Koto
Pine
Red Oak
Spruce
Sycamore
Teak
Kies uit meer dan 40 soorten fineer om de ideale sfeer te creëren. Van lichte tot donkere tinten, voor elk design is er een fineer. De panelen worden standaard geleverd met een transparante lak, indien een speciaal aanzicht is gewenst, zijn ook speciale lakken, beitsen of verfafwerkingen mogelijk.





Materiaaleigenschappen

Middels een metalen deuvel of multiplex dwarsverbinder worden de latten fabrieksmatig samengesteld tot een
grill element. Uiteraard voldoen de Grill systemen aan de strengste eisen m.b.t. brandveiligheid en emissies en zijn na vele jaren gebruik volledig recyclebaar.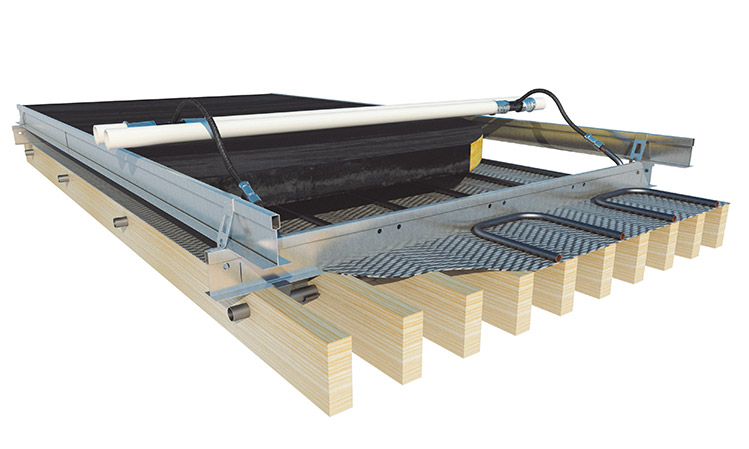 Meer productgegevens

Uitgebreidere informatie is terug te vinden onder downloads, met informatie o.a. over: Maximale overspanningen, afmetingen en gewicht en materiaalvereisten per m².

Akoestische informatie

Akoestisch comfort is van grote invloed op de beleving van een ruimte. Voor de absorptie van geluidsenergie wordt boven
het klimaatelement een mineraalwoldeken in zwarte PE-folie aangebracht.




Meer informatie over akoestiek

Uitgebreidere informatie is onderstaand terug te vinden onder downloads


Duurzaamheid
Het assortiment plafondproducten van Hunter Douglas Architectural draagt bij aan duurzame gebouwen door middel van esthetische oplossingen die het comfort verbeteren en energie besparen. Het bevorderen van de gezondheid en het welzijn van de bewoners is waarschijnlijk de belangrijkste functie van een gebouw. Onze zonweringoplossingen bevorderen het gebruik van gezond daglicht zonder vervelende verblinding of gebrek aan thermisch comfort. Onze akoestische plafonds spelen een centrale rol bij het realiseren van akoestisch comfort.
Verantwoorde materialen
Ecologisch verantwoorde materialen zijn essentieel voor een duurzaam gebouw. Onze strategie is erop gericht om materialen te selecteren die op zichzelf al goede ecologische eigenschappen hebben. Veel van onze producten zijn gemaakt van aluminum dat in onze eigen smelterijen wordt geproduceerd. We hebben onze processen geoptimaliseerd om tot 99% gerecycled materiaal te gebruiken om de juiste legering voor onze producten te produceren. Ons hout is FSC-gecertificeerd en we omarmen het cradle-to-cradleprincipe in onze productontwikkeling.
Energiebesparing
Verlaging van het energieverbruik van het totale woningbestand is cruciaal om opwarming van de aarde tegen te gaan. De meeste moderne kantoorpanden verbruiken meer energie voor koelen dan voor verwarmen. Een effectief beheer van de zonne-energie die door het transparante deel van de gevel heen dringt, is een belangrijke strategie bij het voorkomen van oververhitting in zowel oude and nieuwe gebouwen. Onze hoogwaardige zonweringoplossingen bieden aanzienlijke energiebesparingen, terwijl ze tevens gezondheid en welzijn bevorderen.
Maatschappelijk verantwoord ondernemen
'Keen on Green' is een belangrijk bedrijfsbreed initiatief om ons energieverbruik, waterverbruik en onze totale CO2-voetafdruk te verlagen. We omarmen het ISO 14001-model voor actief beheer van onze 'Keen on Green'-doelstellingen. Hunter Douglas en zijn medewerkers leveren een actieve bijdrage aan de gemeenschappen waarin we wonen en werken, evenals gemeenschappen op een meer wereldwijde schaal. Zakendoen draait om mensen. We zijn trots op ons wereldwijde netwerk van ervaren, intelligente, gepassioneerde en creatieve mensen die er bewust voor hebben gekozen om bij Hunter Douglas te werken.