Divisienaam: Hunter Douglas Architectural Plafondsystemen
Hartelijk dank voor uw informatie. Wij nemen zo spoedig mogelijk contact met u op.
Bij het opslaan van uw aanvraag is een probleem opgetreden. Probeer het opnieuw.
Onder de nieuwe AVG-verordening ga je akkoord met het privacybeleid van onze website door dit vakje aan te kruisen
Name, email, company, phone, location and at least one product selection are required.
LINEAIR PLAFONDSYSTEEM 70U
Het lineaire open plafondsysteem 70U bestaat uit boxvormige brede panelen uit staal of aluminium, die heel eenvoudig kunnen worden geïnstalleerd. Het 70U-systeem is ontworpen voor toepassingen die een robuuster design vereisen.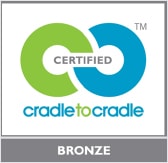 Algemene informatie
Waarom 70U?

Robuuste boxvormige panelen met open voegen van 30 mm die het lineaire aanzicht van het plafond benadrukken en zorgen voor een lineair, robuust richtingseffect.
Eigenschappen


Boxvormige panelen met open voegen van 30 mm die het lineaire aanzicht benadrukken
Panelen en dragers zijn als standaard beschikbaar in 100% recycleerbaar staal en aluminium
Stalen dragers en stalen panelen zijn ontworpen met het oog op toepassingen in sporthallen
Aluminiumdragers in combinatie met aluminiumpanelen kunnen worden gebruikt voor binnen- of buitentoepassingen of voor zwembaden
De panelen kunnen worden geleverd in elke lengte tot 6.000 mm (standaard)
Gemakkelijk demonteerbare panelen bieden een volledige toegang tot voorzieningen en uitrusting in het plenum
Cradle to Cradle Certified™ Bronze (Cradle to Cradle Certified™ is a certification mark licensed by the Cradle to Cradle Products Innovation Institute).
Toepassing

Het open plafondsysteem 70U is geschikt voor een reeks bouwsectoren, waaronder voor transport (luchthavens, metro-, bus- en treinstations), vrijetijdsfaciliteiten en het onderwijs.

Neem contact met ons op voor uw specifieke wensen.
Design en inspiratie
Deze robuuste boxvormige open panelen kunnen worden gebruikt om de nadruk te leggen op de richting van de panelen. De open voegen in combinatie met panelen zorgen dat plafond uit 30% open ruimte bestaat.

De plafonds van Hunter Douglas zijn beschikbaar in diverse standaardkleuren die geschikt zijn voor de meeste toepassingen. Neem contact op met ons verkoopkantoor voor meer informatie over plafondtypen, toepassingen, speciale afwerkingen en kleurenschema's die beschikbaar zijn voor specifieke projecten.

Materiaaleigenschappen

Het lineaire open plafondsysteem 70U bestaat uit boxvormige panelen die eenvoudig op een drager kunnen worden geklikt. De 70 mm brede panelen hebben een 30 mm brede voeg tussen de panelen. De systeemmodule is 100 mm. De panelen en fixeerclips zijn demonteerbaar voor een gemakkelijke toegang tot het plenum.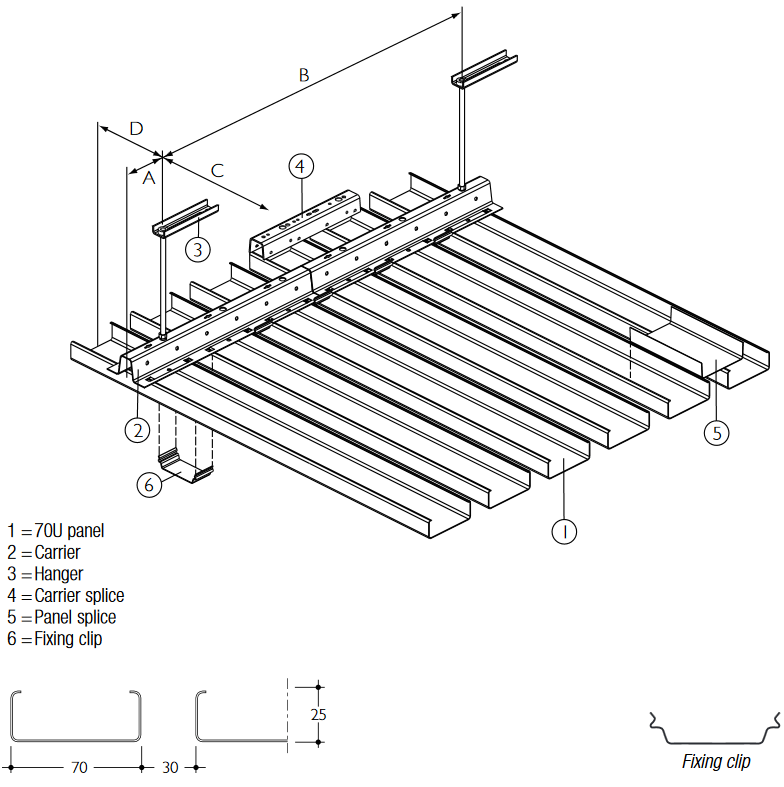 Meer productgegevens
Uitgebreidere informatie is onderstaand terug te vinden onder
downloads


Akoestische informatie


Het akoestisch comfort in een kantoor, school of openbaar gebouw is belangrijk voor ons welzijn aangezien een slechte akoestiek gevolgen kan hebben voor de gezondheid, communicatie, veiligheid, productiviteit en leerprestaties. De hoogwaardige akoestische plafondproducten van Hunter Douglas bieden de beste oplossing voor uitstekende akoestische prestaties, comfort en een esthetisch aanzicht. Ongeperforeerde 70U-panelen, module 100, open voegen van 30 mm, plus bijkomende minerale wolplaten van 25 mm dikte en een densiteit van ongeveer 55 kg/m3 en een plenum met een diepte van 200 mm zorgen voor een absorptiewaarde (αw) van 0,75.




Meer informatie over akoestiek
Uitgebreidere informatie is onderstaand terug te vinden onder
downloads
Gezondheid en welzijn
Het assortiment plafondproducten van Hunter Douglas Architectural draagt bij aan duurzame gebouwen door middel van esthetische oplossingen die het comfort verbeteren en energie besparen. Het bevorderen van de gezondheid en het welzijn van de gebruikers is waarschijnlijk de belangrijkste functie van een gebouw. Onze zonweringoplossingen bevorderen het gebruik van gezond daglicht zonder vervelende verblinding of gebrek aan thermisch comfort. Onze akoestische plafonds spelen een centrale rol bij het realiseren van akoestisch comfort.
Verantwoorde materialen
Ecologisch verantwoorde materialen zijn essentieel voor een duurzaam gebouw. Onze strategie is erop gericht om materialen te selecteren die op zichzelf al goede ecologische eigenschappen hebben. Veel van onze producten zijn gemaakt van aluminum dat in onze eigen smelterij wordt geproduceerd. Wij hebben onze processen geoptimaliseerd om tot 99% gerecycled materiaal te gebruiken om de juiste legering voor onze producten te produceren. Ons hout is FSC-gecertificeerd en wij omarmen het cradle-to-cradleprincipe in onze productontwikkeling.
Energiebesparing
Verlaging van het energieverbruik van het volledige pand is cruciaal om opwarming van de aarde tegen te gaan. De meeste moderne kantoorpanden verbruiken meer energie voor koelen dan voor verwarmen. Een effectief beheer van de zonne-energie die door het transparante deel van de gevel heen dringt, is een belangrijke strategie bij het voorkomen van oververhitting in zowel oude and nieuwe gebouwen. Onze hoogwaardige zonweringoplossingen bieden aanzienlijke energiebesparingen, terwijl ze tevens gezondheid en welzijn bevorderen.
Maatschappelijk verantwoord ondernemen
'Keen on Green' is een belangrijk bedrijfsbreed initiatief om ons energieverbruik, waterverbruik en onze totale CO2-voetafdruk te verlagen. We omarmen het ISO 14001-model voor actief beheer van onze 'Keen on Green'-doelstellingen. Hunter Douglas en zijn medewerkers leveren een actieve bijdrage aan de gemeenschappen waarin we wonen en werken, evenals gemeenschappen op een meer wereldwijde schaal. Zakendoen draait om mensen. We zijn trots op ons wereldwijde netwerk van ervaren, intelligente, gepassioneerde en creatieve mensen die er bewust voor hebben gekozen om bij Hunter Douglas te werken.