Divisienaam: Hunter Douglas Architectural Plafondsystemen
Hartelijk dank voor uw informatie. Wij nemen zo spoedig mogelijk contact met u op.
Bij het opslaan van uw aanvraag is een probleem opgetreden. Probeer het opnieuw.
Onder de nieuwe AVG-verordening ga je akkoord met het privacybeleid van onze website door dit vakje aan te kruisen
Name, email, company, phone, location and at least one product selection are required.
Panelen en cassettes van gefineerd hout
Het assortiment gefineerd houten panelen en cassettes bestaat uit akoestische plafond- en wandelementen met een MDF-kern, bedekt met een fineerhout. Kies uit standaardpanelen of ontwerp aangepaste paneelvormen voor een uniek aanzicht. Het brede aanbod aan fineer, afwerkingen en perforaties past altijd bij het design.
Algemene informatie
Waarom Tegels & Panelen?

Panelen en cassettes in gefineerd hout zijn een milieuvriendelijk bouwproduct met eindeloze mogelijkheden. Het hout wordt op efficiënte wijze gebruikt bij de productie van fineer. De vier demonteerbare plafondtypen hebben allemaal hun eigen aanzicht, voegen en voordelen. In combinatie met een stevig ophangsysteem, kunnen de panelen eenvoudig worden gemonteerd en, indien nodig, gedemonteerd. De akoestische panelen worden gekenmerkt door een tand- en groefverbinding, voor een naadloos oppervlak.
Eigenschappen


Standaardafmetingen 600 x 600, 1200 x 600, 1800 x 600 mm
Aan te passen panelen voor een op maat gemaakte oplossing
Zeer hoge akoestiek tot αw 0,95
Creëer een verborgen, zeer akoestische oplossing met de mini-micro-perforatie
Akoestische panelen maken gebruik van een tand- en groefverbinding voor een ononderbroken oppervlak
Diverse oplossingen voor toegang tot het plenum en demontage
Beschikbaar als plafond- en wandoplossing
Toepassing


De panelen en cassettes van gefineerd hout zijn geschikt voor alle bouwsectoren: voor bedrijven, transportfaciliteiten (luchthavens, metro-, bus- en treinstations), winkels, vrijetijdsfaciliteiten, openbare ruimten, de horeca, de gezondheidszorg, het onderwijs en woningen.


Natuurlijke flexibiliteit
Panelen van gefineerd hout bieden je de vrijheid om een natuurlijk ogend wand- of plafonddesign te creëren. Het aanzicht van de houten panelen ontstaat door een zorgvuldige selectie van de houtsoort, kleur en structuur. De natuurlijke groeipatronen en kenmerken zoals knoesten, kunnen duidelijk worden gezien in het fineer. Zodra het fineer is gekozen, worden de panelen geproduceerd volgens het indelingsplan.
Houtsoorten en afwerkingen
American Cherry
American Walnut
American White Oak
American Maple
Anigre
Ash
Bamboo
Beech
Birch
Cedar
European Oak
Hemlock
Koto
Pine
Red Oak
Spruce
Sycamore
Teak
Kies uit meer dan 40 soorten fineer om de ideale sfeer te creëren. Van lichte tot donkere tinten, voor elk design is er een fineer. De panelen worden standaard geleverd met een transparante lak, indien een speciaal aanzicht is gewenst, zijn ook speciale lakken, beitsen of verfafwerkingen mogelijk.






Fineermatching


De fineervellen, die een breedte van 10-25 cm hebben, worden op spiegelende wijze ("book-matched") gelijmd om panelen te vormen. Op aanvraag kunnen de vellen ook op verschoven ("slip-match") of contrasterende wijze ("miss-match") worden gelijmd. Er wordt een design gecreëerd, afhankelijk van de manier waarop de fineervellen worden gematcht.



| | | |
| --- | --- | --- |
| | | |
| Book Matched | Slip Matched | Mis Matched (Standaard) |


De panelen van gefineerd hout kunnen in de volgende standaardafmetingen worden geproduceerd: 600 x 600, 1200 x 600, 1800 x 600 mm. Speciale afmetingen zijn op aanvraag beschikbaar. Er zijn vier soorten panelen beschikbaar, afhankelijk van de vereiste voegbreedte en toegangsvereisten. De panelen kunnen worden geïnstalleerd in een metalen T-24 grid.


Zichtbare voegen (Klassiek)

Dit paneel is een normaal inlegpaneel, dat op een standaard T-raster van 15 of 24 mm kan worden gelegd.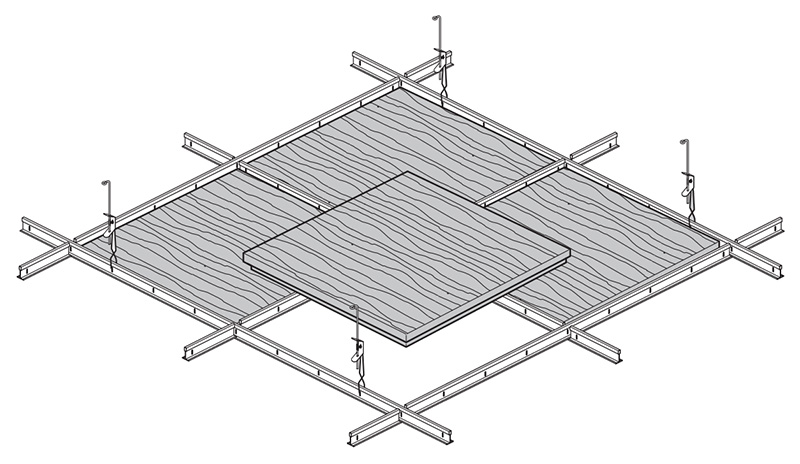 Semi-verborgen voegen (Modern)

Bij dit paneel is na de montage dankzij de speciale details aan de rand slechts 4 mm van het T-raster van 24 mm zichtbaar. Elk paneel kan gemakkelijk neerwaarts worden verwijderd en biedt een volledige toegang tot het plenum met een eenvoudig duwtje.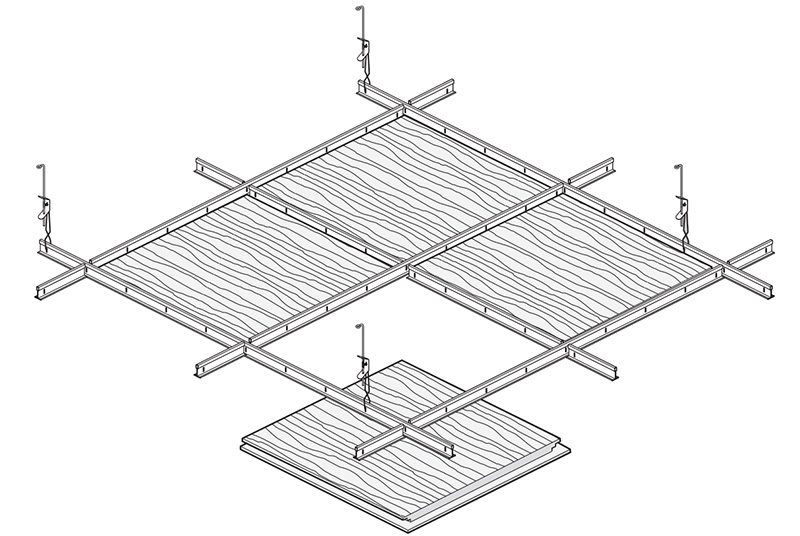 Verborgen voegen (Prestige)

Dit systeem heeft een speciale randafwerking die ervoor zorgt dat de onderconstructie volledig verborgen is. Elk paneel kan worden verwijderd door deze op te tillen en te draaien.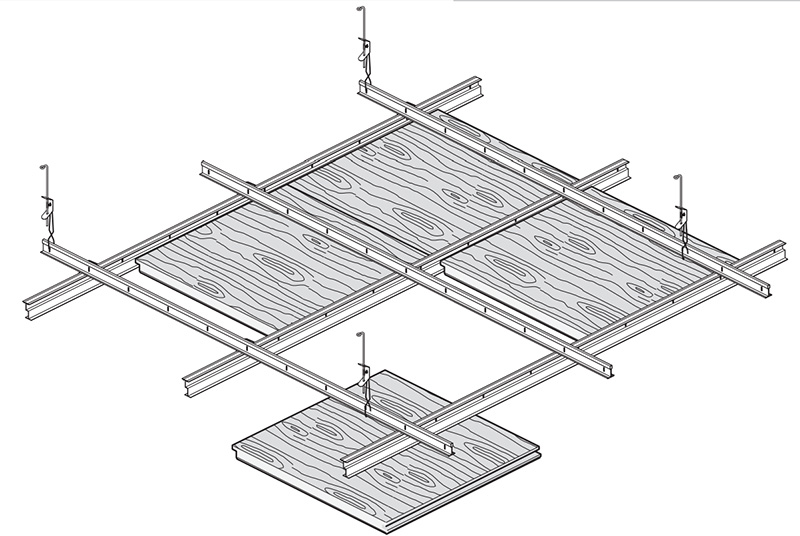 Wandplaten van gefineerd hout


De wandplaten van gefineerd hout kunnen in elke grootte tot 2700 x 1200 mm worden geproduceerd. Speciale afmetingen zijn op aanvraag beschikbaar. Er zijn twee soorten panelen beschikbaar, afhankelijk van de vereiste voegbreedte en toegangsvereisten.

Standard - Open voegen
Trend - Gesloten voegen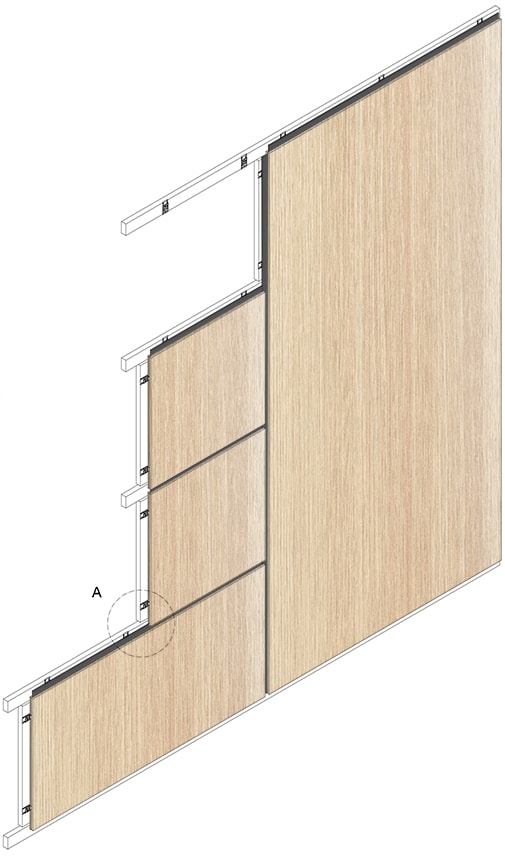 Plafond- en wandpanelen

Topline®-panelen zijn beschikbaar met een standaardafmeting van 128 x 2780 mm. Ze worden gemonteerd op een onderconstructie met gebruik van speciale metalen klemmen, die kunnen zorgen voor een gesloten of een open voeg. De Topline® panelen hebben uitstekende geluidsabsorptiekwaliteiten, die worden verwezenlijkt door middel van een uniek frees- en groefpatroon in combinatie met een akoestisch membraan. Het design en de akoestiek kan op elk project worden afgestemd door het juiste model te kiezen dat je ervan verzekert dat de geluidsenergie bijna volledig wordt geabsorbeerd of gereflecteerd. Dankzij de tand- en groefverbinding zijn de voegen tussen de panelen onzichtbaar.



Akoestische prestaties


Het akoestisch comfort in een kantoor, school of openbaar gebouw is belangrijk voor ons welzijn, aangezien een prettige akoestiek een gunstig effect op de gezondheid, communicatie, veiligheid, productiviteit en leerprestaties kan hebben.

Een van de belangrijkste voordelen van het assortiment gefineerd hout van Hunter Douglas is het brede aanbod aan perforatiepatronen, die op alle fineerpanelen kunnen worden gebruikt. Afhankelijk van het soort perforatie, wordt gezorgd voor een specifieke akoestische prestatie. Onderstaand een selectie van de standaard perforatiepatronen. Andere patronen zijn op aanvraag leverbaar.








Nano Perforatie



Houten fineer panelen kunnen voorzien worden van Nano perforatie. Hierbij bevatten de panelen talloze microscopische perforaties (Ø 0,5 mm), die hoge akoestische prestaties mogelijk maken zonder afbreuk te doen aan de esthetische kwaliteit. Daarnaast zijn de panelen voorzien van akoestisch vlies. De nano-geperforeerde panelen hebben een geteste geluidsabsorptie tot αw: 0,95, NRC: 0,90 en SAA: 0,90.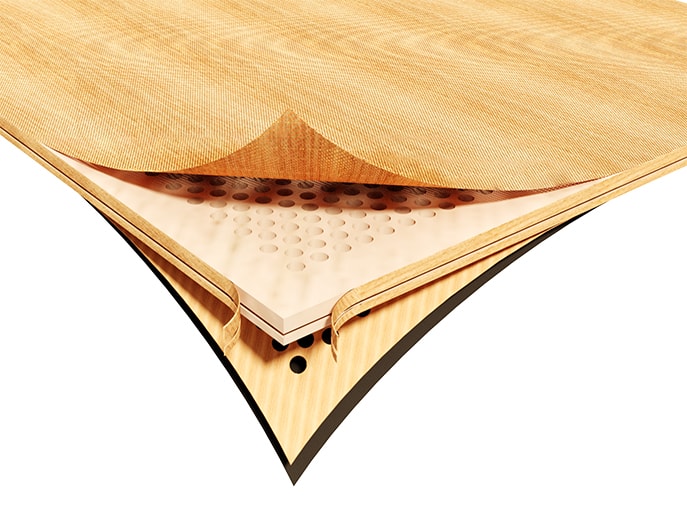 Brandgedrag


Door het hout te impregneren, kan een brandgedrag van klasse B-s1,d0 (EN 13501-1) worden behaald.






Oplossingen voor een hoge luchtvochtigheid


Dankzij een speciale behandeling van de houten panelen, zijn enkele houtsoorten perfect voor vochtige ruimtes.
| Beschrijving | ID | Downloads |
| --- | --- | --- |
| Veneered Wood Ceiling Tiles Classic Plus | C-i-VW-TI-CL-T24- 2D_Application | dwg pdf |
| Veneered Wood Ceiling Tiles Classic | Classic-C-i-VW-TI-CL-T24-2D | dwg pdf |
| Veneered Wood Ceiling Tiles Modern | Modern-C-i-VW-TI-MO-T24-2D | dwg pdf |
| Veneered Wood Ceiling Tiles Prestige Cross-Lock | Prestige-CL-C-i-VW-TI-PR-T24-2D | dwg pdf |
| Veneered Wood Ceiling Tiles Prestige Quick-Lock | Prestige-QL-C-i-VW-TI-PR-T24-2D | dwg pdf |
| Veneered Wood Ceiling Tiles System | System-C-i-VW-TI-MO-T24-2D | dwg pdf |
Gezondheid en welzijn
Het assortiment plafondproducten van Hunter Douglas Architectural draagt bij aan duurzame gebouwen door middel van esthetische oplossingen die het comfort verbeteren en energie besparen. Het bevorderen van de gezondheid en het welzijn van de gebruikers is waarschijnlijk de belangrijkste functie van een gebouw. Onze zonweringoplossingen bevorderen het gebruik van gezond daglicht zonder vervelende verblinding of gebrek aan thermisch comfort. Onze akoestische plafonds spelen een centrale rol bij het realiseren van akoestisch comfort.
Verantwoorde materialen
Ecologisch verantwoorde materialen zijn essentieel voor een duurzaam gebouw. Onze strategie is erop gericht om materialen te selecteren die op zichzelf al goede ecologische eigenschappen hebben. Veel van onze producten zijn gemaakt van aluminum dat in onze eigen smelterij wordt geproduceerd. Wij hebben onze processen geoptimaliseerd om tot 99% gerecycled materiaal te gebruiken om de juiste legering voor onze producten te produceren. Ons hout is FSC-gecertificeerd en wij omarmen het cradle-to-cradleprincipe in onze productontwikkeling.
Energiebesparing
Verlaging van het energieverbruik van het volledige pand is cruciaal om opwarming van de aarde tegen te gaan. De meeste moderne kantoorpanden verbruiken meer energie voor koelen dan voor verwarmen. Een effectief beheer van de zonne-energie die door het transparante deel van de gevel heen dringt, is een belangrijke strategie bij het voorkomen van oververhitting in zowel oude and nieuwe gebouwen. Onze hoogwaardige zonweringoplossingen bieden aanzienlijke energiebesparingen, terwijl ze tevens gezondheid en welzijn bevorderen.
Maatschappelijk verantwoord ondernemen
'Keen on Green' is een belangrijk bedrijfsbreed initiatief om ons energieverbruik, waterverbruik en onze totale CO2-voetafdruk te verlagen. We omarmen het ISO 14001-model voor actief beheer van onze 'Keen on Green'-doelstellingen. Hunter Douglas en zijn medewerkers leveren een actieve bijdrage aan de gemeenschappen waarin we wonen en werken, evenals gemeenschappen op een meer wereldwijde schaal. Zakendoen draait om mensen. We zijn trots op ons wereldwijde netwerk van ervaren, intelligente, gepassioneerde en creatieve mensen die er bewust voor hebben gekozen om bij Hunter Douglas te werken.
| Naam | Downloaden |
| --- | --- |
| Technical leaflet veneered wood ceiling Panels Classic | PDF |
| Technical leaflet veneered wood ceiling Panels Classic plus | PDF |
| Technical leaflet veneered wood ceiling Panels Modern | PDF |
| Technical leaflet veneered wood ceiling Panels Prestige | PDF |
| Technical leaflet veneered wood ceiling Panels System | PDF |
| Technical Specifications Tiles Classic | DOC |
| Technical Specifications Tiles Classic Plus | DOC |
| Technical Specifications Tiles Modern | DOC |
| Technical Specifications Tiles Prestige | DOC |
| Technical Specifications Tiles System | DOC |
| Technical Specifications Topline | DOC |
| Technical Specifications Wall Panels | DOC |
| Technisch Leaflet nano perforatie NL | PDF |
| Naam | Downloaden |
| --- | --- |
| Installation Instructions Hunter Douglas® Wood Tiles Classic | PDF |
| Installation Instructions Hunter Douglas® Wood Tiles Modern | PDF |
| Installation Instructions Hunter Douglas® Wood Tiles Prestige | PDF |
| Installation Instructions Hunter Douglas® Wood Tiles System | PDF |
| Installation Instructions Topline Horizontal wall application | PDF |
| Installation Instructions Wood Panel Topline ceiling application | PDF |
| Installation Instructions Wood Panel Topline Vertical wall application | PDF |
| Installation Instructions Wood Panel Trend / Standard ceiling application on profiles | PDF |
| Installation Instructions Wood Panel Trend / Standard ceiling application on woodgrid | PDF |
| Installation Instructions Wood Panel Trend / Standard wall application (non demountable) | PDF |