HeartFelt® Baffle Plafond
Divisienaam: Hunter Douglas Architectural Plafondsystemen
Hartelijk dank voor uw informatie. Wij nemen zo spoedig mogelijk contact met u op.
Bij het opslaan van uw aanvraag is een probleem opgetreden. Probeer het opnieuw.
Onder de nieuwe AVG-verordening ga je akkoord met het privacybeleid van onze website door dit vakje aan te kruisen
Name, email, company, phone, location and at least one product selection are required.
HeartFelt® Baffle plafond
Na de succesvolle introductie van de bekroonde HeartFelt® plafonds, heeft Hunter Douglas dit innovatieve product verder ontwikkeld tot een vilten baffle plafond.
Algemene informatie
Waarom een HeartFelt® Baffle plafondsysteem?

Baffle plafonds zijn ideaal en worden toegepast voor het verbeteren van de akoestiek in concertzalen, theaters, conferentiezalen en andere ruimtes waar goede geluidskwaliteit een belangrijke factor is. Het vilten materiaal verandert elk plafond in een visuele en akoestische design. Net als de plafonds en wanden zijn ook de lichtgewicht HeartFelt® baffles gemaakt van non-woven, thermisch vormbare PES-vezels en zijn ze getest op brandwerendheid tot B-S1, d0. Elke baffle heeft een breedte van 40 – 80 mm en is leverbaar in hoogtes van 100 – 500 mm, met lengtes tot maximaal 2000 mm.
Kenmerken


Geweldige akoestische prestaties
Leverbaar in vijf grijstinten, van wit tot zwart
Eenvoudige installatie en een laag schaderisico
100% recyclebaar
Cradle to Cradle Certified™ Bronze (Cradle to Cradle Certified™ is a certification mark licensed by the Cradle to Cradle Products Innovation Institute).
Onderhoudsgemak: vuil- en stofafstotend
Toepassing

Het HeartFelt® Baffle plafondsysteem is geschikt voor vele sectoren zoals; bedrijven, winkels, vrijetijdsfaciliteiten, openbare ruimten, de horeca, de gezondheidszorg, het onderwijs en woningen.

Neem contact met ons op voor uw specifieke wensen.
Design en Inspiratie
Het HeartFelt® plafondsysteem is geïnspireerd door vilt als een intrigerend materiaal voor kleding, meubels en modeartikelen. Het biedt architecten, interieurontwerpers en technisch adviseurs opnieuw een hoogwaardige designkeuze uit onze productportfolio.
HeartFelt® baffles zijn wederom een innovatief en geavanceerd systeem dat helpt om de juiste ambiance te creëren en de akoestiek nauwkeurig te beheersen.


Kleuren

HeartFelt® Baffles zijn beschikbaar in vijf tinten grijs. De exacte tint van de panelen wordt bepaald door de verhouding van witte en zwarte vezels in het basismateriaal.
Five shades of grey

WHITE 7593
LIGHT GREY 7596
MIDDLE GREY 7597
DARK GREY 7598
BLACK 7594
Download kleurenkaart
Materiaaleigenschappen

HeartFelt® Baffles zijn gemaakt van non-woven, thermisch gevormde PES-vezels. De baffles hebben een afmeting van 40 tot 80mm breed, 100 tot 500 mm hoog en een maximale lengte van 2000 mm.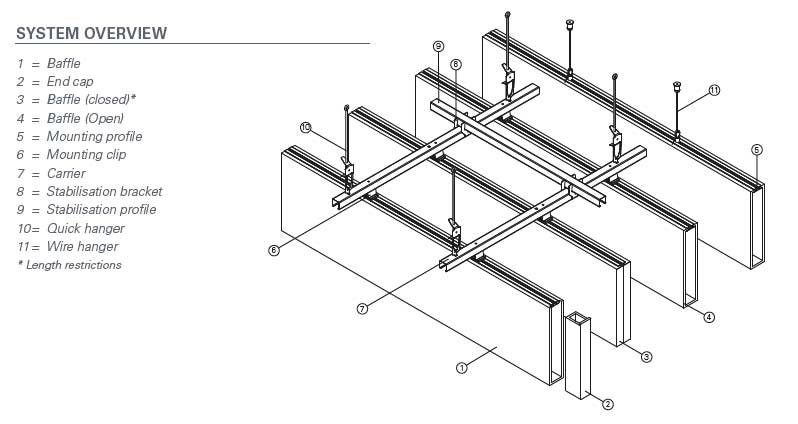 Meer productgegevens

Uitgebreidere informatie is terug te vinden onder downloads, met informatie o.a. over: Maximale overspanningen, afmetingen en gewicht en materiaalvereisten per m².


Akoestische informatie

Het akoestisch comfort in een kantoor, school of openbaar gebouw is belangrijk voor ons welzijn aangezien een slechte akoestiek gevolgen kan hebben voor de gezondheid, communicatie, veiligheid, productiviteit en leerprestaties. De hoogwaardige akoestische plafondproducten van Hunter Douglas bieden de beste oplossing voor uitstekende akoestische prestaties, comfort en een esthetisch aanzicht. De absorptiewaarden (αw) van het HeartFelt® plafond liggen tussen de 0,45 en 0,70.




Meer informatie over akoestiek

Uitgebreidere informatie is onderstaand terug te vinden onder downloads


Gezondheid en welzijn
Het assortiment plafondproducten van Hunter Douglas Architectural draagt bij aan duurzame gebouwen door middel van esthetische oplossingen die het comfort verbeteren en energie besparen. Het bevorderen van de gezondheid en het welzijn van de gebruikers is waarschijnlijk de belangrijkste functie van een gebouw. Onze zonweringoplossingen bevorderen het gebruik van gezond daglicht zonder vervelende verblinding of gebrek aan thermisch comfort. Onze akoestische plafonds spelen een centrale rol bij het realiseren van akoestisch comfort.
Verantwoorde materialen
Ecologisch verantwoorde materialen zijn essentieel voor een duurzaam gebouw. Onze strategie is erop gericht om materialen te selecteren die op zichzelf al goede ecologische eigenschappen hebben. Veel van onze producten zijn gemaakt van aluminum dat in onze eigen smelterij wordt geproduceerd. Wij hebben onze processen geoptimaliseerd om tot 99% gerecycled materiaal te gebruiken om de juiste legering voor onze producten te produceren. Ons hout is FSC-gecertificeerd en wij omarmen het cradle-to-cradleprincipe in onze productontwikkeling.
Energiebesparing
Verlaging van het energieverbruik van het volledige pand is cruciaal om opwarming van de aarde tegen te gaan. De meeste moderne kantoorpanden verbruiken meer energie voor koelen dan voor verwarmen. Een effectief beheer van de zonne-energie die door het transparante deel van de gevel heen dringt, is een belangrijke strategie bij het voorkomen van oververhitting in zowel oude and nieuwe gebouwen. Onze hoogwaardige zonweringoplossingen bieden aanzienlijke energiebesparingen, terwijl ze tevens gezondheid en welzijn bevorderen.
Maatschappelijk verantwoord ondernemen
'Keen on Green' is een belangrijk bedrijfsbreed initiatief om ons energieverbruik, waterverbruik en onze totale CO2-voetafdruk te verlagen. We omarmen het ISO 14001-model voor actief beheer van onze 'Keen on Green'-doelstellingen. Hunter Douglas en zijn medewerkers leveren een actieve bijdrage aan de gemeenschappen waarin we wonen en werken, evenals gemeenschappen op een meer wereldwijde schaal. Zakendoen draait om mensen. We zijn trots op ons wereldwijde netwerk van ervaren, intelligente, gepassioneerde en creatieve mensen die er bewust voor hebben gekozen om bij Hunter Douglas te werken.
| Naam | Downloaden |
| --- | --- |
| Health and hygiene properties HeartFelt Ceilings & Walls | PDF |
| HeartFelt Baffles System Data | DOCX |
| Material Safety Data Sheet HeartFelt Ceiling & Wall System | PDF |
| Sound absorption performance HeartFelt Baffle Ceiling | PDF |
| Technical leaflet HeartFelt Baffles | PDF |
| Technical specifications Heartfelt Baffle ceiling | DOC |
| Naam | Downloaden |
| --- | --- |
| BREEAM certificaat | PDF |
| C2C Bronze certificate | PDF |
| C2C Bronze certificate | PDF |
| C2C Material Health certificate | PDF |
| C2C Material Health certificate | PDF |
| Indoor Air Comfort Gold/ VOC emission | PDF |
| Indoor Air Comfort Gold/ VOC emission | PDF |
| Oekotex Standard 100 certificate | PDF |
| Oekotex Standard 100 certificate | PDF |
| REACH declaration | DOCX |
| REACH declaration | DOCX |
| SundaHus certificate | PDF |
| SundaHus certificate | PDF |
| VOC class A+ declaration | PDF |
| VOC class A+ declaration | PDF |