COMBI-LINE I CREATIEF DESIGN
Divisienaam: Hunter Douglas Architectural Plafondsystemen
Hartelijk dank voor uw informatie. Wij nemen zo spoedig mogelijk contact met u op.
Bij het opslaan van uw aanvraag is een probleem opgetreden. Probeer het opnieuw.
Onder de nieuwe AVG-verordening ga je akkoord met het privacybeleid van onze website door dit vakje aan te kruisen
Name, email, company, phone, location and at least one product selection are required.
COMBI-LINE I PLAFOND SYSTEEM VOOR EEN DESIGN PLAFOND
Combi-Line is een revolutionair en innovatief plafondconcept die architecten de vrijheid biedt om in een ontwerp drie verschillende paneeltypes te combineren. In één plafond kunnen nu allerlei variaties van fineer houten, HeartFelt® en metalen plafondpanelen verwerkt worden.
Algemene informatie
Wat is Combi-Line
Combi-Line beschikt over een unieke drager met clips. De rails zijn geschikt voor diverse clips ter bevestiging van een combinatie van lineaire metalen, fineer houten en HeartFelt® panelen. Dit betekent volledige ontwerpvrijheid van drie verschillende plafondtypes in één plafond.
Kenmerken
Met Combi-Line kunt metalen, fineer houten en HeartFelt®-panelen combineren op één drager.
De panelen kunnen separaat gedemonteerd worden, wat bij onderhoud volledige toegang biedt tot het plenum.
Architecten kunnen een uniek patroon ontwerpen met meerdere type plafondpanelen.
Combi-Line is beschikbaar in de lineaire panelen HeartFelt® 30HL60, metaal 30 BD/BXD en gefineerd hout 30WL60.
Toepassing

Combi Line is geschikt voor alle bouwsectoren, waaronder voor bedrijven, transportfaciliteiten (luchthavens, metro-, bus- en treinstations), winkels, vrijetijdsfaciliteiten, openbare ruimten, de horeca, de gezondheidszorg, het onderwijs en woningen.
Neem contact met ons op voor uw specifieke wensen.
Design & Inspiratie
In 2015 werd Combi-Line gelanceerd als een op maat gemaakt plafondsysteem voor grote projecten. Ons Research & Development team werkte samen met de projectontwerpers aan een speciale drager voorzien van clips. Met deze plafonddrager kon men de plafondpanelen in een gewenst willekeurig patroon met gewenste openingen tussen de panelen plaatsen voor volledige toegang tot het plenum. Het Research & Development team ontwikkelde een drager, die meer potentie had. Het systeem werd verder ontwikkeld, met als resultaat: Combi-Line.
Vier kleurencombinaties die overeenkomen met vier totaal verschillende stijlen. Elke stijl heeft een eigen en uniek kleur- en sfeerbeeld. De kleur- en materiaalselecties zijn niet voor niets relatief groot. We streven ernaar om architecten te inspireren en creativiteit de ruimte te geven. Elke stijlgroep bestaat uit een selectie van materialen, waardoor er een moodboard ontstaat. Dit wijst op een bijpassende ruimte waar het product toegepast kan worden. Laat u inspireren door de eindeloze mogelijkheden Combi-Line biedt en ontwerp uw plafond precies naar uw wensen.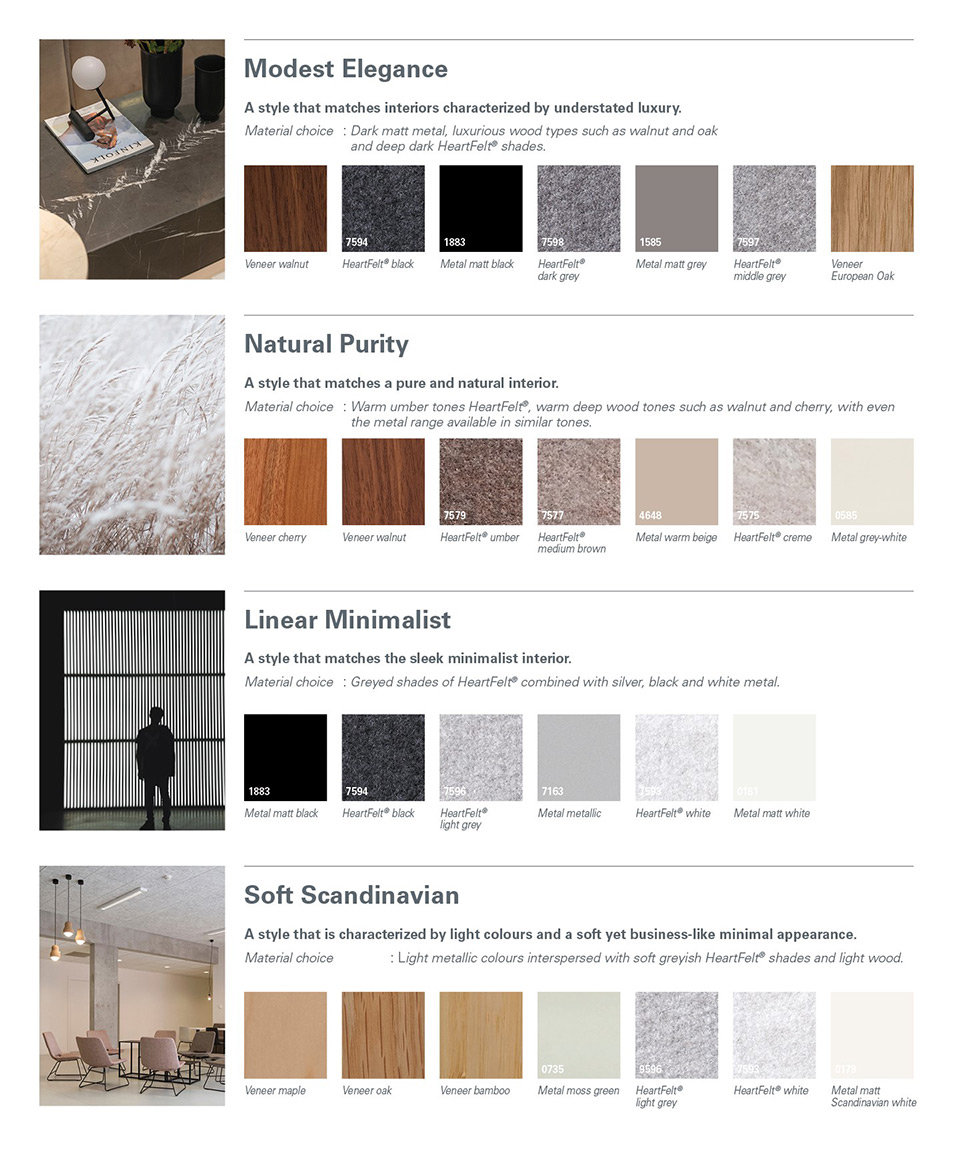 Materiaalkenmerken
Het nieuwe Combi-Line plafondsysteem is voorzien van een rail met clips. Hiermee kunnen plafondpanelen van metaal, fineer hout en HeartFelt® allemaal op één drager bevestigd worden. Dit biedt de architect een veelvoud aan ontwerpmogelijkheden. Er zijn eindeloze combinaties mogelijk: willekeurige patronen met lineaire onderbrekingen, met open posities gemengd met niet-standaard modulatie. Ontwerpers hebben de mogelijkheid om plafondpanelen te mixen en te matchen met verschillende materialen. Combi-Line is beschikbaar in de lineaire panelen HeartFelt 30HL60, metaal 30 BD/BXD en gefineerd hout 30WL60.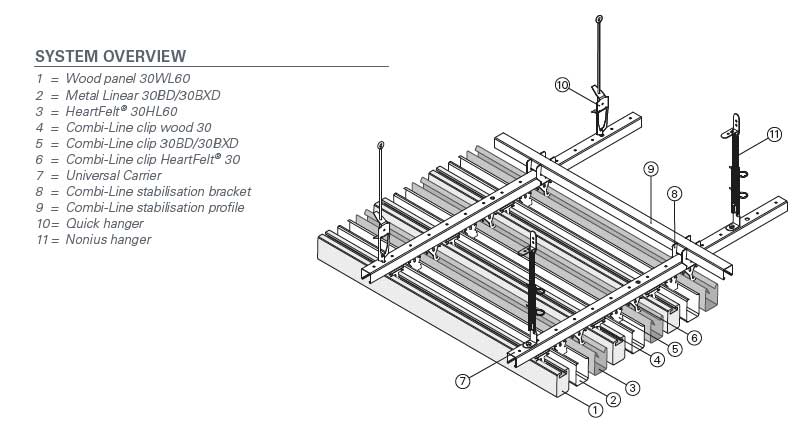 ---
Meer productdetails
Uitgebreidere informatie is onderstaand terug te vinden onder downloads, met informatie o.a. over: Maximale overspanningen, afmetingen en gewicht en materiaalvereisten per m².
Akoestiek

Het akoestisch comfort in een kantoor, school of openbaar gebouw is belangrijk voor ons welzijn aangezien een slechte akoestiek gevolgen kan hebben voor de gezondheid, communicatie, veiligheid, productiviteit en leerprestaties. De hoogwaardige akoestische plafondproducten van Hunter Douglas bieden de beste oplossing voor uitstekende akoestische prestaties, comfort en een esthetisch aanzicht. Met het Combi-Line plafondsysteem kan een absorptiewaarde (αw) tot 0,70 worden behaald, afhankelijk van de configuratie van het plafond en de panelen.
---
Meer informatie over de akoestiek

Uitgebreidere informatie is onderstaand terug te vinden onder downloads.