Nazwa oddziału: Hunter Douglas Polska Sp. z o.o.
Dziękujemy za informacje. Wkrótce się z Tobą skontaktujemy.
Wystąpił problem przy próbie zapisu Twojej prośby, spróbuj ponownie.
Please accept the Privacy Agreement.
Imię, email, firma, telefon; konieczne jest wybranie lokalizacji i przynajmniej jednego produktu
SUFIT ZEWNĘTRZNY LISTWOWY 84C
Zamknięty system sufitowy Luxalon® 84C składa się z listew o ostro zagitych krawędziach, które łatwo zamocować do dźwigarków/ szyn nośnych. Panele szerokości 84 mm posiadają kołnierz, który zamyka 16-milimetrowe złącze między nimi (moduł 100 mm). Złącze wgłębione na 12,5 mm nadaje liniowy kierunek płaszczyźnie sufitu, a jednocześnie jest zakryte od strony przestrzeni technicznej.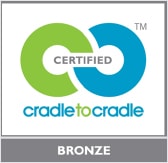 Informacje ogólne
Dlaczego sufit zewnętrzny 84C?

Sufity zewnętrzne Luxalon® tworzą nowe możliwości wyrazu architektonicznego, poprawiając zarazem estetykę i trwałość każdego budynku. Zamknięte panele Luxalon® 84C nadają kierunek sufitowi, a jednocześnie zapewniają całkowicie zamkniętą powierzchnię.
Charakterystyka


Wąskie (84 mm) listwy o ostro zagiętych krawędziach z 16-milimetrowymi zamkniętymi łączeniami, które podkreślają liniowy charakter sufitu.
Panele z kołnierzami tworzą sufit wizualnie zamknięty.
Panele są dostarczane w różnych długościach do 6000 mm (w standardzie), mają grubość 0,5 mm i są wykonane z odpornego na korozję stopu aluminium.
W razie potrzeby panele mogą zostać wykończone opatentowaną farbą Luxacote®.
Wszystkie systemy sufitowe są przetestowane pod kątem wytrzymałości na wiatr.
Cradle to Cradle Certified™ Bronze (Cradle to Cradle Certified™ is a certification mark licensed by the Cradle to Cradle Products Innovation Institute).
Zastosowanie

Sufit zewnętrzny zamknięty Luxalon® 84C nadaje się do wszystkich rodzajów budynków: m.in. obiektów administracyjno-biurowych, portów lotniczych, stacji metra, dworców autobusowych i kolejowych, obiektów handlowych i rekreacyjno-rozrywkowych, przestrzeni publicznych, hoteli, placówek służby zdrowia, szkół i budynków mieszkalnych.

Skontaktuj się z nami, aby przedstawić swoje wymagania..
Wzornictwo i inspiracje
Wąskie panele listwowe 84C, podkreślają kierunek ułożenia sufitu. To idealny wybór, jeśli potrzebuje się zamkniętego, kierunkowego sufitu.
Sufity metalowe Hunter Douglas występują w standardowych kolorach dostępnych dla większości rodzajów sufitów. Skontaktuj się z biurem sprzedaży w sprawie dostępności poszczególnych rodzajów sufitów. Specjalne wykończenia i kolory dostępne na zamówienie.





Powłoka zewnętrzna Luxacote®



Powłoka lakiernicza Luxacote® to innowacyjny produkt firmy Hunter Douglas, który poprawi trwałość zewnętrznych okładzin aluminiowych. Tajemnica jego wytrzymałości i skuteczności kryje się w 3-warstwowym systemie, na który składa się wstępna powłoka podkładowa (anorcoat), podkład właściwy oraz odporna na promieniowanie UV i zadrapania powłoka wierzchnia (topcoat).
Charakterystyka materiału

Zamknięty system sufitowy 84C składa się z listew o ostro zagiętych krawędziach, które łatwo zamocować do systemu szyn nośnych. Panele szerokości 84 mm posiadają kołnierz o szerokości 24 mm, który zamyka 16-milimetrowe złącze między panelami. Moduł systemu ma szerokość 100 mm. Panele można demontować, aby uzyskać łatwy dostęp do przestrzeni technicznej.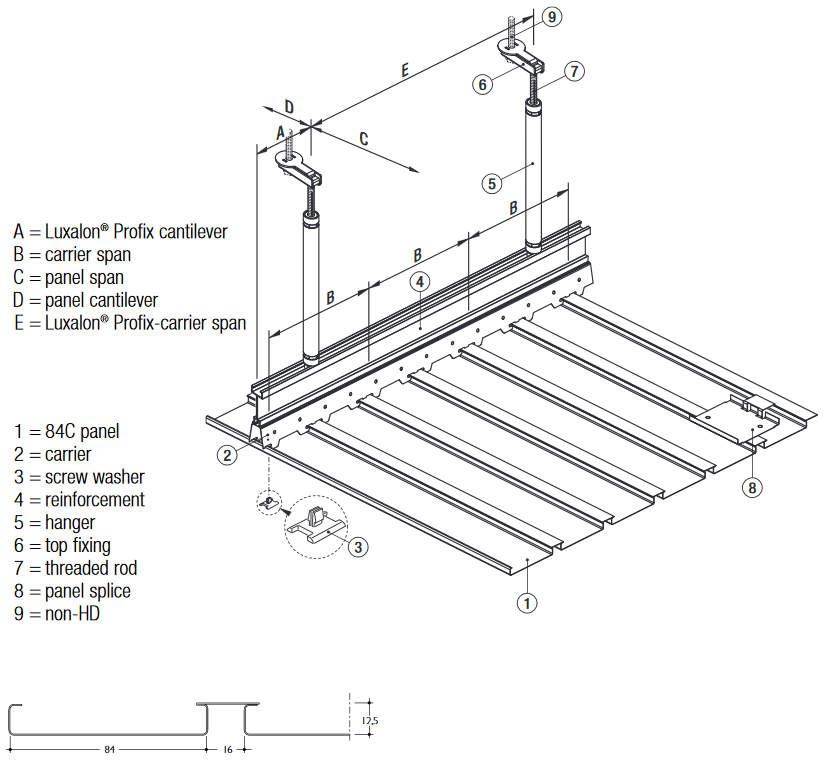 Dodatkowe informacje o produkcie
Więcej szczegółowych informacji można znaleźć poniżej w części
Pliki do pobrania
. Podano tam między innymi: maksymalne rozpiętości, wymiary i wagę oraz wymagania materiałowe dla 1 m2
Zdrowie i dobre samopoczucie
Linia sufitów Hunter Douglas Architectural spełnia wymogi ekologicznego budownictwa poprzez estetyczne rozwiązania, które poprawiają komfort i pozwalają oszczędzać energię. Najważniejszą funkcją budynku jest niewątpliwie zapewnienie komfortu i dobrego samopoczucia osobom w nim przebywających. Nasze osłony przeciwsłoneczne utrzymują zdrowy poziom nasłonecznienia, eliminując negatywne skutki rażącego światła i dyskomfort termiczny. Nasze sufity akustyczne spełniają kluczową rolę w zapewnianiu komfortu akustycznego.
Ekologiczne materiały
Stosowanie ekologicznych materiałów to podstawowy warunek powstania zdrowego budynku. Nasza strategia zakłada wybór materiałów, posiadających dobre właściwości ekologiczne. Wiele produktów wykonujemy z aluminium wytapianego w naszych własnych piecach. Zoptymalizowaliśmy proces tak, by 99% materiału wykorzystywanego w naszych stopach nadawało się do odzysku. Nasze drewno posiada certyfikat FSC, i dodatkowo jest kwalifikowane Cradle to Cradle co potwierdza, że jest kontrolowane na wszystkich etapach rozwoju.
Oszczędność energii
Ograniczenie zużycia energii w budynkach to klucz do powstrzymania zjawiska globalnego ocieplenia. Większość nowoczesnych biurowców zużywa więcej energii na chłodzenie niż na ogrzewanie. Efektywne zarządzanie energią słoneczną, która przenika przez przezroczyste części elewacji, to podstawowy sposób zapobiegania przegrzewaniu się budynków zarówno tych nowych, jak i starych. Nasze wydajne osłony przeciwsłoneczne przynoszą znaczne oszczędności energii, sprzyjając zarazem zdrowiu i dobremu samopoczuciu.
Odpowiedzialność społeczna biznesu
Nasza firma podjęła ważną proekologiczną inicjatywę Keen on Green, której celem jest ograniczenie zużycia energii i wody oraz zmniejszenie ogólnego śladu węglowego. Wdrożyliśmy normy ISO 14001, aby móc aktywnie realizować cele tej inicjatywy. Firma Hunter Douglas i jej pracownicy wspierają społeczności, wśród których żyjemy i pracujemy, oraz szeroko pojęte społeczności globalne. Biznes to ludzie. Szczycimy się naszą siecią doświadczonych, inteligentnych, zaangażowanych i kreatywnych pracowników, którzy świadomie wybrali firmę Hunter Douglas jako swojego pracodawcę.