Nazwa oddziału: Hunter Douglas Polska Sp. z o.o.
Dziękujemy za informacje. Wkrótce się z Tobą skontaktujemy.
Wystąpił problem przy próbie zapisu Twojej prośby, spróbuj ponownie.
Please accept the Privacy Agreement.
Imię, email, firma, telefon; konieczne jest wybranie lokalizacji i przynajmniej jednego produktu
Baffles Tavola™ Straight
Lekkie metalowe lamele z serii Tavola™ są przeznaczone do liniowego rozmieszczenia na suficie i doskonale się nadają do przestrzeni firmowych. Metalowe sufity lamelowe są nowoczesne, elastyczne i łatwe w instalacji.
Informacje ogólne
Dlaczego warto wybrać lamele Tavola™ Straight?

Sufity lamelowe doskonale się nadają do kontroli akustyki i tłumienia hałasu w przestrzeniach publicznych. Z konstrukcyjnego punktu widzenia sufity lamelowe kształtują przestrzeń liniowym podziałem sufitu. Natomiast z praktycznego punktu widzenia są proste w instalacji i ułatwiają dostęp do sufitu oraz do mediów, takich jak światło, głośniki, zraszacze itp.
Charakterystyka


Profile o długości do 5000 mm
Wysokość profili: 5100, 150, 200 mm
Szerokość profili: 30, 40 i 50 mm
Standardowa szyna nośna FE 43 x 60 mm, czarna
Mniej odpadów u klienta dzięki materiałom fabrycznie dociętym na wymiar
Wykorzystanie lekkiej stali oznacza mniejsze obciążenie statyczne
Standardowa, malowana fabrycznie stalowa listwa
Łatwy dostęp do przestrzeni technicznej
Zastosowanie

Sufity z lamelami nadają się do wszystkich rodzajów budynków, w tym do obiektów administracyjno-biurowych, portów lotniczych, stacji metra, dworców autobusowych i kolejowych, obiektów handlowych, przestrzeni publicznych, hoteli, szpitali i szkół.

Skontaktuj się z nami, aby przedstawić swoje wymagania.
Wzornictwo i inspiracje
System lameli Tavola™ Straight pozwala zaprojektować sufit na wiele ciekawych sposobów z różnymi odstępami pomiędzy lamelami, które mogą mieć szerokość 30, 40 i 50 cm i wysokość od 100, 150, 200 mm oraz są dostępne w wersji malowanej na różne kolory, drewnopodobnej krytej proszkowo (wewnętrzne i zewnętrzne) lub metodą coil-coatingu, drewnianej z laminatem lub w wykonaniu ze stali nierdzewnej. To daje architektowi dużą swobodę w projektowaniu.

Kolory i wykończenia

Hunter Douglas oferuje bogaty wybór kolorów i wykończeń. Na życzenie klienta dobieramy kolor indywidualnie. Informację o zamówieniu minimalnym i czasie oczekiwania można otrzymać w biurze sprzedaży Hunter Douglas. Aktualne informacje znajdują się na naszej stronie internetowej. Kolory przedstawiono wyłącznie w celach orientacyjnych.

Charakterystyka materia?u

Poni?ej ilustracja lamelowego systemu sufitowego Tavola™ Straight. Maksymalna d?ugo?? konstrukcji podstawowej i pomocniczej 1200 mm. Maksymalna d?ugo?? wsporników 300 mm.

Dost?pne s? ró?ne wzory perforacji.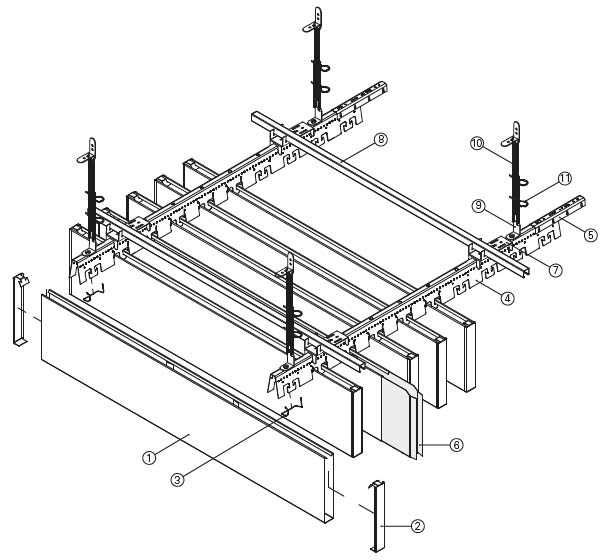 1 = Tavola™ Baffle
2 = End cap
3 = Locking spring
4 = Carrier
5 = Carrier splice
6 = Baffle splice
7 = Stabilisation bracket
8 = Stabilisation profile
9 = Lower nonius hanger, bend
10 = Upper nonius hanger
11 = nonius hanger locking clip




Dodatkowe informacje o produkcie

Wi?cej szczegó?owych informacji mo?na znale?? poni?ej w cz??ci Pliki do pobrania


Właściwości akustyczne lameli Tavola


Komfort akustyczny w biurze, szkole czy budynku użyteczności publicznej wpływa na nasze samopoczucie, a niski poziom komfortu akustycznego może negatywnie oddziaływać na zdrowie, komunikację, bezpieczeństwo, wydajność pracy i naukę. Dzięki swoim znakomitym parametrom sufity akustyczne Hunter Douglas stanowią optymalne rozwiązanie pod względem akustyki, komfortu i estetyki.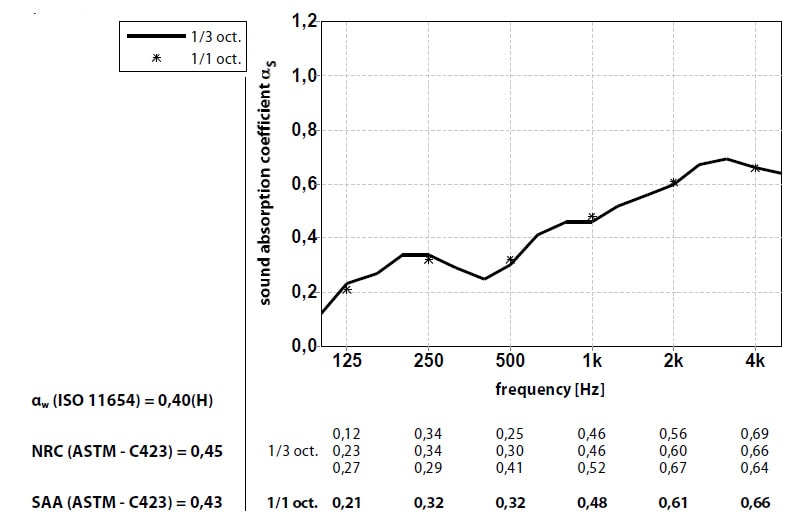 Wymiary przegród 30x200mm, odstęp 200mm ctc, wysokość zawieszenia 200mm

*Po pomalowaniu produktu szerokość przestrzeni otwartej ulegnie zmniejszeniu o grubość farby



Więcej na temat akustyki


Aby uzyskać więcej informacji na temat właściwości akustycznych naszych produktów, skontaktuj się z nami — odpowiadamy na bieżąco.


Zdrowie i dobre samopoczucie
Linia sufitów Hunter Douglas Architectural spełnia wymogi ekologicznego budownictwa poprzez estetyczne rozwiązania, które poprawiają komfort i pozwalają oszczędzać energię. Najważniejszą funkcją budynku jest niewątpliwie zapewnienie komfortu i dobrego samopoczucia osobom w nim przebywających. Nasze osłony przeciwsłoneczne utrzymują zdrowy poziom nasłonecznienia, eliminując negatywne skutki rażącego światła i dyskomfort termiczny. Nasze sufity akustyczne spełniają kluczową rolę w zapewnianiu komfortu akustycznego.
Ekologiczne materiały
Stosowanie ekologicznych materiałów to podstawowy warunek powstania zdrowego budynku. Nasza strategia zakłada wybór materiałów, posiadających dobre właściwości ekologiczne. Wiele produktów wykonujemy z aluminium wytapianego w naszych własnych piecach. Zoptymalizowaliśmy proces tak, by 99% materiału wykorzystywanego w naszych stopach nadawało się do odzysku. Nasze drewno posiada certyfikat FSC, i dodatkowo jest kwalifikowane Cradle to Cradle co potwierdza, że jest kontrolowane na wszystkich etapach rozwoju.
Oszczędność energii
Ograniczenie zużycia energii w budynkach to klucz do powstrzymania zjawiska globalnego ocieplenia. Większość nowoczesnych biurowców zużywa więcej energii na chłodzenie niż na ogrzewanie. Efektywne zarządzanie energią słoneczną, która przenika przez przezroczyste części elewacji, to podstawowy sposób zapobiegania przegrzewaniu się budynków zarówno tych nowych, jak i starych. Nasze wydajne osłony przeciwsłoneczne przynoszą znaczne oszczędności energii, sprzyjając zarazem zdrowiu i dobremu samopoczuciu.
Odpowiedzialność społeczna biznesu
Nasza firma podjęła ważną proekologiczną inicjatywę Keen on Green, której celem jest ograniczenie zużycia energii i wody oraz zmniejszenie ogólnego śladu węglowego. Wdrożyliśmy normy ISO 14001, aby móc aktywnie realizować cele tej inicjatywy. Firma Hunter Douglas i jej pracownicy wspierają społeczności, wśród których żyjemy i pracujemy, oraz szeroko pojęte społeczności globalne. Biznes to ludzie. Szczycimy się naszą siecią doświadczonych, inteligentnych, zaangażowanych i kreatywnych pracowników, którzy świadomie wybrali firmę Hunter Douglas jako swojego pracodawcę.