Nazwa oddziału: Hunter Douglas Polska Sp. z o.o.
Dziękujemy za informacje. Wkrótce się z Tobą skontaktujemy.
Wystąpił problem przy próbie zapisu Twojej prośby, spróbuj ponownie.
Please accept the Privacy Agreement.
Imię, email, firma, telefon; konieczne jest wybranie lokalizacji i przynajmniej jednego produktu
EXTERNAL VENETIAN BLINDS
The External Venetian Blind is possibly the most quintessential solar blind. It can be lowered and raised while the slats can be tilted to provide optimum visual conditions. As an external application it is sturdy yet discrete and one of the most effective methods of solar shading.
General Information
Why External Venetian Blinds?

Hunter Douglas External Venetian Blinds require minimum space for maximum efficiency. External blinds are the most effective window covering for reducing heat gain and keeping solar radiation on the outside of a window. By adjusting the slat angle the user can find the balance between shading and delighting under any weather condition or sun angle. When shading is not required the blinds can be fully retracted to allow full daylight and an outward view.
Characteristics


Best of both worlds: optimum shading and optimal outside view at any moment
Keep out up to 90% of thermal gain on the window
Choice of various slat widths from 50 to 100 mm
Heavy duty operating mechanisms, manual or motorised
Recycled content rate of 92% for HD5050 alloy
Quick-to-open solutions for emergency exits
Application

External Venetian Blinds are the best choice when looking for efficient and cost-effective sun control with maximum flexibility and functionality. Modest in appearance, the blinds can be integrated into most facades, contributing to the building aesthetic without overpowering it.


All External Venetian Blind slats are pre-coated with Anorcoat ® conversion coating system and colour coated with stove enameled polyester paint. A wide range of colours is held in stock and any colour can be matched on a project basis. For more aggressive environments special alloys and coatings are available. Bottom rail and side channels can be silver anodized or powder coated to match the slats.



A choice of different slat widths and shapes will always match the required appearance and functionality. Included in this range are flexible slat types for compact stacking and beaded slat types for added strength and rigidity. Depending on the bay sizes and building structure there is a choice of side guiding options and fixing methods.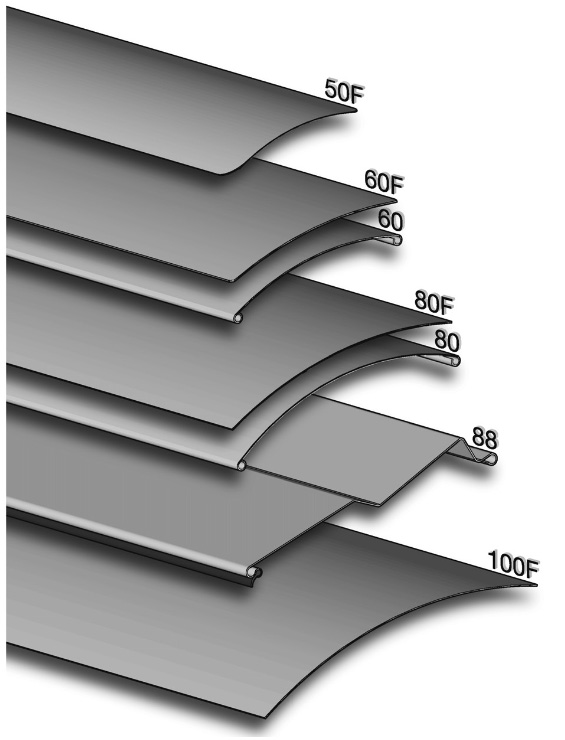 TYPE A: CABLE GUIDING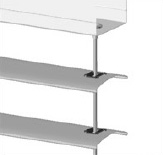 • Stainless steel cable 03 mm with transparent nylon jacket
• Visually dscrete
• Requires tensioning point at bottom of system but no lixings along the sides

TYPE AS: STANDARD SIDE CHANNEL GUIDING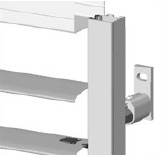 • Slim aluminium extruded side channels
• Simple adjustable wall brackets
• Double sided channel for adjacent systems
• Head rail fixed to ceiling

TYPE ASC: "CLICK" SIDE CHANNEL GUIDING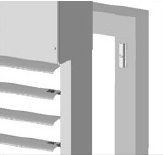 • Mounted as complete pre-installed system via clip-on side guiding channels
• Click brackets can be pre-fitted to f~de mullion profiles for quick installation on site
• No light gap between side channel and fa~t3de

TYPE ASS: PUSH-ON SIDE CHANNEL GUIDING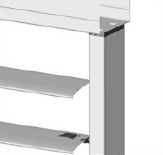 • Heavy duty side channels, square with slim front appearance or round
• Side channels to a height of 1800 mm fixed between head rail and bottom bracket
• Reduced light gap between side channel and slats
• Quick installation, reduced drilling in fa~t3de

TYPE ASK: CLAMP-ON SIDE CHANNEL GUIDING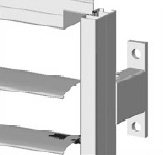 • Heavy duty side channels, square with slim front appearance or round
• Brackets with clamp-on connection, suitable for fixation on threaded rods in fa~ade mullions
• Head box can be supported by side channels up to width of 2500 mm (option)
• Larger distance from fa~t3de (up to 500mm) possible

TYPE V-AS: INTEGRATED LIFT TAPE GUIDING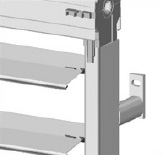 • 88 mm slat only
• Lift tape integrated in side channel
• No lift tape holes in slats; improved privacy and obscuration
• Bottom rail secured against lifting by wind or hand
Health and wellbeing
The Hunter Douglas Architectural range of ceiling products contribute to sustainable buildings through aesthetic solutions that enhance comfort and save energy. Promoting the health and well being of their occupants is arguably the most important function of building. Our shading solutions promote the use of healthy daylight without the hindrances of glare and thermal discomfort. Our acoustic ceilings are a key element in the provision of acoustic comfort.
Sound materials
Environmentally sound materials are the key to a sustainable building. Our strategy is to pick materials that have good environmental properties to start with. Many of our products are made of aluminum produced in our own smelters. We have optimised our processes to use up to 99% of recycled content to produce the right alloy for our products. Our wood is FSC certified and we embrace the Cradle to Cradle principle in our product development.
Energy savings
Reducing the energy use of the total building stock is key to the prevention of global warming. Most modern office buildings use more energy for cooling than heating. Effective management of the solar energy that passes through the transparent part of the façade is a key strategy in the prevention of overheating in both old and new buildings. Our high performance shading solutions bring substantial energy savings, while at the same time promoting health and wellbeing.
Corporate Social Responsibility
Keen on Green is an important company-wide initiative to reduce energy consumption, water usage and our overall carbon-footprint. We embrace the ISO 14001 framework to actively manage our Keen on Green objectives. Hunter Douglas and its employees actively support the communities in which we live and work, as well as those on a more global scale. Business is people. We pride ourselves on our worldwide network of experienced, intelligent, passionate and creative people who have consciously chosen Hunter Douglas as their employer.