Nazwa oddziału: Hunter Douglas Polska Sp. z o.o.
Dziękujemy za informacje. Wkrótce się z Tobą skontaktujemy.
Wystąpił problem przy próbie zapisu Twojej prośby, spróbuj ponownie.
Please accept the Privacy Agreement.
Imię, email, firma, telefon; konieczne jest wybranie lokalizacji i przynajmniej jednego produktu
FORNIROWANE KASETONY I PANELE
Linia fornirowanyh kasetonów i paneli składa się z elementów sufitów i ścian akustycznych wykonanych z płyty MDF, pokrytej drewnianym fornirem. Wybieraj spośród standardowych paneli lub projektuj własne kształty paneli, aby uzyskać niepowtarzalny wygląd. Duży wybór fornirów, wykończeń i perforacji pozwala zrealizować każdą koncepcję architektoniczną.
Informacje ogólne
Dlaczego fornirowane kasetony i panele?

Płyty i panele z drewna fornirowanego to ekologiczny materiał budowlany, który daje niezliczone możliwości. Przy produkcji forniru drewno jest wykorzystywane w sposób bardzo efektywny: nowoczesne metody produkcyjne pozwalają wytworzyć około 800-1000 m2 forniru z 1 m3 drewna. Cztery demontowalne typy sufitów — Classic, Modern, Prestige i System — z których każdy wygląda inaczej, ma inny rodzaj złączy i inne zalety. Systemy posiadają sztywną konstrukcją nośną, można je łatwo montować i demontować. Panele akustyczne Topline® łączy się na pióro i wpust, dzięki czemu tworzą litą powierzchnię.
Charakterystyka


Standardowe rozmiary 600 x 600, 1200 x 600, 1800 x 600 mm
Niestandardowe panele dla sufitów wykonywanych na miarę
Wysoki wskaźnik pochłaniania dźwięku do 0,95
Ukryta mikroperforacja zapewnia znakomite właściwości akustyczne
Panele Topline® są łączone na pióro i wpust, dzięki czemu tworzą jednolitą powierzchnię
Różne możliwości demontażu i dostępu do przestrzeni technicznej
Dostępne jako system sufitowy i ścienny
Zastosowanie


Panele i płyty fornirowane nadają się do wszystkich rodzajów budynków: obiektów administracyjno-biurowych, portów lotniczych, metra, dworców autobusowych i kolejowych, obiektów handlowych, przestrzeni publicznych, hoteli, placówek służby zdrowia, szkół i budynków mieszkalnych.


Naturalna elastyczność
Płyty z fornirowanego drewna dają swobodę tworzenia naturalnie wyglądających ścian i sufitów. Wygląd paneli drewnianych kreuje się przez staranny dobór gatunku drewna, koloru i struktury. W fornirze widać wyraźnie naturalne słoje każdego rodzaju drzewa, a także jego cechy charakterystyczne, takie jak sęki i odrosty. Po wybraniu forniru panele są produkowane zgodnie z planem wnętrza, co zapewnia doskonałe dopasowanie.
GATUNKI DREWNA I WYKOŃCZENIA
American Cherry
American Walnut
American White Oak
American Maple
Anigre
Ash
Bamboo
Beech
Birch
Cedar
European Oak
Hemlock
Koto
Pine
Red Oak
Spruce
Sycamore
Teak
Wybierz jeden z 40 rodzajów forniru, aby stworzyć idealny klimat oraz stylistykę wnętrza. Oferujemy fornir do każdego pomieszczenia w jasnych i ciemnych odcieniach. Panele są standardowo powlekane przezroczystym lakierem, ale jeśli wymagany jest specjalny wygląd, możliwe jest zastosowanie specjalnych bejc, barwników i farb.







Dopasowanie forniru


Arkusze forniru o szerokości 10-25 cm są składane bez dopasowania oraz klejone, by utworzyć panele. Na życzenie możliwe jest także dopasowanie arkuszy ślizgowe lub "na książkę". Sposób dopasowania forniru istotnie wpływa na ostateczny wygląd panelu



| | | |
| --- | --- | --- |
| | | |
| Dopasowanie "na książkę" | Dopasowanie ślizgowe | Bez dopasowania (standard) |


Płyty sufitowe z fornirowanego drewna są produkowane w następujących rozmiarach standardowych: 600 x 600, 1200 x 600 oraz 1800 x 600 mm. Specjalne rozmiary dostępne są na życzenie. W zależności od wymaganej szerokości łączenia oraz opcji dostępu, do wyboru są cztery typy paneli. Płyty sufitowe można zamontować na metalowej kracie T-24.


Classic — Krata odkryta

Panel Classic jest typowym panelem nakładanym, który można położyć na kratę T24 mm.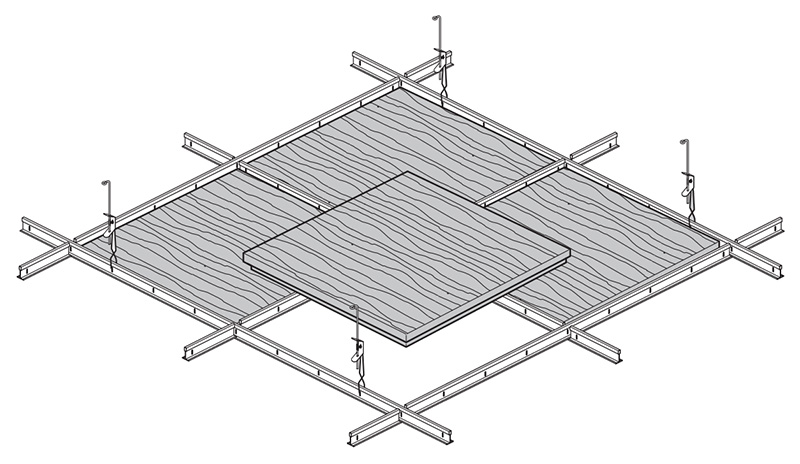 Półodkryta krata

System Modern w którym, dzięki specjalnemu detalowi krawędzi, po złożeniu widoczne jest tylko 4 mm rusztu T24. Każdy panel można łatwo ściągnąć w dół i uzyskać pełny dostęp do przestrzeni technicznej jednym prostym ruchem.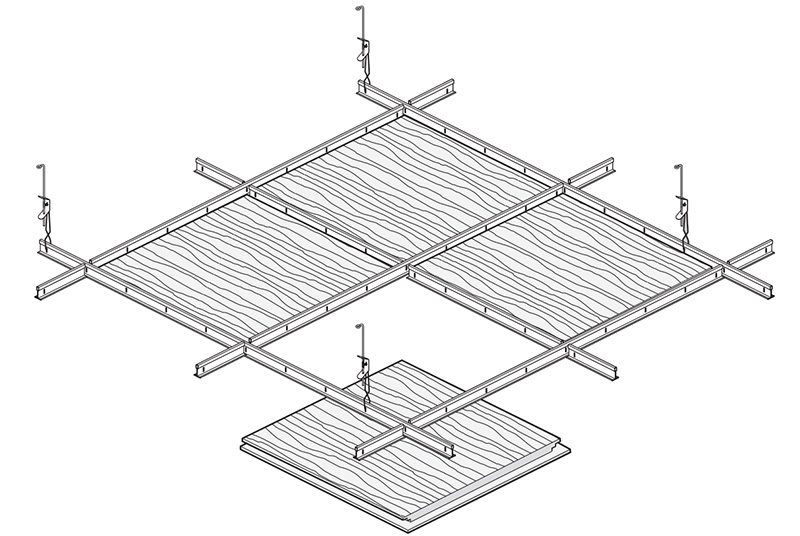 Ukryta krata

System Prestige charakteryzuje się specjalnie wykończonymi krawędziami, które sprawiają, że konstrukcja nośna jest całkowicie niewidoczna. Każdy panel nadal daje się zdjąć przez zwykłe uniesienie i przechylenie.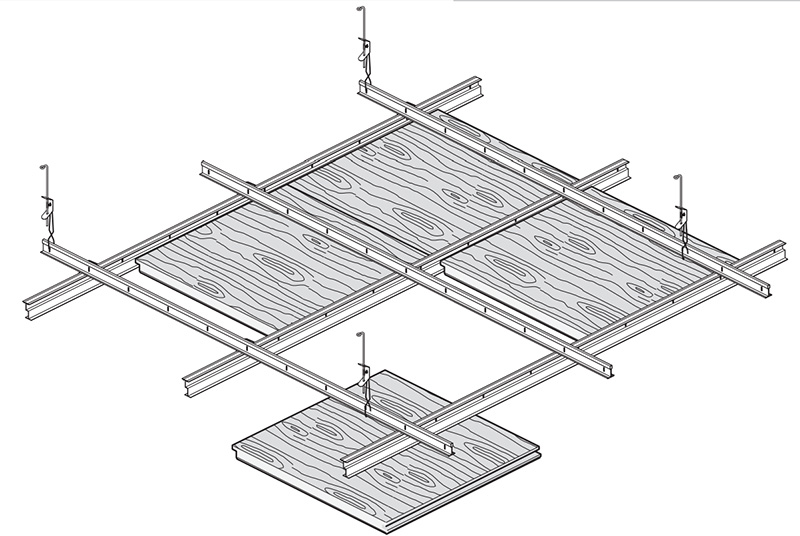 Płyty ścienne z fornirowanego drewna


Płyty ścienne z fornirowanego drewna mogą być wykonane w rozmiarze do 2700 x 1200 mm. Specjalne rozmiary dostępne na życzenie. W zależności od wymaganej szerokości łączenia i opcji dostępu, do wyboru są dwa typy paneli.

Standard - złącza otwarte
Trend - złącza zamknięte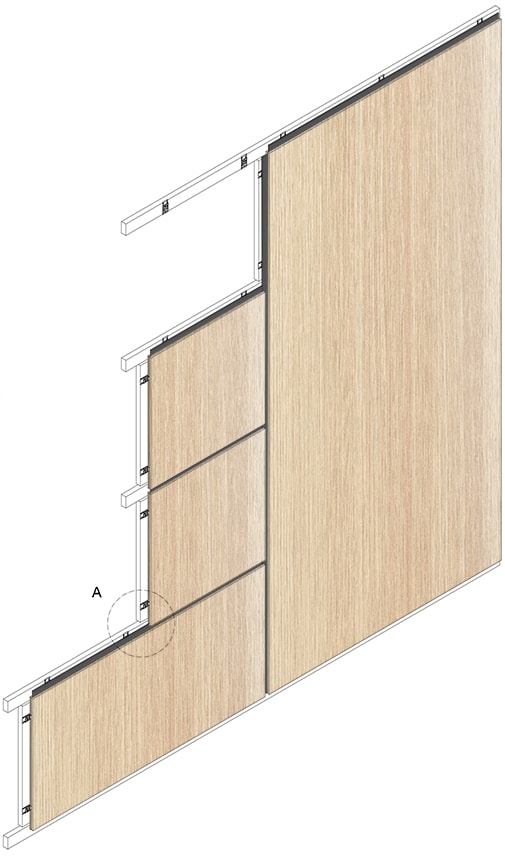 Panele sufitowe oraz ścienne Topline


Panele Topline dostępne są w standardowej wielkości 128 x 2780 mm, do systemów sufitowych i ściennych. Mocowanie odbywa się bezpośrednio na konstrukcji wsporczej przy pomocy metalowych zaczepów. Panele Topline® mają znakomite właściwości pochłaniania dźwięku dzięki specjalnemu układowi wpustów i rowków w połączeniu z membraną akustyczną. Wzór paneli i ich właściwości akustyczne można dopasować do każdego projektu poprzez dobranie odpowiedniego modelu, który zapewni niemal całkowite stłumienie lub odbicie energii akustycznej. Połączenie typu pióro-wpust powoduje, że złącza między panelami są niewidoczne.



Właściwości akustyczne


Komfort akustyczny w biurze, szkole czy budynku użyteczności publicznej wpływa na nasze samopoczucie, a niski poziom komfortu akustycznego może negatywnie oddziaływać na zdrowie, komunikację, bezpieczeństwo, wydajność pracy i naukę.

Jedną z istotnych zalet linii paneli fornirowanych Hunter Douglas jest szeroki wybór różnych wzorów perforacji, które można zastosować do wszystkich paneli fornirowanych. W zależności od rodzaju perforacji, można uzyskać odpowiednie właściwości akustyczne. Poniżej przedstawiamy zestawienie standardowych wzorów perforacji; inne wzory dostępne na zamówienie.








Nanoperforacja


W panelach obłożonych fornirem można wykonać perforacje. Proces ten polega na wykonaniu dużej liczby mikroskopowych otworów (Ø 0.5 mm) w fornirze, które zakryją perforację materiału bazowego. To pozwala uzyskać doskonałe właściwości akustyczne bez utraty estetyki. Po drugie stronie panele są wyłożone włókniną dźwiękoszczelną. W próbach nanoperforowanych paneli potwierdzono współczynnik dźwiękochłonności αw: 0,95 i NRC: 0,90.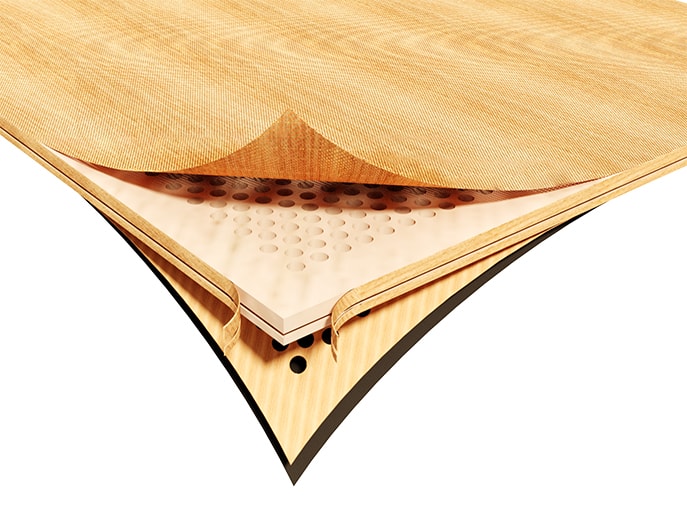 Ognioodporność


Przez zaimpregnowanie drewna można osiągnąć klasę ognioodporności B-s1,d0 (EN13501-1).






Rozwiązania w warunkach wysokiej wilgotności


Dzięki specjalnej obróbce paneli drewnianych niektóre gatunki drewna doskonale nadają się do zastosowania w miejscach o dużej wilgotności, takich jak baseny.
| Opis | Identyfikator | Pliki do pobrania |
| --- | --- | --- |
| Veneered Wood Ceiling Tiles Classic Plus | C-i-VW-TI-CL-T24- 2D_Application | dwg pdf |
| Veneered Wood Ceiling Tiles Classic | Classic-C-i-VW-TI-CL-T24-2D | dwg pdf |
| Veneered Wood Ceiling Tiles Modern | Modern-C-i-VW-TI-MO-T24-2D | dwg pdf |
| Veneered Wood Ceiling Tiles Prestige Cross-Lock | Prestige-CL-C-i-VW-TI-PR-T24-2D | dwg pdf |
| Veneered Wood Ceiling Tiles Prestige Quick-Lock | Prestige-QL-C-i-VW-TI-PR-T24-2D | dwg pdf |
| Veneered Wood Ceiling Tiles System | System-C-i-VW-TI-MO-T24-2D | dwg pdf |
Zdrowie i dobre samopoczucie
Linia sufitów Hunter Douglas Architectural spełnia wymogi ekologicznego budownictwa poprzez estetyczne rozwiązania, które poprawiają komfort i pozwalają oszczędzać energię. Najważniejszą funkcją budynku jest niewątpliwie zapewnienie komfortu i dobrego samopoczucia osobom w nim przebywających. Nasze osłony przeciwsłoneczne utrzymują zdrowy poziom nasłonecznienia, eliminując negatywne skutki rażącego światła i dyskomfort termiczny. Nasze sufity akustyczne spełniają kluczową rolę w zapewnianiu komfortu akustycznego.
Ekologiczne materiały
Stosowanie ekologicznych materiałów to podstawowy warunek powstania zdrowego budynku. Nasza strategia zakłada wybór materiałów, posiadających dobre właściwości ekologiczne. Wiele produktów wykonujemy z aluminium wytapianego w naszych własnych piecach. Zoptymalizowaliśmy proces tak, by 99% materiału wykorzystywanego w naszych stopach nadawało się do odzysku. Nasze drewno posiada certyfikat FSC, i dodatkowo jest kwalifikowane Cradle to Cradle co potwierdza, że jest kontrolowane na wszystkich etapach rozwoju.
Oszczędność energii
Ograniczenie zużycia energii w budynkach to klucz do powstrzymania zjawiska globalnego ocieplenia. Większość nowoczesnych biurowców zużywa więcej energii na chłodzenie niż na ogrzewanie. Efektywne zarządzanie energią słoneczną, która przenika przez przezroczyste części elewacji, to podstawowy sposób zapobiegania przegrzewaniu się budynków zarówno tych nowych, jak i starych. Nasze wydajne osłony przeciwsłoneczne przynoszą znaczne oszczędności energii, sprzyjając zarazem zdrowiu i dobremu samopoczuciu.
Odpowiedzialność społeczna biznesu
Nasza firma podjęła ważną proekologiczną inicjatywę Keen on Green, której celem jest ograniczenie zużycia energii i wody oraz zmniejszenie ogólnego śladu węglowego. Wdrożyliśmy normy ISO 14001, aby móc aktywnie realizować cele tej inicjatywy. Firma Hunter Douglas i jej pracownicy wspierają społeczności, wśród których żyjemy i pracujemy, oraz szeroko pojęte społeczności globalne. Biznes to ludzie. Szczycimy się naszą siecią doświadczonych, inteligentnych, zaangażowanych i kreatywnych pracowników, którzy świadomie wybrali firmę Hunter Douglas jako swojego pracodawcę.
| Nazwa | Pobierz |
| --- | --- |
| Technical leaflet veneered wood ceiling Panels Classic | PDF |
| Technical leaflet veneered wood ceiling Panels Classic plus | PDF |
| Technical leaflet veneered wood ceiling Panels Modern | PDF |
| Technical leaflet veneered wood ceiling Panels Prestige | PDF |
| Technical leaflet veneered wood ceiling Panels System | PDF |
| Technical Specifications Tiles Classic | DOC |
| Technical Specifications Tiles Classic Plus | DOC |
| Technical Specifications Tiles Modern | DOC |
| Technical Specifications Tiles Prestige | DOC |
| Technical Specifications Tiles System | DOC |
| Technical Specifications Topline | DOC |
| Technical Specifications Wall Panels | DOC |
| Technisch Leaflet Nano Perforation | PDF |
| Nazwa | Pobierz |
| --- | --- |
| Installation Instructions Hunter Douglas® Wood Tiles Classic | PDF |
| Installation Instructions Hunter Douglas® Wood Tiles Modern | PDF |
| Installation Instructions Hunter Douglas® Wood Tiles Prestige | PDF |
| Installation Instructions Hunter Douglas® Wood Tiles System | PDF |
| Installation Instructions Topline Horizontal wall application | PDF |
| Installation Instructions Wood Panel Topline ceiling application | PDF |
| Installation Instructions Wood Panel Topline Vertical wall application | PDF |
| Installation Instructions Wood Panel Trend / Standard ceiling application on profiles | PDF |
| Installation Instructions Wood Panel Trend / Standard ceiling application on woodgrid | PDF |
| Installation Instructions Wood Panel Trend / Standard wall application (non demountable) | PDF |