KONSTRUKCJA NO?NA COMBI-LINE DO KREATYWNYCH PROJEKTÓW SUFITÓW
Nazwa oddziału: Hunter Douglas Polska Sp. z o.o.
Dziękujemy za informacje. Wkrótce się z Tobą skontaktujemy.
Wystąpił problem przy próbie zapisu Twojej prośby, spróbuj ponownie.
Please accept the Privacy Agreement.
Imię, email, firma, telefon; konieczne jest wybranie lokalizacji i przynajmniej jednego produktu
KONSTRUKCJA NO?NA COMBI-LINE DO KREATYWNYCH PROJEKTÓW SUFITÓW
Nowy, innowacyjny system Combi-Line to rewolucyjna koncepcja sufitu umo?liwiaj?ca architektom zastosowanie kombinacji trzech ró?nych paneli w jednym projekcie. Sufitowe panele wykonane z drewna, filcu HeartFelt® i metalu mog? teraz by? po??czone w jednym systemie sufitowym, z zastosowaniem ró?nych modulacji.
Informacje ogólne
Czym jest Combi-Line

Combi-Line to unikatowy system szyn wyposażony w elementy mocujące zaprojektowane tak, aby wspierały połączone listwowe panele metalowe, drewniane i filcowe. Dzięki temu trzy różne style paneli sufitowych mogą być zamocowane na jednej konstrukcji nośnej w dowolnej kolejności i z zastosowaniem dowolnej modulacji.
Cechy charakterystyczne


system Combi-Line nadaje się do łączenia z dowolną kombinacją paneli Hunter Douglas wykonanych z metalu, drewna i filcu HeartFelt®;
łatwy dostęp do przestrzeni pomiędzy sufitem a stropem w celu konserwacji - panele mogą być demontowane oddzielnie;
projektanci mogą kreować unikatowe wzory z zastosowaniem kilku rodzajów paneli sufitowych;
system Combi-Line jest dostępny z listwowymi panelami filcowymi HeartFelt 30HL60, metalowymi panelami 30 BD/BXD oraz panelami fornirowanymi 30WL60.
Zastosowanie

System Combi-Line nadaje się do zastosowania we wszystkich segmentach sektora budowlanego: korporacyjnym, transportowym (porty lotnicze, stacje metra, dworce autobusowe i kolejowe), handlowym, rekreacyjnym, hotelarskim, oświatowym i mieszkaniowym, a także w sektorze użyteczności publicznej.
Skontaktuj się z nami, aby porozmawiać o swoich wymaganiach.
Wzornictwo i inspiracje
System Combi-Line został pierwotnie stworzony jako szyta na miarę konstrukcja nośna, specjalnie zaprojektowana na potrzeby dużej inwestycji w roku 2015. Zespół ds. rozwoju i badań w firmie Hunter Douglas Architectural, we współpracy z projektantami, stworzył konstrukcję nośną z klipsami. Umożliwiło to instalowanie paneli sufitowych w dowolnym wymaganym układzie, z szerokimi odstępami uwidaczniającymi przestrzeń między stropem a sufitem. Po zakończeniu instalacji zespół z firmy Hunter Douglas zdał sobie sprawę, że system ten ma duży potencjał i postanowiono go udoskonalić. Efektem tych działań była konstrukcja nośna Combi-Line.
Cztery kombinacje kolorów odpowiadaj?ce czterem ca?kowicie odmiennym stylom, ka?dy z w?asnym klimatem i barw?. Wybór kolorów i materia?ów jest nie bez powodu stosunkowo du?y. Lubimy inspirowa? architektów i dawa? im pole do popisu. Ka?da grupa stylów obejmuje wybór materia?ów, tworz?c asortyment klimatyczny i sugeruj?c przestrze?, do której dany produkt najlepiej si? nadaje. Pozwól da? si? zainspirowa? nieko?cz?cymi si? mo?liwo?ciami, jakie oferuje system Combi-Line i zaprojektuj swój wymarzony sufit.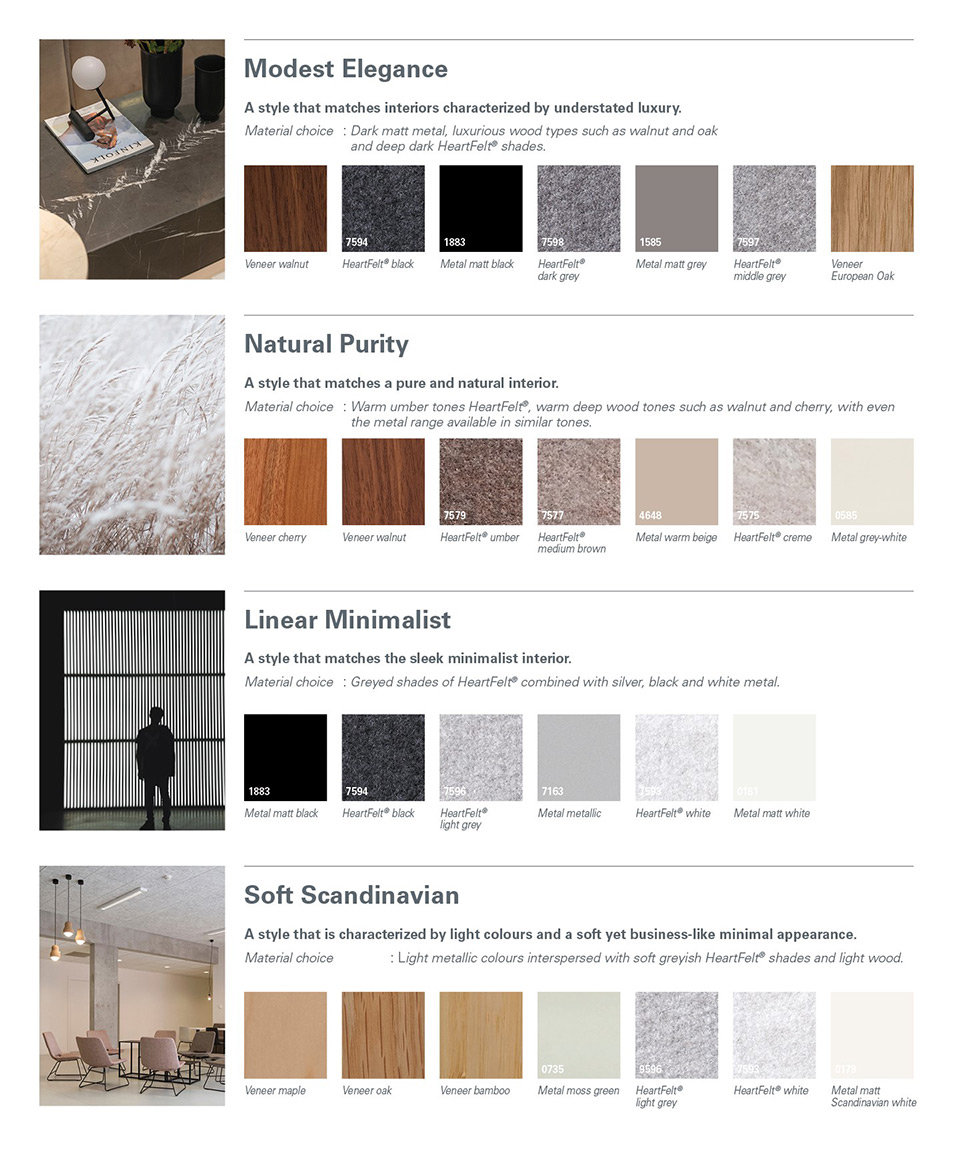 W?a?ciwo?ci materia?ów

Elementem nowego systemu no?nego Combi-Line jest szyna z klipsami, które nadaj? si? do stosowania z panelami metalowymi, drewnianymi sufitami rusztowymi i panelami HeartFelt i umo?liwiaj? ich jednoczesne mocowanie na jednej konstrukcji no?nej. Mo?liwa jest niesko?czona liczba kombinacji obejmuj?ca dowolne wzory z listwowymi przerywnikami wraz z otwartymi przestrzeniami w siatce, po??czone z niestandardowymi modu?ami. Projektanci maj? mo?liwo?? dowolnego dobierania paneli sufitowych z ró?nych materia?ów. System Combi-Line dost?pny jest z panelami HeartFelt 30HL60, metalowymi panelami 30 BD/BXD oraz listwowymi panelami z fornirowanego drewna.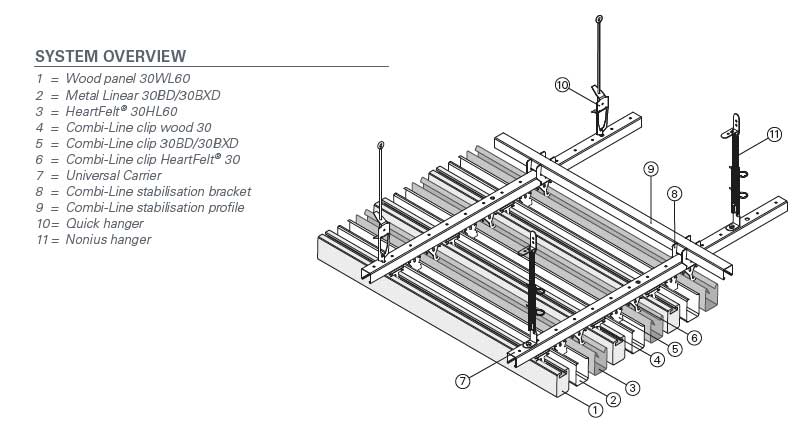 ---
Szczegó?owe informacje
Szczegó?owe informacje mo?na znale?? w cz??ci z materia?ami do pobrania poni?ej. Tutaj znajdziesz dane takie jak maksymalna rozpi?to??, wymiary i ci??ar, wymagania materia?owe na m².
Akustyka
Komfort akustyczny pomieszcze? biurowych, szkolnych czy u?yteczno?ci publicznej wp?ywa na samopoczucie ich u?ytkowników. Niew?a?ciwe warunki akustyczne mog? niekorzystnie oddzia?ywa? na zdrowie, efektywno?? komunikacji, bezpiecze?stwo oraz wydajno?? pracy i nauki. Dzi?ki znakomitym parametrom eksploatacyjnym akustyczne systemy sufitowe firmy Hunter Douglas Architectural zapewniaj? doskona?? akustyk? i komfort, a jednocze?nie wysok? estetyk? wn?trz. W przypadku systemu Combi-Line daje si? osi?gn?? wspó?czynnik poch?aniania d?wi?ku (αw) o warto?ci do 0,70, w zale?no?ci od sufitu i konfiguracji paneli.
---
Wi?cej na temat akustyki
Szczegó?owe informacje na temat akustyki mo?na znale?? w cz??ci z materia?ami do pobrania poni?ej.