Nazwa oddziału: Hunter Douglas Polska Sp. z o.o.
Dziękujemy za informacje. Wkrótce się z Tobą skontaktujemy.
Wystąpił problem przy próbie zapisu Twojej prośby, spróbuj ponownie.
Please accept the Privacy Agreement.
Imię, email, firma, telefon; konieczne jest wybranie lokalizacji i przynajmniej jednego produktu
84B Linear Open
Metalowy system sufitowy Linear Open 84B znany z prostych linii, wszechstronności i łatwości montażu, tworzy liniową strukturę sufitu. Metalowe sufity wewnętrzne są dostępne w wielu różnych kolorach i wykończeniach z perforacją poprawiającą właściwości akustyczne.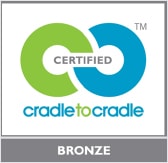 Informacje ogólne
Dlaczego Linear Open 84B?

Wąskie (wys. 12,5 mm) panele z ostro zagiętymi krawędziami i otwartymi złączami o szerokości 16 mm, które podkreślają liniowy charakter sufitu i nadają kierunek wnętrzu pomieszczenia.
Charakterystyka


Panele z ostro zagiętymi krawędziami o szerokości 84 mm z otwartymi złączami o szerokości 16 mm
Panele są dostarczane w dowolnej długości do 6000 mm (mniej złączy)
Optymalna izolacja akustyczna dzięki zastosowaniu paneli perforowanych z nietkaną membraną tekstylną po wewnętrznej stronie lica
Panele można łatwo zdemontować, co pozwala na pełny dostęp do urządzeń w przestrzeni technicznej
Otwarty system złącza do zastosowań wymagających do 16% wolnej przestrzeni
Są także dostępne panele do montażu zewnętrznego
Zastosowanie

Panele sufitowe Linear Open 84B nadają się do wszystkich budynków niezależnie od ich funkcji i przeznaczenia, w tym do budynków służących celom administracyjno-biurowym, handlowym, rekreacyjnym, edukacyjnym i mieszkaniowym oraz do budynków użyteczności publicznej, hoteli i szpitali. Skontaktuj się z nami, aby przedstawić swoje wymagania.

Skontaktuj się z nami, aby przedstawić swoje wymagania.
Wzornictwo i inspiracje
Wąskie i otwarte aluminiowe panele z ostro zagiętymi krawędziami mogą służyć do podkreślenia liniowego charakteru sufitu. Otwarte złącza dają 16% powierzchni otwartej.

Linia metalowych sufitów Hunter Douglas jest dostępna w wielu standardowych kolorach, które sprawdzą się w większości zastosowań. Więcej informacji na temat typów sufitów oraz specjalnych wykończeń i palet kolorystycznych, dostępnych dla różnych projektów, można uzyskać w naszym dziale sprzedaży.
Charakterystyka materiału

Otwarty system sufitowy 84B składa się z paneli z ostro zagiętymi krawędziami, które łatwo zamocować do dźwigarków nośnych. Między panelami o szerokości 84 mm znajdują się otwarte przerwy o szerokości 16 mm. Moduł systemu wynosi 100 mm. Panele można demontować, aby uzyskać łatwy dostęp do przestrzeni technicznej.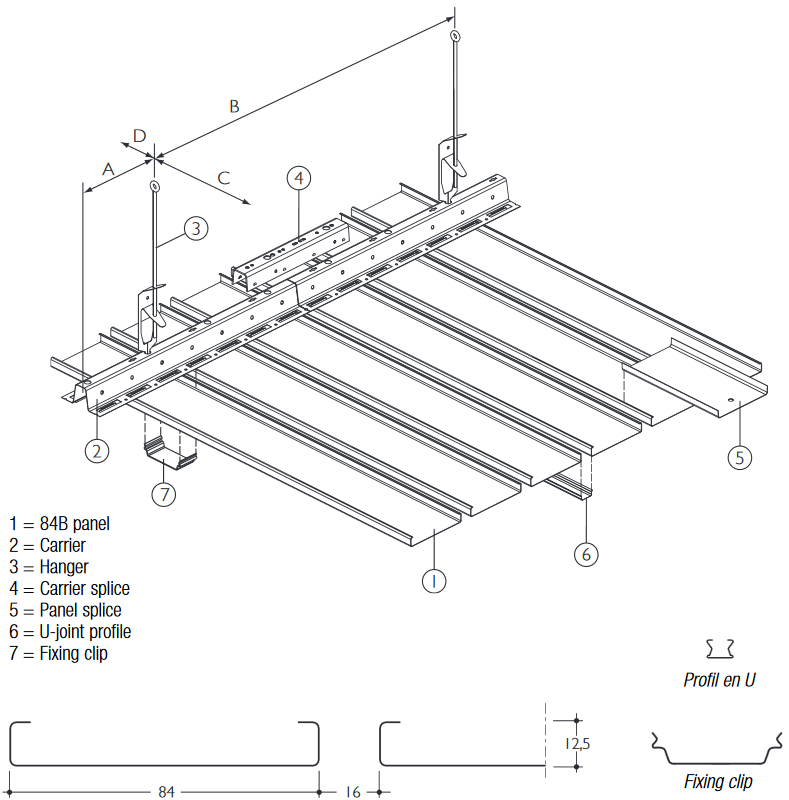 Dodatkowe informacje o produkcie
Więcej szczegółowych informacji można znaleźć poniżej w części
Pliki do pobrania
. Podano tam między innymi: maksymalne rozpiętości, wymiary i wagę oraz wymagania materiałowe na m2
Właściwości akustyczne
Komfort akustyczny w biurze, szkole czy budynku użyteczności publicznej wpływa na nasze samopoczucie, a niski poziom komfortu akustycznego może negatywnie oddziaływać na zdrowie, komunikację, bezpieczeństwo, wydajność pracy i naukę. Dzięki swoim znakomitym parametrom sufity akustyczne Hunter Douglas stanowią optymalne rozwiązanie pod względem akustyki, komfortu i estetyki. Otwarty system sufitowy Luxalon 84B pozwala osiągnąć wskaźnik pochłaniania dźwięku (αw) na poziomie 0,6 w zależności od konfiguracji sufitu i paneli.
Inne właściwości akustyczne
Więcej informacji na temat właściwości akustycznych można znaleźć poniżej w części
Pliki do pobrania
.
Zdrowie i dobre samopoczucie
Linia sufitów Hunter Douglas Architectural spełnia wymogi ekologicznego budownictwa poprzez estetyczne rozwiązania, które poprawiają komfort i pozwalają oszczędzać energię. Najważniejszą funkcją budynku jest niewątpliwie zapewnienie komfortu i dobrego samopoczucia osobom w nim przebywających. Nasze osłony przeciwsłoneczne utrzymują zdrowy poziom nasłonecznienia, eliminując negatywne skutki rażącego światła i dyskomfort termiczny. Nasze sufity akustyczne spełniają kluczową rolę w zapewnianiu komfortu akustycznego.
Ekologiczne materiały
Stosowanie ekologicznych materiałów to podstawowy warunek powstania zdrowego budynku. Nasza strategia zakłada wybór materiałów, posiadających dobre właściwości ekologiczne. Wiele produktów wykonujemy z aluminium wytapianego w naszych własnych piecach. Zoptymalizowaliśmy proces tak, by 99% materiału wykorzystywanego w naszych stopach nadawało się do odzysku. Nasze drewno posiada certyfikat FSC, i dodatkowo jest kwalifikowane Cradle to Cradle co potwierdza, że jest kontrolowane na wszystkich etapach rozwoju.
Oszczędność energii
Ograniczenie zużycia energii w budynkach to klucz do powstrzymania zjawiska globalnego ocieplenia. Większość nowoczesnych biurowców zużywa więcej energii na chłodzenie niż na ogrzewanie. Efektywne zarządzanie energią słoneczną, która przenika przez przezroczyste części elewacji, to podstawowy sposób zapobiegania przegrzewaniu się budynków zarówno tych nowych, jak i starych. Nasze wydajne osłony przeciwsłoneczne przynoszą znaczne oszczędności energii, sprzyjając zarazem zdrowiu i dobremu samopoczuciu.
Odpowiedzialność społeczna biznesu
Nasza firma podjęła ważną proekologiczną inicjatywę Keen on Green, której celem jest ograniczenie zużycia energii i wody oraz zmniejszenie ogólnego śladu węglowego. Wdrożyliśmy normy ISO 14001, aby móc aktywnie realizować cele tej inicjatywy. Firma Hunter Douglas i jej pracownicy wspierają społeczności, wśród których żyjemy i pracujemy, oraz szeroko pojęte społeczności globalne. Biznes to ludzie. Szczycimy się naszą siecią doświadczonych, inteligentnych, zaangażowanych i kreatywnych pracowników, którzy świadomie wybrali firmę Hunter Douglas jako swojego pracodawcę.